10 Best Bitcoin (BTC) Wallets: Explained
Bitcoin has conquered the whole world, allowing an alternative to the government-supported currencies we use every day. Proponents claim that digital coins are more comfortable, safer, and provide greater privacy than usual money. Because the Bitcoin price related to the U.S. dollar and other currencies rose sharply over time, it has demonstrated as an investment possibility as well.
Furthermore, there is a possibility of transferring money to other people using their Bitcoin address. Since users were allowed to control assets, it needs to save them securely. A crypto wallet is a software application that collects private and public keys. It combines different types of blockchains for sending, receiving, and storing digital coins, as well as monitoring their balance. If you want to use Bitcoin or any other altcoins, it needs to have a crypto wallet.
We will review the ten best Bitcoin wallets. We collected some hardware, software, mobile, and paper wallets in this article. So, let's get started!
What is a Bitcoin Wallet?
First of all, we need to know the meaning of the cryptocurrency wallet. It is a digital folder for storing, sending, and receiving different types of assets. This wallet doesn't accurately "store" the coins, similar to a real one. Alternatively, it saves keys, which provides users with sending and receiving cryptocurrencies.
There are different types of digital wallets. The choice depends on your own needs.
If we tell about comfort, the best choice is mobile wallets. It is a speedy and comfortable way to reach BTC.
Additionally, mobile wallets are so secure as hardware and desktop ones. Downloading a wallet on a smartphone means that the keys will store on a mobile device.
The biggest problem is the Crypto stealing risks. In such a case, someone could reach crypto assets faster than you might gain them.
In several cases, users can recover the wallet by unique seed phrase (12 or 24 words got on activation). So it would be best if this information kept in a safe place.
Besides, there is another classification of cryptocurrency wallets. There are custodial and non-custodial wallets. The non-custodial type contains any wallet where you are the single owner of the keys or seed phrase. However, if you lose access to data, you can't recover it by requesting the intermediary. It's one of the most significant disadvantages of non-custodial wallets.
A custodial wallet is similar to bank accounts. It's like a company that keeps the private keys to Bitcoins. You can make all transactions for free inside of the wallet. Cause Though, there are some risks in managing this type of digital wallet. For example, the company can arrest coins, broke down, or steal the assets.
There is a phrase within the Bitcoin alliance. It sounds like "Not your keys, not your coins." This shows the risks of a custodial wallet. On the other side, some people prefer to choose custodial wallets.
Best Desktop Bitcoin (BTC) wallets
It is one of the most popular types of digital wallets. Let's take a look at the three best wallets for BTC assets for desktop.
Atomic Wallet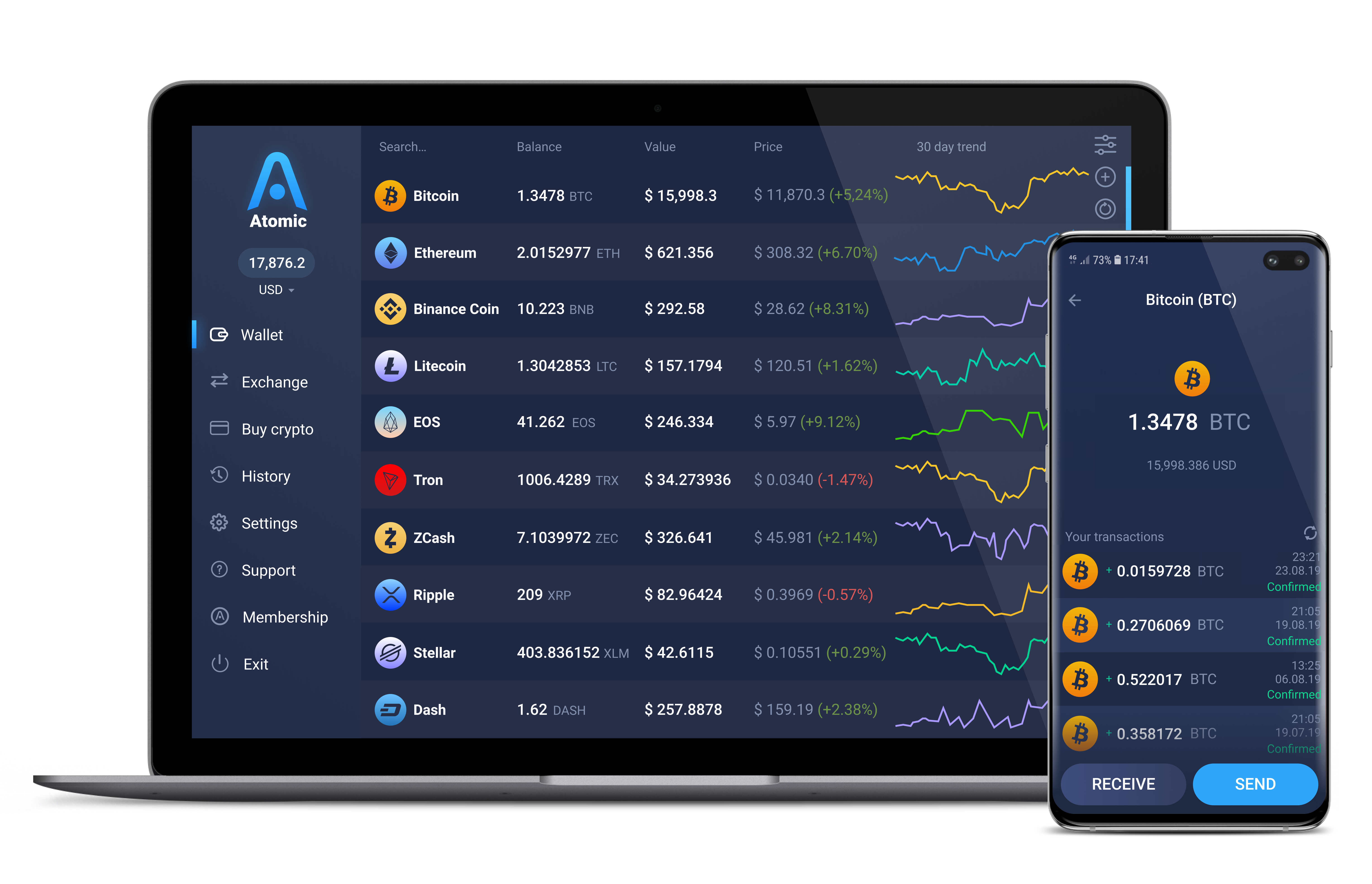 Atomic Wallet is a well-known custody free wallet for hundreds of altcoins. The private keys are encrypted on your device, and only you have access to manage crypto/coins. Furthermore, Atomic is a fully decentralized application. It doesn't store any of your data, don't require any verification for basic services.
Atomic presents a good-working instant exchange service for 300 types of cryptocurrencies. You can buy Bitcoin, Ethereum, Litecoin, XRP, Tron, DASH, and many others with a Visa or Mastercard.
All these highlights contain in one open and complete interface. There is no need to provide some authentication. All it needs is to download the wallet app for your OS, install it, and begin working with it. By the moment of writing this article, Atomic works with Windows-64 bit, macOS, Linux, as well as Android and iOS devices.
Like another non-custodial wallet, Atomic creates a unique seed phrase for generating the private keys. If you want to collect some coins in Atomic, it needs to keep the written copy in a safe place.
The wallet supports private keys import so that you can transfer assets to the Atomic wallet in a few seconds.
Besides, Atomic Wallet presents its interface for ERC20 tokens. That's why every user can attach their custom tokens via adding a smart contact address.
Moreover, Atomic Wallet released its ERC20 token AWC at the end of last year and began the Membership program on the base of the native token. All holders of the Atomic token gain rewards for managing a built-in exchange service. The Atomic Wallet crew has distributed more than 40,000 tokens since the start of the loyalty program. The amount of cashback depends on membership rank. Users need to buy AWC via the wallet, hold and trade it for becoming a member.
The group following Atomic Wallet is almost young. There are frequently positive reports about the wallets' works, but there are some users' reports about technical problems with desktop and mobile apps.
Summarizing the above, Atomic Wallet looks like an exciting crypto project. It can manage hundreds of types of cryptocurrencies, trade, and purchase some of them in one place. Also, you can analyze the unique decentralized exchange system, attach some custom assets, and engage in the bonus program. And all those highlights are shown in a non-custodial way.
Coinomi wallet
Coinomi is a modern digital wallet for BTC and other assets. It provides to manage your keys and holds the highest amount of altcoins in the crypto market. Coinomi supports 507 coins and practically thousands of other assets.
There are some of the features of this wallet :
Seed phrase recovery;
PIN key security;
Paper wallet support;
QR code assistance.
Moreover, Coinomi holds Bitcoin, Bitcoin Cash, and Bitcoin Gold in one place. They were additionally the most responsive to help these forked coins.
Many users that pleased in crypto assets favor open-source software. Coinomi was part of the open-source software change, enabling anyone to analyze the code.
With peer study, any private code, wicked modules, or achievements would be recognized. It guarantees that Bitcoin holders aren't obedient to any unknown malware that quietly serves Coinomi or intermediary.
Nevertheless, in 2018 Coinomi relocated its system to the closed source. It does imply that there is less security or clearness than in the open-source.
Jaxx wallet
Jaxx Liberty is a desktop wallet that allows convenient management of top coins. It is effortless to holds a vast range of assets and can be matched beyond devices so you can manage all transactions from PC.
Jaxx Liberty is a non-custodial wallet. It means that the private key stores on a smartphone, and there is no need to engage an intermediary. But on the other hand, the app serves to be buggy with assets rates not refreshing and random freezing in medial actions.
Jaxx currently carries 65 coins. If you need a good-working wallet that holds various cryptocurrencies, Jaxx is an excellent option.
Best Mobile Bitcoin (BTC) Wallets (Android and iOS)
Bitcoin mobile wallets provide users to collect, transfer, and get the Bitcoin from the smartphone. All you need is to download and install the app. It strictly recommended getting it only from the official website due to a multitude of fakes in the Play Market.
Besides, mobile devices manage to get missed, destroyed, or stolen pretty regularly. So it would be best if you were careful about your assets when using a mobile Android wallet.
Atomic Wallet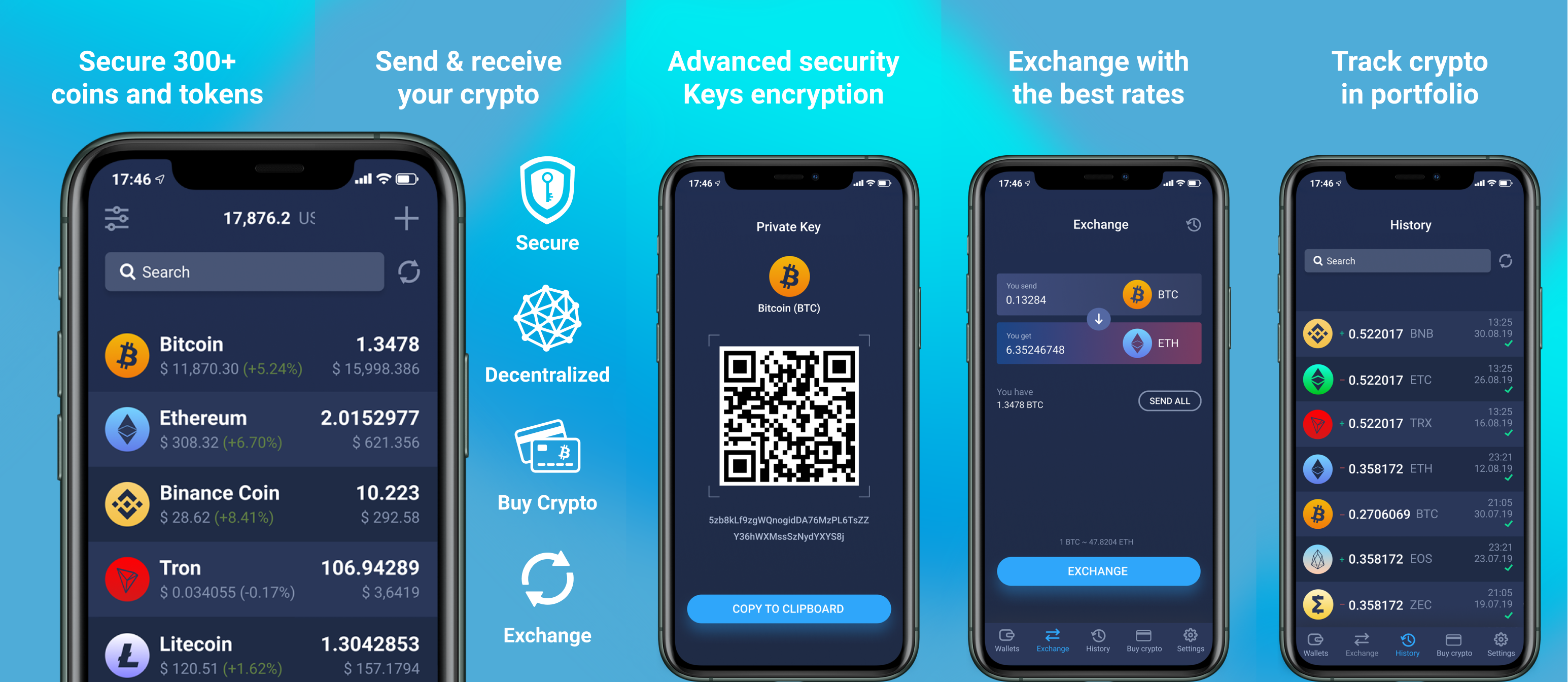 Atomic Wallet is one of the most advanced wallets for all types of users: from crypto newbies to pro traders. It has just been started as a general cryptocurrency resolution.
The wallet is being promoted on various websites and has many highlights that include safety, Atomic Swaps, anonymity, support of 300+ assets, in-wallet trades, etc. There will additionally be helpful for numerous cryptocurrencies with many OS.
Atomic Wallet is also carried on smartphones and is accessible for downloading from their stores. It is suitable for those users who prefer transacting with their wallets anytime.
The feedback in the Google Play store is very positive. A large number of users were appreciative of the Atomic interface and the functionality/coin assistance.
There were some recommendations about possible fields for development. For example, some users submitted that request customization was restricted in the wallet. What is more found reassuring was that the Atomic crew was fast to react to specific questions even if they were not much appreciative.
There are some pros of the Atomic Wallet. First of all, this app is stable yet manageable and user-friendly. It supports atomic swaps, new decentralized currency dealing, and a wide variety of coins. Anyone except you stores none of your vital data.
Although there are some cons to this digital wallet, firstly, you are only obligated to wallet's protection. It needs to save keys and recover the seed phrases collected. Moreover, there is no hardware wallet alliance yet.
Mycelium Wallet
Mycelium is a successful digital wallet that highlights the luxury of great secrecy and safety innovations. Mycelium has both Android and iOS variants accessible. Mycelium expects to get Bitcoin trades as frictionless and working as it possible.
Mycelium also carries attaching a PIN key to protect the wallet besides if any other people get access to your device. The mobile app also supports an address book. It allows for collecting contacts for assigning fast cryptocurrencies sales.
Transferring & getting coins is protected, and generally, this is one of the most solid digital wallets that you can handle on a smartphone. If you are managing a hardware wallet, Mycelium will further maintain this.
Mycelium is recognized as a bit more challenging to work than other digital Bitcoin wallets. But high-level users should be just precise driving the practice.
There is no PC version, but Mycelium possesses "bank-grade protection" for its mobile app, which has alliances from an intermediary. It additionally provides for anonymity and holding your Bitcoins.
Electrum
Electrum is one of the earliest Bitcoin wallets in the market. It created by Thomas Voegtlin in November 2011. Since that time, many developers modify it. Electrum is a client-based wallet, so you can get the software and operate it from a desktop. Unlike other digital wallets, there is no need to open the whole blockchain.
Electrum is a software wallet. It means that the assets stores in a set of encrypted data on a laptop or PC. It is accessible for Windows, macOS, and Linux. Electrum can go with any hardware wallets and has some versatility linked to just using some of them.
The significant advantage is that you can immediately be working and save Bitcoins on a laptop or PC. But if that computer breaks down, is lost in an accident, or hacked, you could waste all assets. The app does help a restoration process and provides to produce physical storage with a stamped or transcribed set of keys called the seed phrase.
Moreover, there are some other cons of Electrum. This wallet only allows for Bitcoin assistance. Additionally, the interface is a bit complicated for beginners.
Best Hardware Bitcoin (BTC) wallets
It is the most positive way to manage Bitcoins because of its commodity in an offline ecosystem. There has been no announced robbery of BTC assets from a physical wallet. The private keys and digital sign required to consume Bitcoins generate through these wallets. However, it always needs to have a paper copy of the PIN code. There are popular hardware wallets.
Ledger
The Ledger Nano X is the freshest release from protection masters, Ledger. It is the most modern and practical Bitcoin physical wallet that is accessible to get nowadays. This hardware wallet operates with desktop and mobile and appears with an in-built battery.
From the safety viewpoint, it has two chips (1 is for the protected part), which assures all private keys never get revealed to others.
You can collect up to hundreds of assets. Handling Ledger Nano X, there is a possibility to apply it as a login for multiple transactions.
This hardware wallet is available through a mobile app. This highlight provides observing and guiding all assets straight from a mobile device.
Join that with the heightened protection you gain when managing a hardware wallet, and the Nano X provides all the best of digital and real worlds.
The Nano X's interface is done by Leger's Live mobile app via Bluetooth connection. Original reviews show that the installation and setup schemes are not ideal. Furthermore, Ledger's mechanical design controlled with this pattern, and this is one of the most reliable ways to collect your Bitcoins.
Trezor
Trezor is the world's primary Bitcoin hardware wallet. It is a little gadget with an OLED screen, which connects to a PC or smartphone through a USB. Its principal objective is to collect your private keys offline and confirm purchases.
Trezor isn't a complete purchasing and trading system similar to Coinbase. Alternatively, it is merely a spot to save Bitcoin. Trezor is a hardware device that plugs into a PC or smartphone to reach the coins. The Trezor wallet operates with 1064 assets and runs as an identification manager, two-factor authentication method, and other helpful specialties.
This wallet allows any protections toward forgotten passwords and misplaced devices, though it needs to learn from other's wrong lessons and be sure that never, ever appears. The total score of this digital Bitcoin wallet is to prevent others from hijacking your Bitcoin, so you can understand the recovery rule is not inevitably an easy one.
What about the cons, the first one is a $99 cost. Additionally, Trezor One doesn't support Ripple (XRP).
Keepkey
KeepKey is a different hardware device accessible for collecting Bitcoins.
This physical wallet doesn't allow enough in opposition to the Ledger Nano S or Trezor. Furthermore, it is twice more significant than its companions, and not so comfortable to bring it in the pocket.
It has the same recovery seed phrase highlight with the PIN key approved, and it goes similar to the other hardware wallets. Now it is supporting only six crypto assets.
Advantages:
Big LCD gives more uncomplicated user communication;
This wallet combined with ShapeShift;
It created to resist large workloads;
Design is quite user-friendly;
First-class protection.
The recovery cipher holds the wallet protected.
Disadvantages:
The wallet size is large, which is not merely convenient.
There is no Lock highlight, so if you ignore a device unlocked and plugged in, others can reach it without handling keys.
Improvement is more inactive related to other hardware wallets.
Customer assistance leaves something to be desired by user reports.
Bitcoin paper wallet
Unquestionably, the most competent way to manage crypto/coins is the paper wallet. You can create one entirely for free. This advantage makes traders as the leaders of purchasing, and if anticipations have happened, there's no probability of your private keys being recognized by others. This, in turn, suggests that having a paper copy of them is still more valuable. Missing private keys expect you'll abandon the complete contents of the paper wallet (but it's right for all kinds of wallets in this article.)
Paper wallets are offline cryptocurrency storage. It combines printing out free and individual keys on a piece of paper. Then it would be best if they kept in a protected place. The keys are printed as QR codes, which could come in handy for all future purchases. The cause why it is so protected is that the paper wallet provides total restriction to you. There's no need to worry about the welfare of a physical wallet. Besides, there is no need to think about any malware, including hackers. All it needs is to carry a piece of paper.
The solution to this question will principally depend on the conditions of the wallet user. If you think about spending the good sunny day exchanging a few Bitcoins, maybe that it was not going to be good. But if there is a plan to make some trading, a paper wallet can be the most reliable and accessible choice.
Conclusion
There are plenty of Bitcoin wallets accessible, from online to hardware, or paper. If you choose one of them, be sure it is protected and inclined to most considerable well-known weaknesses. If the wallet is unprotected to recognized malware, the owner can't make any corrections. Make sure to handle secure wallets, so that you can reach the coins when it needs.
We extremely advise making backup files of all Bitcoin wallets that save a notable number of assets. The most popular idea of making this is by collecting the private keys or recover seed phrases in various places.
Bitcoin is the asset of the future, so take a protected wallet and have a good trade!