What is Ripple (XRP): A COMPLETE BEGINNER GUIDE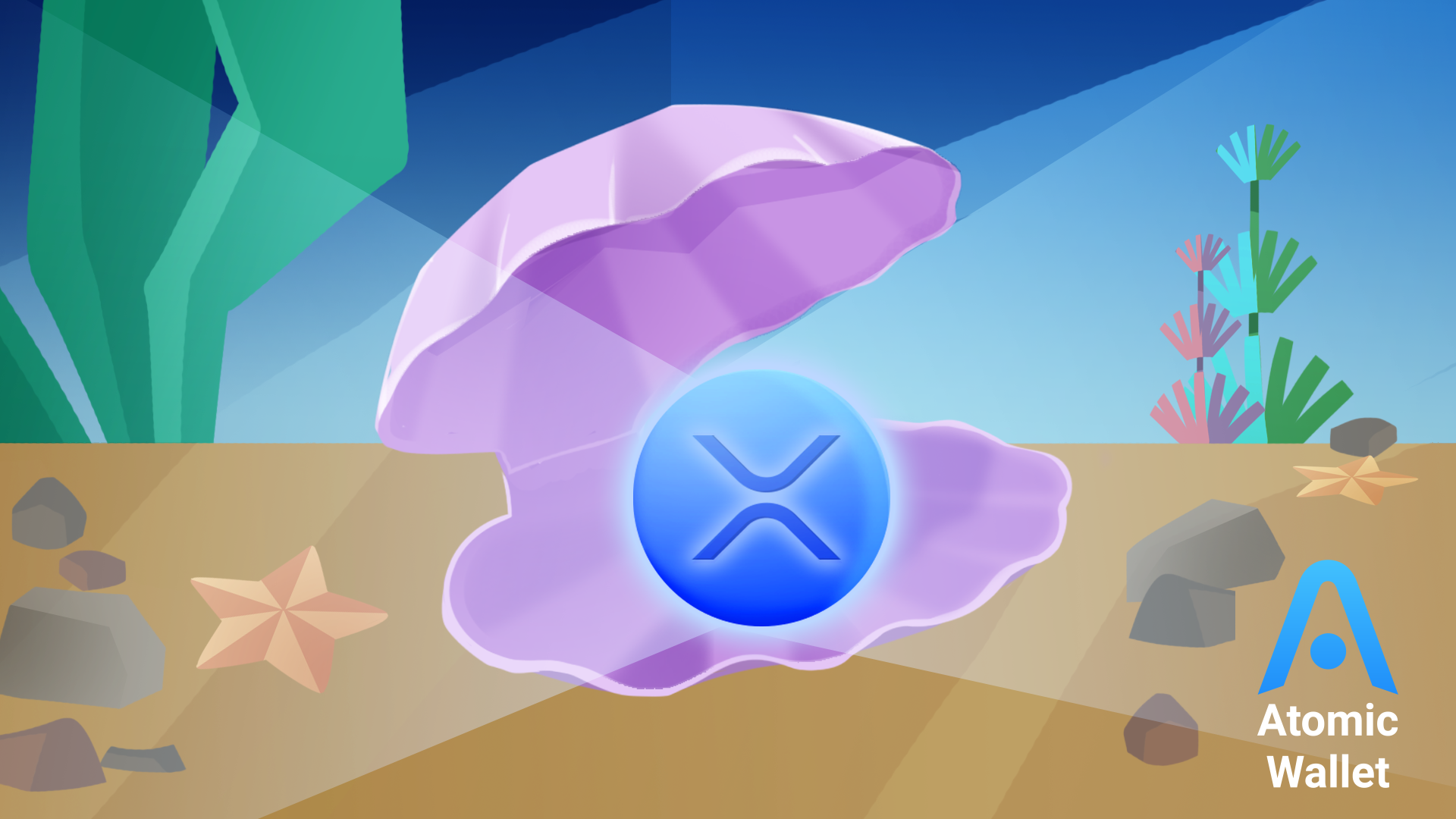 As the most Corporate Cryptocurrency, XRP, the native digital asset on the XRP Ledger and RippleNet, is a digital asset built for payments cross-border settlements. XRP aims to be the best digital asset for global payments, offering financial institutions and large corporations the fastest, most secure, and reliable option for sourcing on-demand liquidity. Since the 2008 global market crash (the worst market crash since the Great Depression of 1929), which was due to the inefficiencies of financial institutions, where there was a loss of over $2trillion from the global economy, many financial institutions have been on the outlook for on-demand liquidity and an efficient solution to cross border payments. This article gives detailed information about XRP, its history, and how it has leveraged the 2008 market crash to become one of the best global payments systems.
History of Ripple
According to Britannica, the financial crisis of 2008, also known as the 'subprime mortgage crisis,' where a severe contraction and unavailability of global liquidity, which originated in the United States due to the collapse of the US housing market, threatened to destroy the international and global financial system. This global liquidity contraction resulted in the near-failure and collapse of several significant investment and commercial banks, mortgage lenders, insurance companies, savings and loan associations and precipitated the Great Recession of 2008. XRP, the native digital asset of XRP Ledger and RippleNet, functions to satisfy the need for on-demand liquidity. RippleNet, a global payment network built on Ripple's consensus ledger (also known as XRP Ledger or XRPL), is the Financial Network of the Future, smoothly running a high-performance global payments business by streamlining global payments and expanding its client's reach to new customers.
RippleNet offers a service of connecting its clients to financial institutions worldwide via its unique API (Application Programming Interface) system, making transferring funds faster, cheaper, and more reliable for its customers. RippleNet is a global payment network built on XRP Ledger, while XRP Ledger is an open-source distributed ledger created by its parent company, Ripple. In 2004, Ryan Fugger founded a fintech company known as RipplePay in Vancouver, Canada, long before Satoshi Nakamoto released his first version of the Bitcoinblockchain whitepaper. The RipplePay protocol's vision was to serve as a peer-to-peer network connecting financial institutions and individuals to replace the banks and traditional institutions. Satoshi Nakamoto knew about RipplePay fintech and gave this remark in a Bitcoin archive,
"Ripple is interesting in that it's the only other system that does something with trust besides concentrating it into a central server."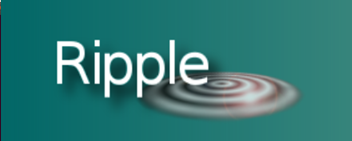 RipplePay logo during the period of the company's existence. (Source: Ripplepay.com)
According to RipplePay's basic theory of the traditional banking system, since banks update one's loan balance to the bank during financial transactions, RipplePay held a firm belief that they could replace banks by creating a peer-to-peer trust network where individuals could directly loan each other financial assets and alterations to these loan balances enable payments/ transactions. Payments and transactions would act as updates to these loan balances, provided that the peer-to-peer trust network can trace a path of relationships from the payer to the recipient. The RipplePay network architecture was not different from the Bitcoin Lightning Network design, except with counterparty risk, where the system was geared towards centralization around a few large banks. However, the vision and goals of the current Ripple system are very opposite to this original idea.
In 2011, Bitcoin gained some traction and began to capture Ripple's target demographic/market's attention while succeeding where RipplePay had failed, using a superior peer-to-peer payment network architecture. In May 2011, Jed McCaleb, an early Bitcoin pioneer, joined RipplePay with the hope of addressing some of the flaws of RipplePay. According to WizSec's Kim Nilsson's analysis of the failure of Mt. Gox, Ryan Fugger, founder of RipplePay, handed over the leadership of RipplePay to McCaleb, who founded Mt. Gox Bitcoin exchange in 2010 and sold the exchange to Mark Karpeles in March 2011 due to insolvency issues. In 2012, Jen McCaleb hired Chris Larsen (Current Executive Chairman of Ripple's board of directors and also co-founder of Ripple) to commence the
OpenCoin era, the first of three name changes occurred between 2012 and 2015. Jesse Powell, founder and CEO of Kraken exchange in October 2012, took part in Ripple's first seed round with an investment believed to be worth about $200,000.
In January 2013, OpenCoin launched its native token/ cryptocurrency, XRP, of which 80% of the total 100billion supply was given to OpenCoin to build its financial technology as the Ripple wiki says:
XRP cannot be debased. When the Ripple network was created, 100 billion XRP was issued. The founders gave 80 billion XRP to the Ripple Labs. Ripple Labs will develop the Ripple software, promote the Ripple payment system, give away XRP, and sell XRP.
In April 2013, Google Ventures, Andreessen Horowitz, IDG Capital Partners, FF Angel, Lightspeed Venture Partners, the Bitcoin Opportunity Fund, and Vast Ventures took part in a $1.5 million fundraiser for OpenCoin, which went ahead to make the source code of Ripple Network open and rename to Ripple Labs. Between June 2013 and May 2014, McCaleb left Ripple Labs and created Stellar Lumens (XLM), a hard fork of XRP. After renaming to 'Ripple' from 'OpenCoin' in October 2015, Ripple has gone ahead to partner with over three hundred financial institutions globally with its seven-member board of directors and eight-core team members led by CEO Brad Garlinghouse.
On December 22, 2020, the American Securities and Exchange Commission announced that it had filed legal action against Ripple Labs Inc., Two of its executives, who happen to be significant security(XRP coin) holders. The SEC alleged that they raised over $1.3 billion through an unregistered and ongoing digital asset securities offering, which the SEC claims to be illegal.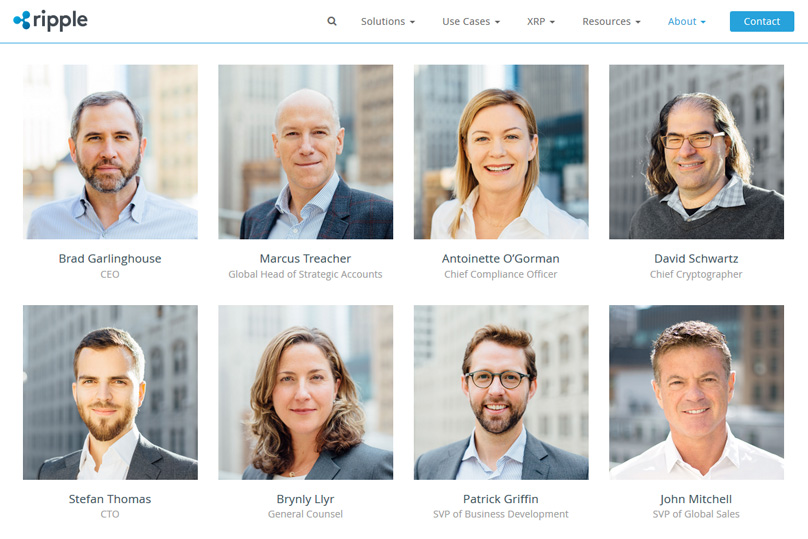 Ripple Technology
Ripple uses its unique technology called 'Ripple Consensus Protocol Algorithm' to run an open-source, permissionless, decentralized blockchain technology that settles transactions within 3-5 seconds. The Ripple Consensus Protocol Algorithm defines how the XRP Ledger is managed by a network of independent Ripple validator nodes, of which 80% of these nodes validate and verify transactions on the network. Although anyone can become a validator, Ripple maintains and ensures a given set of validators that can be trusted. This list of trusted nodes is referred to as the Unique Node List (UNL). Ripple uses the XRP Ledger for real-time payments and settlement, acting as the home of XRP, its digital asset assigned to bridge the many different currencies in use worldwide.

The Ripple Consensus protocol solves the double-spend problem: preventing a malicious person from successfully spending the same digital money twice. Achieving this without a central authority is difficult as it can result in a dispute about the sequence of transactions, especially when multiple transactions co-occur. Read more about how the XRP Ledger Consensus Protocol solves this problem here. Suppose Jason in Canada wants to send 1,000 Canadian Dollars to Gerd, his son, in Italy. In that case, Jason will send the funds to a Ripple partner's financial institution, and this Canadian Dollar would be converted to XRP and the transaction validated on the XRP Ledger and Ripple Network. Once validated successfully, the funds can be withdrawn as Euro by Gerd in Italy. This remittance occurs within seconds. Ripple's feature eliminates the need for financial institutions and remittance services to pre-fund accounts with On-Demand Liquidity during cross-border transactions and payments.
Ripple also uses Interledger for Interoperable Payments. Interledger is an open protocol built to send payments across different ledgers. Interledger easily enables interoperability for any value transfer system with its open and less complicated design and protocol. The Interledger provides a coherent global financial infrastructure, where anyone connected to the Interledger can transact with another individual via their choice's underlying systems and currencies. The Interledger Protocol is neither a blockchain, a token, nor a central service, but rather it is the core of the Interledger protocol suite. Interledger is a standard way of bridging financial or fintech systems. When two entities or individuals engage in a business transaction online, the sender sends money while receiving money. The Interledger architecture or design allows connectors to forward money from the sender through the network until it reaches the receiver.
Interledger Architecture(source:interledger.org)

Ripple also uses PayString for its Universal Payment Address service. Paying is a unique protocol for human-readable addresses for all forms of payments and any currency of choice. PayString enables financial institutions to provide their users/ clients with a single and simple, easy-to-use address that works for all their wallet's payment networks. It can be referred to as an email for payments. With its open Source standards and protocols, users can use human-readable addresses to transmit value in their chosen currency through the PayString network. This network allows participants to reach one another through a standardized address. The PayString protocol can be used when transacting with any cryptocurrency or fiat currency. Any individual or user can deploy their PayString server quickly and efficiently on HTTP/DNS standards, using a simple ID that works across any payment network and involving any currency.
RippleNet makes it easier than ever to run a high-performance and efficient payments or financial settlement business with its advanced blockchain technology for global payments, making it easy for financial institutions to expand into new global markets and eliminate pre-funding by leveraging the power of XRP through RippleNet's On-Demand Liquidity service. In the words of Daumantas Dvilinskas, Co-Founder and CEO at TransferGo,
"RippleNet has given us a competitive edge in India, where we're making a real difference to people's lives by providing faster and cheaper remittances. We're also developing new relationships and expanding to new geographies so we can become a global real-time payments service."
Currently operating across over 55 countries and 120 currencies, XRP leverages the RippleNet modern infrastructure and cutting-edge blockchain technology to streamline payments services, reduce financial services costs, and eliminate pre-funding with its On-Demand Liquidity. RippleNet's simplified network partnering aids its clients to expand their network and reach key corridors easily by simply connecting and transacting with premier receivers in key global markets. According to Prajit Nanu, Co-Founder and CEO at Medium,
"Through Nium's use of Ripple in the Philippines and Mexico corridors, we have been able to eliminate pre-funding requirements and offer faster remittances at a lower cost."
Ripple combines its robust technology with its highly secure network to efficiently carry out global payments and financial settlements.
XRP
XRP is the native digital asset of the XRP Ledger, functioning to provide liquidity in cross-border transactions and ensure instant financial settlement with its low/ affordable exchange fees and secure network. Being a faster, cheaper, and more scalable digital asset, Ripple uses XRP, RippleNet, and the XRP Ledger to power its innovative technology across the global payment and financial settlement space.
XRP was created in January 2013 with a total supply of 100billion coins and a circulating supply of 45.5billion coins. XRP is currently valued at $12.5billion at a $0.28/XRP coin price, making it the 5th most valuable cryptocurrency with a market capitalization dominance of 1.29%. XRP traded at an All-Time Low of $0.00268 on May 22, 2014, rising over 11,000% to an All-Time High of $3.4 on January 7, 2018, making it one of the most profitable cryptocurrencies ever traded. In June 2019, there was a ripple of tears as hackers successfully breached over 100 Ripple XRP Ledger wallets managed by the service provider, GateHub, stealing over 23million XRP coins worth about $10 million at the time. All the funds were laundered through exchanges and mixer services, including Changelly, Kucoin, Huobi, Binance, and HitBTC. The hack was reported to local authorities, but the funds were never recovered.
How Does the XRP Ledger work?
The XRP Ledger is an open, shared, distributed ledger. It operates as a peer-to-peer network of rippled servers that distributes transactions among themselves. The consensus process is a necessary process that determines which transactions get applied to each new version of the ledger. The ledger is maintained by independent members (over 36 validators including universities, exchanges, and even financial institutions) of a global "XRP Community," of which Ripple is an active member, running six validator nodes. Each independent validator node agrees in the order and validity of every XRP transaction on the XRP Ledger. This agreement, referred to as a consensus that occurs every 3-5 seconds, serves as the final and irreversible settlement of the XRP Ledger's transactions. XRP Ledger has its unique innovations:
● xCurrent: xCurrent processes real-time payments and enables banks and other financial institutions to offer cross-border payments services with a low cost of a settlement. xCurrent is designed to operate with the risks, compliance, and information security frameworks of financial institutions. xCurrent is built to interface with the financial institution's systems using an API interface.
● xRapid: Normally, payments into emerging markets often require pre-funded local currency accounts, resulting in the high cost of liquidity. xRapid allows financial institutions and remittance service providers to minimize its liquidity cost while improving their customer experience. xRapid uses XRP to lower the capital required for liquidity by offering on-demand liquidity, enabling real-time payments in emerging markets. This provides an efficient, scalable, and reliable liquidity option to cross-border service payments, settlements, and remittance.
● xVia: xVia is for corporations, payment providers, and banks that make global payments with a single integration. xVia uses an easy-to-use API that requires no software installation, enabling users to send payments globally with transparency and an option for customized payments.
Benefits of XRP in Payments
● Fast: XRP provides fast and swift payments moving across the XRP Ledger, usually settled within 4 seconds.
● Scalable: XRP consistently and efficiently handles about 1,500 transactions per second every day and can further scale to handle the same throughput as Visa, which handles about 65,000 transactions per second as of July 15, 2019.
● Distributed: XRP runs on a decentralized, distributed network of 36+ validators globally.
● Stable: XRP boasts a seven-year record of uninterrupted technology, making it ideal for institutional and global use.
● Eco-Friendly: XRP Ledger settles XRP transactions instantly without using the same energy required by proof of work (or mining as seen with Bitcoin)
Types of Payments using XRP
The XRP Ledger supports different forms of payment types.
● Direct XRP Payments: Direct XRP payments are the simplest and easiest way to send value in the XRP Ledger.
● Cross-Currency Payments: Cross-currency payments involve sending funds in the desired currency with the recipient receiving funds in another currency of choice.
● Checks: Checks allows customers to create deferred payments that can either be canceled or cashed out by the intended recipients.
● Escrow: Escrows set aside XRP and deliver it later, at an agreed time when given terms and conditions are met. Escrows can either depend on time limits or cryptographic conditions, or both.
● Partial Payments: This form of payment subtracts fees from the amount sent, delivering a flexible amount. Partial payments are useful for returning unwanted or unrequested payments without incurring additional fees during refund.
● Payment Channels: Payment Channels enable fast, asynchronous XRP payments divided into tiny micro funds and settled later at the desired time.
Storing, managing, and exchanging XRP coins
Currently listed and actively traded on over thirty centralized and decentralized cryptocurrency exchanges, XRP is supported by multiple wallet providers, including Atomic Wallet. Atomic Wallet enables you to efficiently and anonymously/securely buy, manage, exchange and store XRP in one wallet application. Atomic Wallet gives you full control over your funds since your Private Keys are protected with a mnemonic seed. Install the Atomic wallet application now and manage your XRP right in the Atomic Interface.
Ripple Partners and Clients
Ripple boasts of over 300 high-value clients and customers who use its XRP Ledger and Ripple Network for global payments, remittance, and cross-border settlements. These clients/ customers enjoy Ripple's convenient, fail-proof experience and peace-of-mind payments for its users. In the words of Arthit Sriumporn, SVP of Commercial Banking at Siam Commercial Bank,
"Our customers can send money to family and friends abroad in real-time from their phones. Being part of RippleNet has helped us to completely enhance our customer experience, expand our business and keep SCB moving into the future."
Ripple's partners and clients include:
● MoneyGram: On January 11, 2018, Moneygram partnered with Ripple to solve its liquidity issues, which most banking and financial institutions suffer regularly. Moneygram will utilize XRP through a model that requires all global payments to be done through the xRapid system. This aids in solving Moneygram's liquidity issues and processes all transactions at very low/ negligible fees. This model would also provide very swift transactions/ remittance. XRapid, in this case, represents a ledger of the XRP liquidity system that allows swift, secure, and cost-effective processing of global payments.
● IDT and Mercury FX: On January 24, 2018, Ripple announced a partnership deal with IDT and Mercury FX in a deal similar to the Ripple-Moneygram partnership, as IDT and Mercury FX also deal with global payment. The idea behind this partnership is to provide their users with a faster, hitch-free, and cost-effective global payment/ remittance system, where one can transfer money anywhere in the world in a matter of seconds.
● SBI Holdings: As of January 30, Ripple established another valuable partnership with SBI Holdings, representing a group of Japanese companies set to launch the SBI virtual currency. SBI Holdings will use XRP as the only digital value supported within their system, leveraging its speed and secure network. This partnership will allow SBI users to obtain near full liquidity during cross global payments using the xRapid system. This would help SBI establish a strong and stable financial connectivity between its users in Japan and the rest of the world, using XRP and other currencies, including JPY.
● LianLian International: Ripple partnered with LianLian International, one of China's biggest payment service providers, on February 14, 2018. This partnership has a groundbreaking strategic significance for LianLian International due to China's massive growth in the global trading economy, thanks to Amazon, eBay, and AliExpress. This partnership would enable swift, secure, cheap, and easy payment and remittance between China and the rest of the world, using Ripple's xCurrent technology (a payment solution to power financial transactions between China, Europe, and the United States)
● Accenture: In 2015, Accenture struck an alliance with Ripple to take advantage of Ripple's low overhead and fast ledger systems, aiding in considerably decreasing Accenture's costs in the payment domain, increasing oversight and transaction reliability. Accenture will integrate and recommend Ripple's products in its advisory services to clients/ customers as part of the partnership deal.
● American Express: In 2017, American Express partnered with Ripple to provide real-time gross settlement (RTGS) for business-to-business transactions to efficiently enhance their customers'/users' experience. American Express FX International Payments (FXIP) will partner with Santander UK to create a bridge between the United Kingdom and America. Santander's global head of transaction banking, José Luis Calderón, stated,
"This blockchain solution opens up a new channel between the US and the UK and presents a significant opportunity for payments globally. Collaborating with forward-thinking businesses has enabled us to deliver this cutting-edge, secure, friction-free payment solution and extend our 'Simple, Personal, Fair' philosophy to American Express and their customers."
Other partners and clients of Ripple include: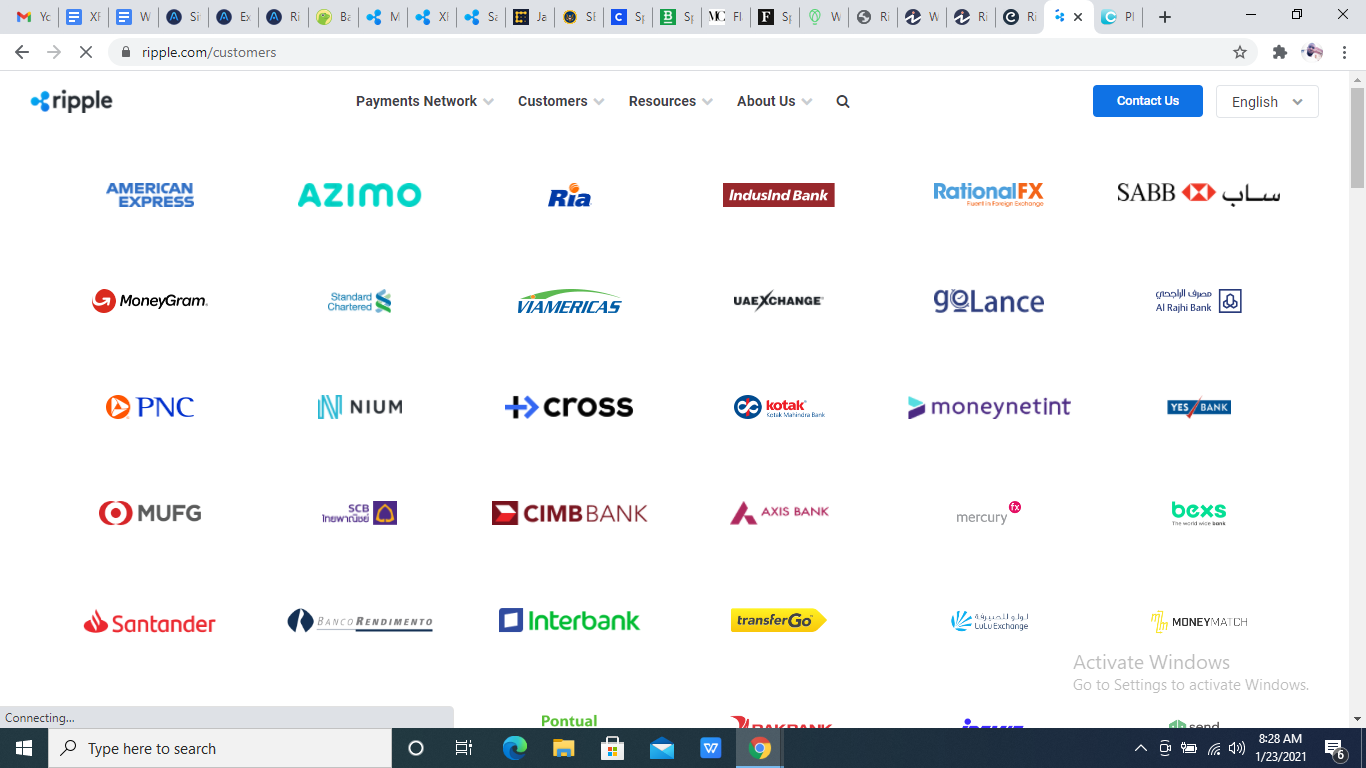 ● Santander (USA)
● Canadian Imperial Bank of Commerce (Canada)
● Kotak Mahindra Bank (India)
● Itaú Unibanco (Brazil)
● IndusInd (India)
● InstaReM (Singapore)
● BTech (Brazil)
● Zip Remit (Canada)
● RAKBANK (UAE.)
● IFX (UK.)
● TransferGo (UK.)
● Currencies Direct (UK.)
● Airwallex (Australia)
● SEB (Sweden)
● Siam Commercial Bank (Thailand)
● Krungsri (Thailand)
● Bank of America.
● ETH Zurich.
● The University of Zurich.
● Ryerson University.
● Instituto Tecnológico Autónomo de México (ITAM)
Some of Ripple's partners and clients (source: ripple.com)
Conclusion
Many cryptocurrency traders and investors anticipate Flare network's Spark airdrop and have resolved to ask many unanswered questions.
On December 12, 2020, Flare Network, designed to offer smart contract services to XRP on a different blockchain, held a snapshot of XRP holders' account at exactly 00.00UTC select eligible XRP holders to receive Spark airdrop when the network launches in the first half of 2021. This airdrop snapshot was supported by many exchanges and wallets, including Atomic wallet. Flare network will initially distribute 15% of the total Spark airdrop to eligible users (users who held XRP in their wallets during the snapshot). Over the next 25-34 months, the Flare network would airdrop the remaining supply of spark at the rate of 3% each month. If you are eligible for the airdrop and took part in the snapshot, anticipate your airdropped Spark coins within the first half of 2021 while watching as legal issues between the SEC and Ripple unravel.
Ripple Website
Visit Ripple's Official Website for more information on Ripple.
XRP Community
Join the XRP community and get involved in the project.
XRP Block Explorer
Track your XRP transactions via the xrpscan Block Explorer.
Ripple Twitter
Follow @Ripple on Twitter to keep up with the latest updates and news.