AMA with Zilliqa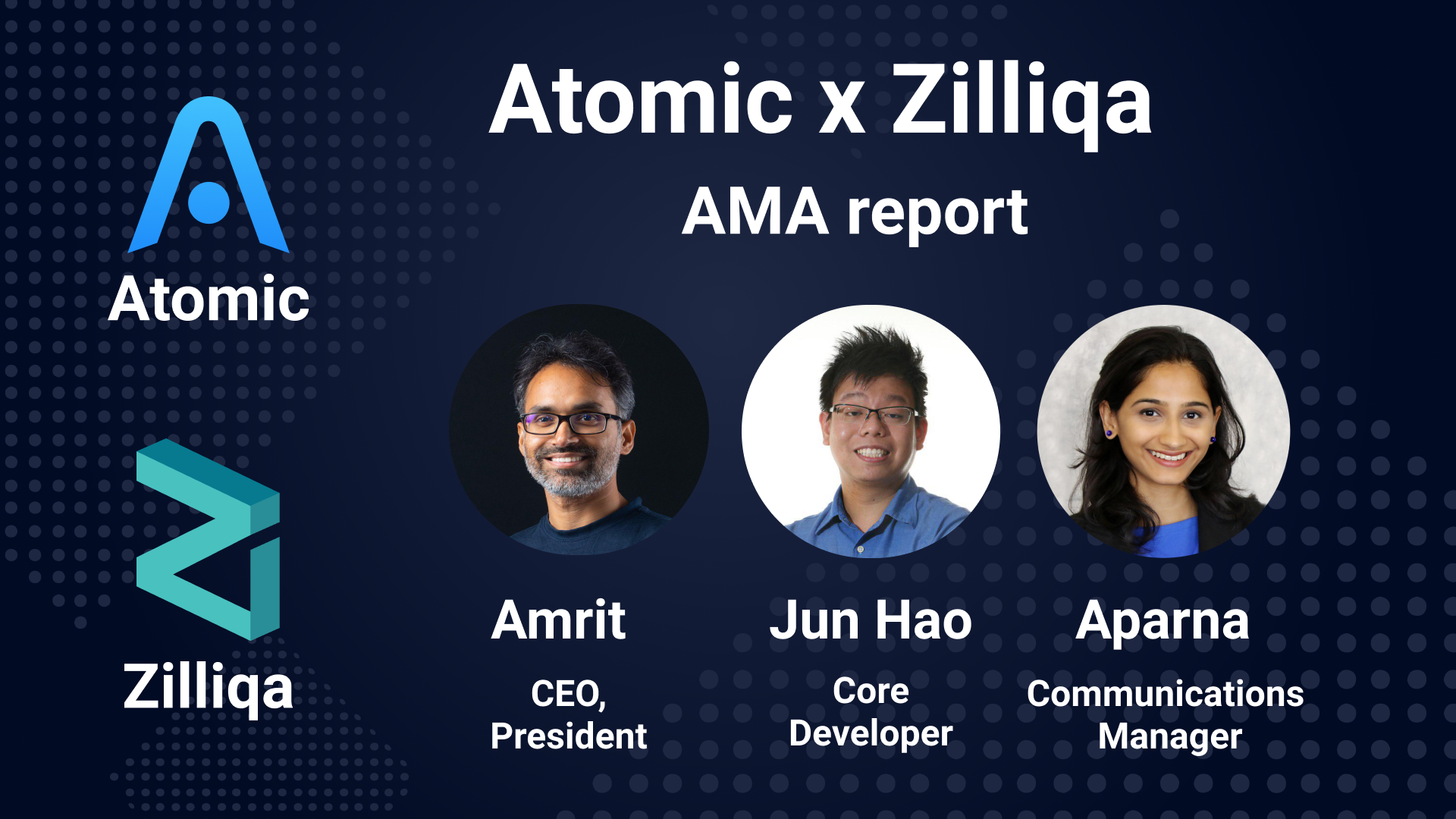 On September 17, we had an AMA session with high-performance public blockchain Zilliqa in our Telegram Chat. The project's focus is on maintaining high security being a fully decentralized and scalable platform. The team members present on the discussion with our community were Amrit Kumar, CEO & President, Jun Hao, Core Developer of Zilliqa, and Aparna Narayanan, Communications Manager. Here are the essential points of the session:
Please, welcome Amrit (AK), Jun (J), Aparna (A) and the questions from our Telegram chat members (Q).

Community & Mass Adoption
Q: How does Zilliqa facilitate the cooperation and collaborative development within the community. If someone had an idea that would work well on ZIL, how can we get support?

A: In 2018, we launched the 5-million-USD Zilliqa Ecosystem Grant Programme to encourage wider participation in the development of tools, libraries, and DApps on our platform. Beyond funding, selected individuals and teams are also able to receive technical advice and support from the Zilliqa team. To date, we've announced three waves of grant awardees consisting of 46 individuals and teams, out of a pool of 135 applications. Grant applicants come from all over the world and are represented by 17 nationalities, resulting in a diversity of candidates and projects.

Recently, we also announced an extension to the Innovation track of our grant program. Called ZILHive, this incubation program is organized in collaboration with a global blockchain incubator, LongHash. Five selected teams will have the opportunity to work closely with the Zilliqa team for technical tutorship as well as receive mentorship from LongHash's global network of experts and industry leaders from the traditional finance, business, and legal space. They will also be awarded with non-dilutive grant funding of US$20,000 upon completion of the three-month incubation program. We have received over 50 applications and will be announcing the winners in October.
We also organize Developer Calls to help, discuss, and get feedback from the global community members on various topics. Looking ahead, the days and times of these calls will vary to serve members from all different time zones. We've found the feedback from this platform to be very valuable. In a survey conducted during the first call – we found that Discord is a much more popular tool than Gitter. We've taken this feedback seriously, and have migrated our technical conversations to Discord.
Q: What are you focusing on to drive the growth and adoption of Zilliqa? How do you help people understand sharding as a great solution for blockchain?

A: Zilliqa focuses on driving mainstream growth and adoption across industries. Presently, our focus industries include Media and Entertainment, Financial Services, Gaming, and Digital Advertising. We want more people to better understand the blockchain world (and the terminology that comes along with it), and join the growing community.
Our team has several marketing and communication efforts underway to drive education and awareness.
Blockchain A-Z: We are hosting a series of blockchain workshops conducted with leading universities to educate and inform those who wish to learn about building on our blockchain using Scilla.
We use Academic conferences, dev meet-ups, and issue technical updates and educational piece to inform people on sharding.
Q: How to swap Zilliqa erc20 to Zilliqa mainnet token? How is the team serious about building Zilliqa? What're the major plans for adoption?

A: We're geared towards adoption in a big way and are focused on making Zilliqa an enterprise-grade platform that can be used across industries. Our partnership with Aqilliz will also help us mobilize our offerings into a solid blockchain product customized to industries such as digital advertising.
Zilliqa's Features
Q: What is DS Reputation Feature? What is the role that it plays in Zilliqa Network?

J: DS reputation is a new feature recently introduced in V5.0.0. Right now, nodes enter the DS committee and the longest remaining node will be ejected. With the new reputation mechanism, we will eject node that has not sufficiently contribute to the consensus protocol first.
Q: In a mainnet of Ziliqa, If someone wants to become a block-producer. Then what are the requirements?

AK: In order to be a block producer, you will have to do PoW. Zilliqa uses Ethash as the mining algorithm. However, PoW is not required for every block, this means that miners can mine several chains in parallel.
Q: What are some of Zilliqa's biggest strengths and weaknesses? How would you plan to improve in the future?

A: Zilliqa has two core strengths. One is its people. The other is the game-changing technology infrastructure. In terms of weakness: As a young company, we're learning along the way and have identified areas where we could be operationally stronger. For instance, when it comes to project management, we have sometimes under-estimated deadlines as we plan for tech upgrades, launches, etc. Another thing we are still learning to do is balancing all our priorities – from strengthening our tech constantly, to marketing and branding, reaching out to developers to drive adoption, we've got so many focus areas! As we grow our team and bring in people, we will only grow better and stronger.
Q: What is scilla? How SCILLA make applications less vulnerable to attacks?

J: Scilla has been designed as a principled language with smart contract safety in mind. Scilla imposes a structure on smart contracts that will make applications less vulnerable to attacks by eliminating certain known vulnerabilities directly at the language-level. Furthermore, the principled structure of Scilla will make applications inherently more secure and amenable to formal verification.
Q: If I want to become block producers, what are the requirements for that?

A: Zilliqa basically employs Proof-of-Work, so you can mine ZIL in the same way as ETH, as well as any blockchain that uses Ethash in parallel. So to become a block producer for the Zilliqa network, you just need to have the hardware to mine ZIL.
Q: Can you describe your sharding technology?

A: Through sharding technology where we divide the network into smaller "shards" that process their own batches of transactions in parallel to one another, Zilliqa can serve a high volume of users while preserving the core decentralized design of blockchain.
Q: You have selected pBFT consensus mechanism for Zilliqa and it has many Benefits like Transaction finality, Low energy footprint, etc. But what are the Drawbacks of pBFT?

AK: Compared to the Nakamoto consensus which is asynchronous, PBFT is weakly synchronous and communication heavy. This basically means that the liveness of the network relies on some timing assumptions.
Q: What are the feature that enhances the scalability of Zilliqa? What are points which help to make it secure?

AK: Zilliqa's core scalability comes from sharding (a method to divide the network into shards so that each shard can process transactions in parallel), and its security comes from the fact that it uses standard PBFT consensus with a shard-size of at least 600 nodes.
Q: Security is a major issue in crypto space,Could you please explain how secure is Zilliqa?

A: Our secure-by-design smart contract language built from scratch that serves as the answer to some of the major security issues in the blockchain. It is amenable to formal verification, allowing developers to leverage mathematical proofs to ensure their code is provably correct at the language level. This offers measurable benefits for enterprise use cases involving high-value transactions (examples are fin-tech, digital advertising, and marketing, payments)
Progress Till Now & Plans for the Future
Q: Developers of Zilliqa announced a successful network update to the 5.0.0 version. What was the aim of this update & what are the new improvements we can see in this new & updated version of Zilliqa Network?

J: V5.0.0 has a few key enhancements. First, we have to implement Scilla IPC and efficient state access. This will help to overcome the bottleneck we have seen in the past due to ever-increasing state issues. The second key enhancement is the introduction of DS's reputation.
Q: Congratulations on successfully completed Zilliqa's mainnet good work! What are your plans for business development and promoting Zilliqa's smart contract platform?

AK: 1) Enterprise adoption— The idea is to find established industries for which a part of their business logic can be put on Zilliqa to improve cost efficiency and auditability. On this front, we have been working with a company called Mindshare which is a digital advertising agency. We have run trials with Mindshare and PepsiCo.
2) Early-stage startups — The idea is to see if early-stage startups can build directly on Zilliqa. We are working with a startup called Xfers that has a license in Singapore to provide a bridge between businesses and banks.
3) Individual team and devs — This is purely community-driven. An example of such initiatives is Unstoppable domains — a project that aims to build domain names that sit on a blockchain.
Q: Where can we see Zilliqa's team working progress? Where can I follow Zilliqa for getting the latest tech updates? What is your primary goal of the next 4-5 years that you want to archive in this period?

J: Our tech team publishes a biweekly technical update on our blog at blog.zilliqa.com. You can follow our progress there. Also, we have recently set up our discord channel for technical discussion, we welcome all to join in too. For the next 4-5 years, our goal is to have greater adoption and continuously improving Zilliqa.
Q: Do you plan to expand your Brand and Marketing Department at Zilliqa? What were your biggest challenges in the last year? And what do you think will be your challenges going forward to the next year?

AK: We are always expanding the branding and marketing team. We recently hired a new person Milan. At the same time, we are also expanding the growth team. We have a new member Arthur who joined us recently. In my view, the biggest challenge in the last year was delivering the mainnet given that we were the first one to implement sharding and there were several open research problems to be solved along the way. The challenge going forward will be adoption –, i.e., bring useful high volume dapps on the platform. We have made some good success on this front already, for example being the Unstoppable domain dapp. But, we need to bring more of such projects on the platform and build an ecosystem for devs.
Q: Do you intend on improving blocktime in the future?

J: Yes we do intend to optimize the block time. What we foresee is, we will slowly and gradually improve it through optimization of the protocol. We are also currently looking into profiling our blockchain to identify where are the key areas we can improve on.
Q: Many projects died after ICO during bear market/not going as per the plan that was promised during ICO. How would Zilliqa overcome these after ICO and be one of the successful projects?

AK: In the bear or bull market, we will keep building Zilliqa. We have delivered our mainnet as promise and we will continue to deliver new features.

We were glad to host Zilliqa on our Telegram. Thanks to the team and all the members of the session!
Be always aware of our next AMAs and other projects with Atomic Wallet Twitter, Telegram, Facebook and Reddit, and see you soon!