AMA Session with Tron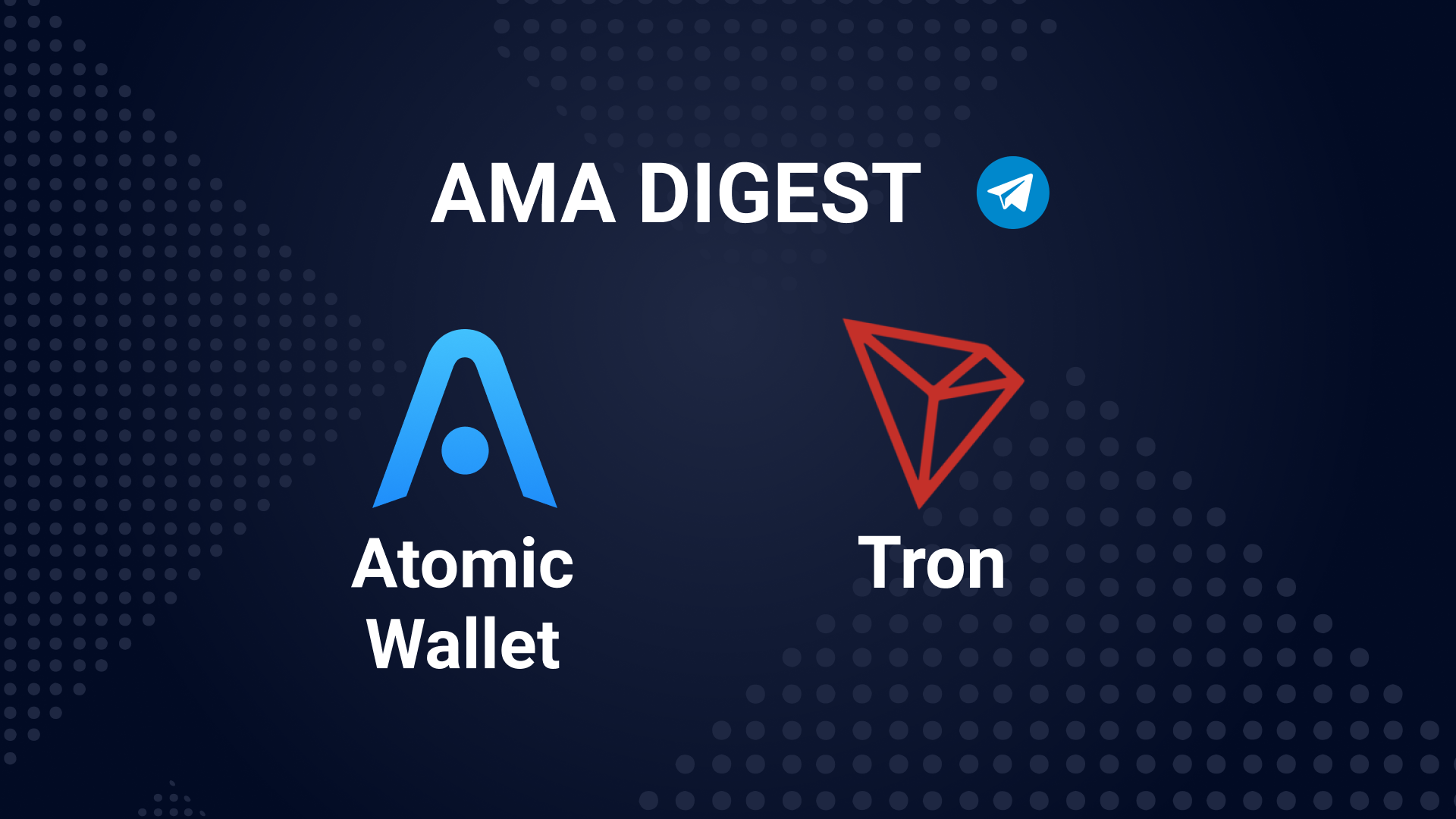 On June 11th, we had an AMA session with Justin Sun, the founder of the TRON platform, and current CEO of BitTorrent in our Telegram Chat.
Justin Sun is a tech entrepreneur, the founder of the TRON platform, and current CEO of BitTorrent. The former chief representative of the Greater China area of Ripple; founder and CEO of mobile social app Peiwo.
Here are the essential points of the AMA session that Konstantin Gladych, CEO of Atomic Wallet and Christina Khachatryan, PR Manager, hosted.
Please welcome Justin (J), Konstantin (K), and Christine, who shared the questions from our Telegram chat members (C).

K: Many people are interested about your new Tron 4.0 release! What will be the new added value to the world outside of crypto traders? What are the Tron blockchain benefits before others?
J: TRON 4.0 is not only about DApps, but also about DeFi. It means a lot. We designed the financial institution and enterprise blockchain solutions to power custom development for business clients. We've successfully developed a financial institution and enterprise blockchain solution. Financial institutions and business developers will be able to swiftly deploy a customized application blockchain based on their needs.

K: That's really cool! Many people compare Tron with ethereum. What are the benefits of Tron before other competitors?
J: TRON has many advantages, like high throughput, high scalability, high availability and high TPS. TRON can consistently handle 2,000 transactions per second, 24×7.

K: How is Tron decentralized in terms of consensus and stakeholders? I know you have validators, so-called super representatives but who are they?
J: On the TRON network, all TRX holders can apply to be SR candidates, and are likely to become SRs or superpartners. Any TRX holder can vote for SR candidates, among which the top 27 most-voted candidates will become SRs, while the 28th to 127th will become superpartners. SRs are responsible for producing blocks and packing transactions; superpartners, on the other hand, only receive voting rewards without performing the aforementioned two tasks.

K: What are the most popular use cases for Tron blockchain? Games, stable coins maybe or BitTorrent token?
J: There are 760+ dapps running on TRON blockchain, among them TRC20-USDT, BitTorrent, JUST are the most popular.

K: What do you think about Defi in 5 to 10 years? How can Tron play a part in making DeFi available for regular people, especially the unbanked and underbanked?
J: Defi will bring fresh possibilities to TRON while perfecting TRON's DeFi ecosystem and improving the liquidity of TRX. Meanwhile, we welcome the participation from more DeFi platforms in TRON, as the underlying technology we offer is widely recognized.

K: Recently you have made a live stream on development between TRON and Poloniex, what are the benefits for TRON holders on Poloniex?
J: Yeah, we have an in-depth cooperation with Poloniex, and I just made a livestream about a major upgrade on benefits for Poloniex's TRX Holders. Starting June 11, 2020 at 00:00 UTC, Poloniex and TRON will work together to implement a brand new tiered fee schedule. First, Poloniex users will enjoy a 25% discount on their trading fees when they opt in to paying their trading fees with TRX. Starting later today, users can turn on this discount so they will get 25% off as soon as the new fee schedule goes live on June 11th

C: Our trading app BLOX is the most popular app (in The Netherlands and Belgium) for newcomers to the space to invest in cryptocurrency. We offer almost all the top coins and are considering adding TRON. Why should we add TRX and if we add TRX, how would you support us?
J: TRON is one of the largest blockchain-based operating systems in the world. TRX was already listed by more than 150+ exchanges, TRON has more than 850 nodes around the world, over 6 million total accounts, over 20 million blockheight, over 750 Dapps, and a prosperous ecosystem. You can just contact our BD team for more details.

C: Regarding Tron 4.0, What is the best response to a developer who is hesitant about building on Tron today, given that it will be "replaced" by Tron 4.0 over the next few years?
J: TRON protocol offers base public blockchain support of high throughput, high scalability, and high availability for all decentralized applications in the TRON ecosystem. It's user-friendly and compatible to ETH developers, the costs are almost free and TRON has a large volume of users.

C: A more recent project built on TRON public chain is Pool-X decentralized mining pool hatched by Team KuCoin. What is the difference between KuCoin pool and TRX staking?
J: Pool-X decentralized mining pool is hatched by Team KuCoin. Pool-X delivers both Staking benefits and high liquidity. The team's choice of TRON was made out of its deep trust in us. It's an exchange that provides liquidity with staked crypto. TRX staking is a way to maximize the benefits for users holding TRON, usually provided by exchange.

C: What criteria does TRON use for integrating TRX & Its Small tokens into multi-chain wallets? And if supporting & adopting blockchain apps is important, would TRX Wallet also consider supporting other public blockchains' coins or tokens in the future?
J: All the Dapps are developed by the TRON community, the ecosystem is inclusive. By the community, for the community.

C: Do you see more opportunities in staking coins than lending collateralized USD? What do you think?
J: Well, that depends, different platforms have different services, users can make their choices.

C: How about gaming? As far as I observe the industry, blockchain gaming is considered to become the next BIG thing in iGaming & TRON is one of the few at the forefront. Are you confident that you will soon surpass the world's famous gaming sites in the world?
J: TRON is one of the largest blockchain-based operating systems in the world and wants to serve as a perfect blockchain to provide a better experience for users and developers.

C: Justin Sun recently called on Ethereum users to migrate to Tron, can you share about the comparative advantage of Tron over Ethereum and what's the benefit for me as a developer to switch to Tron. Tron 4.0 VS Eth 2.0 which is better? Why should I choose Tron?
J: Sure. First, TRON is user-friendly, second, TRON is compatible with ETH, third, TRON has a prosperous ecosystem, and TRON 4.0 is also released, we are making every step steadily.

C: How are rewards distributed (criteria) for staking TRX?
J: Different exchanges have different staking mechanisms. Users can do their due diligence.

C: Do you regret having lunch with Warren Buffet?
J: Totally not, we had a great dinner that night and I learned a lot.

C: The total supply of Tron (TRX) is almost 100 billion. In the future, Have you planned to do a coin burn from your total supply?
J: Firstly, if you create one type of TRC10 token, it will consume 1024 TRX, which means the 1024 TRX will be burned, it helps maintain the TRON ecosystem and TRX's value. Secondly, when you trigger a contract, if there are many transactions, it will also burn some TRX as transaction fee when the energy and bandwidth are used up. Thirdly, when you apply for TRON Super Representative, 9999 TRX will also be burned.

C: I saw that Tron partnership with Samsung, what are you guys doing with this integration? How is it going to benefit our users, such as the ecosystem? How about other partnerships, for example, Apple, Alibaba and etc?
J: TRON's DApps are already launched in the Galaxy Store, so that many overseas users now have access to TRON DApps on Samsung. This gives us great encouragement and we will also further our cooperation with Samsung in the future. I have the confidence that TRON will have more and more users in the future.

C: You said Tron 4.0 is not only about Dapps but also about Defi, can you name the main features of this?
J: Sure. Here are the main features: TRONZ Smart Contract Privacy Protocol, the New TPOS Dual-layer Consensus Mechanism, New TICP Cross-chain Protocol and lastly, Financial institution and enterprise blockchain solution.

We were glad to host Justin Sun on our Telegram. Thanks to Justin and all the members of the session!
Be always aware of our next AMAs and other projects with Atomic Wallet on Twitter, Telegram, Facebook, and Reddit, and see you soon.