Download 0x Wallet
It only takes a few minutes to set up Atomic Wallet on your PC or phone, giving you the perfect place to securely store your 0x (alongside other top coins and tokens).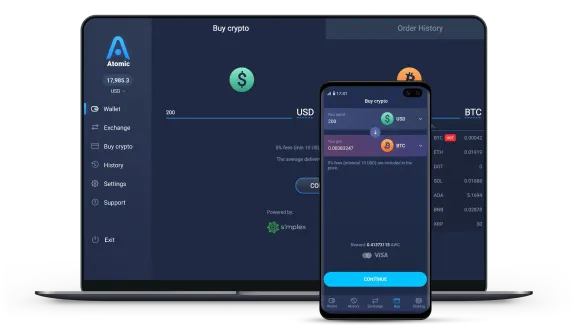 Buy and Swap Straight From Your 0x Wallet
You can purchase your ZRX and exchange it for other coins straight from your 0x wallet on Atomic, which ensures your crypto is securely encrypted and controlled by only you. We work with a licensed EU payment provider to handle the processing.
Benefits of an Atomic 0x Wallet
Only you control your private keys
You can manage 300+ coins and tokens
Exchange 100+ cryptocurrencies and get 1% cash back
Buy BTC, SOL, SHIB, and 30+ assets with your bank card
Stake 10+ coins with up to 20% yearly yield
How to Set Up Your 0x Wallet
Install the app on your phone or PC
Create a new wallet (or import an existing wallet)
Buy crypto or make a deposit
Manage Your Portfolio
Sort your crypto assets by their amount and value to take control of your portfolio.
What Our Customers Say

Jesse Brewington
As always, Atomic Wallet has been super fast and convenient with all my transactions.

Brian Weaver
Best wallet out there!! Exchange feature is great and cheap which is a major plus!

Anne Mwai
I love that I can almost do anything in AW I can purchase and exchange Crypto very easily, very user friendly.

Claudio
Sending coins from AW is super easy, safe and with no extra fees or limitations.

Conor
Great platform, really easy to use, nothing complicated, everything a beginner or pro trading crypto would want.
Download Atomic Wallet
Windows
MacOS
Ubuntu
Debian
Fedora
Why Choose 0x wallet
Private
No registration and KYC required to use the app. We don't track your data
Secure
Your private keys are encrypted and never leave your device. Only you have control over your funds
24/7 Online Support
Fast support for your needs. Live chat and email support for customers from all over the globe.
0x is the digital platform that was co-founded by Will Warren and Amir Bandeali in 2016. Their specifications are digital development and research, as well as smart contracts. Will and Amir had a stable vision about the world with Ethereum-based tokens. These kinds of assets are:
Fiat currencies

Digital gaming items

Gold

Exchange stock
This change from traditional currencies to tokens is the main goal that leads thousands of assets. It can be exchanged in a unique digital platform. Additionally, there is an effort of decentralized exchanges to this problem. These platforms present a few inefficiencies caused by a lack of operability between these decentralized exchange platforms.
In 2017 0x crew presented a unique token based on the blockchain of Ethereum — ZRX. Implementation of ETC trading rules will enable to trade assets and give an ability to manage this platform. Some parties are building on the ZRX platform, which will be known as Relayers. They will host the order lists and service fees for the entire blockchain.
Moreover, the 0x team presented a product to support the users. It was known as 0x OTC that includes the protocol set away. The 0x OTC product works with the peer-to-peer exchange used in the Ethereum Tokens. There is no need to use a Relayer because the 0x OTC works by instant connection with a specified counterparty. It is available on a test network by Ethereum called Kovan. Anyone can create their order and then spread it quickly by giving a particular link to another user. This link can be sent in three different ways: via email, twitter, or even on script materials.
0x (ZRX) Features
The 0x platform also provides some features that will be liked by users.
First of all, there is a solution for secure non-custodial trading. You can exchange your tokens between wallets without deposits or withdrawals.
This platform is also flexible in choosing order types. Every user can sell tokens at a specific price or allow possible buyers to offer bids.
Furthermore, the 0x ecosystem is a perfect choice for building a business. Users can become a Relayer and monetize their product by taking fees on each transaction.
But this is not the end. There are three features of entire ZRX token:
Staking ZRX: Even if market makers criticized the 0x long-term increase, the staking tool provides them on 0x financial rewards for delivering competing liquidity. Every asset holder can join a staking pool to earn a share of these pays. The matter to invite stakers to their supply is because it will enhance possible payouts and develops their voting control for governance. Stakers can commit 50% of voting power to the market producer.

Liquidity bridges. It's a very impressive upgrade for any DeFi developers that build dapps for reaching higher liquidity. This benefit is pretty much better for any dapp, mainly if there is an accessible investment use case. Developers will be ready to cause liquidity from other decentralized exchanges by a unique feature of integration called 0x API. DeFi makers can reach liquidity in other exchanges to secure filled orders to seize more considerable amounts. It will bring more users or dealers to the 0x platform.

Compliant charges. Previous editions of 0x limited the Relayer to earning payments in ZRX token only. It added more steps to decentralized exchanges dealing. For example, one of the biggest 0x trading platform called Radar Relay has no charges due to this confinement. In the third version of 0x, payment can be given in any ETC-based asset (such as Stablecoins) that a large number of traders operate, or the Relayer could get a trading charge in the traded asset.
All these features allow you to trade your assets safely and increase product liquidity.
Where to keep 0x (ZRX)
Atomic is a popular decentralized wallet for collecting cryptocurrencies. All your keys are collected on a smartphone and never leave it. Moreover, assets are also secured and encrypted.
There is a choice between 300 types of assets with a particular trading system. You can buy or sell up to 30 cryptocurrencies pairs with the current ZRX price.
What is 0x (ZRX) Wallet
It needs to create a unique ZRX wallet for collecting or trading your assets. Unfortunately, this cryptocurrency is not released. But you will manage your ZRX in Atomic after the release of an asset.
0x (ZRX) Wallet Security
You need to trust only verified wallets. It gives a guarantee that your ZRX is under heightened security. Don't forget to copy your private keys, seed words, and passwords on paper pieces or other devices. It is essential for better protection. If you lose them or device will be attacked by malware, you can recover access to your assets.
Moreover, there is a place for analyzing all available options on the crypto market. After that, you need to choose a wallet that is very comfortable and safe to manage ZRX.
Atomic provides you to give first-class protection, anonymity, and superior user experience in one platform. Atomic Wallet is encrypted, and your assets are secure. All you need is to keep your seed in a safe place. To choose the best wallet, read user's feedback and references of experts. You can analyze some of them and decide on the best.
How does Atomic Wallet Work?
Atomic is a cold storage non-custodial wallet for over 300 types of assets, including well-known coins and all ERC-20 tokens. It allows users to control their cryptocurrencies fully.
If you want to open your account, there are four steps to make:
Visit the official website, download the application and install it to smartphone or PC;

Open an app, tap 'Open Wallet' and build a strong password for more excellent safety;

After that, your wallet will automatically produce a backup phrase and propose you to copy it. Create a paper or digital copy and store it in a safe place. You can restore your wallet by this phrase anytime. It will help in case your PC fails or gets robbed.

After you copy the mnemonic phrase, an Atomic account becomes available to manage. Don't forget that every wallet address for your assets generates from the backup phrase. If you miss it, you can't restore an account after PC damage or malfunction.
So, your wallet is ready to use. The next significant step is attaching a new asset to an Atomic wallet. There's no matter what kind of crypto you decide to choose. The scheme on how to carry ZRX to an Atomic wallet or any other altcoin is the same. All you need is:
start the Atomic app;

log in it with your password and move to the directory of supported coins;

following all cryptocurrencies, there will be a section marked as your wallet address. It differs from one asset to another. To give any crypto to your Atomic wallet, copy the users' storage address, and transfer assets to it. There is from 5 to 30 minutes for the funds trading in your account.
After you learned how to add cryptocurrencies to Atomic Wallet, let's look at trading processes. Firstly, it needs to know about selling assets. This procedure is simple:
Open an Atomic application.

Pick the crypto you want to transfer from an assets list that performs on the screen.

After choosing the coin, it will extend and propose you to access the details. Write down the wallet address and amount of assets for transferring.

Confirm that all entered figures are correct.

Insert password for protection confidences and click "Send."
But there is another essential trading operation. Let's review some information about collecting payments on Atomic. You can make it in 5 steps:
Start your wallet application.

Choose an asset for getting into the account.

Copy your address to clipboard clicking on the address under the "Your Address" column.

Paste it into the line or transfer it to the sender.

Wait for confirming the operation. It took for 5 to 30 minutes.
After you followed all these steps, review your wallet balance to validate receipt.
Every user can choose between two types of trading — instant exchange or atomic swaps.
The first option allows you to exchange assets through the two most important services — Changelly or Changenow. Atomic is teamed up with both of them, providing users to trade their funds wallet-to-wallet from the exchanging list.
The second type, called "atomic swaps," is the peer-to-peer time-locked technology that used smart contracts. It lets people transfer from one coin to another one without intermediaries, similar to a centralized exchange. All you need is place an order in an order book without any registration processes.
Besides, the Atomic wallet allows comparatively first-class points to store your cryptocurrencies protected. Let's take an instant look at the best protection highlights:
Non-custodial explication. The Atomic wallet works without servers. That's why it doesn't need any registration. Atomic collects non-sensitive private data and doesn't have a reliance on third people to promote transfers on its side. This feature heightens the platform's protection;

High-level encryption method. Also, all links on the Atomic wallet work in ciphered mode, likewise all transferred information;

Private access keys are stored on a device. Atomic provides its users' authority over their private keys ultimately. There is no need to collect them on their servers. Preferably, the keys are stored on the user's PC. Besides, each user receives an individual recover seed phrase for access to the wallet, which is the second layer of security for complete power over an account.
This blend of features stores users' assets protected on an Atomic wallet. That's why this platform is the best choice for collecting some ZRX.