1 usdt ~ 31.98088721doge
exchange now
buy now
Exchange DOGE to USDT
Exchange, buy and stake 500+ coins in a one secure interface. 24/7 live support.
1% cashback for each exchange
Check 7,000+ users reviews
Main Features
Fast transactions
Each exchange takes only ~5-20 minutes.
KYC Free
Exchange transactions don't require registration or KYC
100+ assets
Exchange 100+ crypto pairs in a secure interface
24/7 live chat support
We are always ready to help you!
How to exchange cryptocurrency?
Deposit Funds
How to deposit crypto on Atomic Wallet
Exchange crypto with up to
1% Cashback
download
download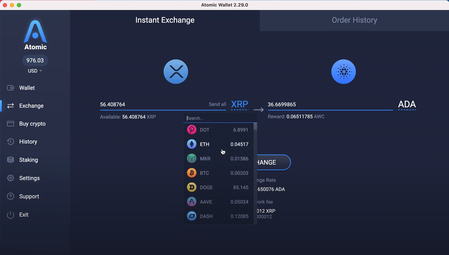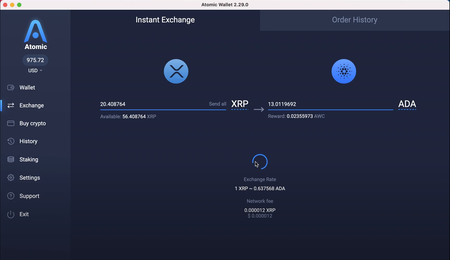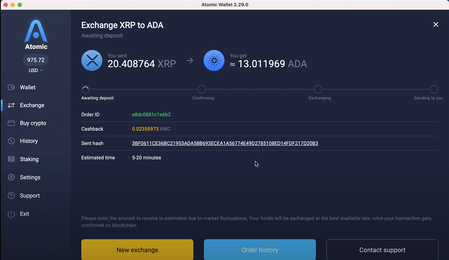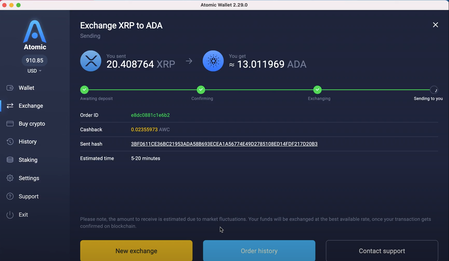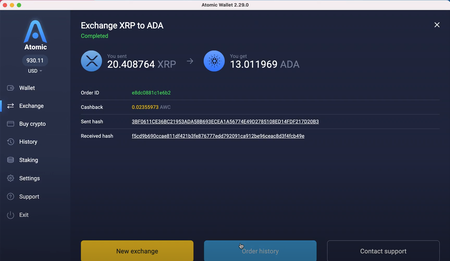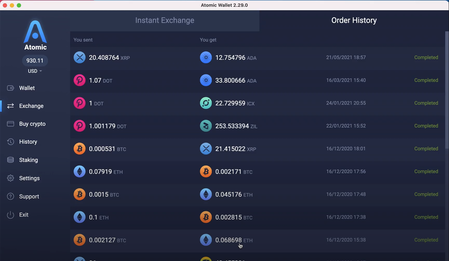 Have Questions about the exchange?
How does the exchange work?
Atomic Wallet is a non-custodial wallet. User identity remains anonymous, and we do not require KYC. Furthermore, Atomic works as a decentralized interface. To initiate an exchange, you first need to deposit funds via crypto. Afterwards, tap the exchange option and select your desired exchange pair. Atomic supports a third-party exchange provider ChangeNOW. Swapping cryptocurrencies is an automatic process.
Exchange Security
Users hold and own their private keys, and their wallet security remains anonymous. Atomic has no access to your wallet, neither do we monitor your operations. Users have complete control of their funds. Once you click the Exchange icon, ChangeNOW manages all other activities. So far, there have been no complaints about the operations and security of the ChangeNow exchange. Atomic is in a long-term partnership with the exchange provider. Therefore, you can be sure that your funds are safe.
Fees and Limits
Network fees and any other fee for each transaction are on the exchange page. The network fee for every pair differs depending on the blockchain of the coin you are sending. You can always check for the network fee and provider fee before initiating an exchange. Therefore, you will have complete information about the trade. EU requires that all transactions above 10BTC be subject to a KYC check. As a result, users who wish to initiate large transactions will have to submit their identity documents. Meanwhile, you can split bulk funds into smaller units to make things easier.
Support
Customers who have further questions can check the Knowledge Base on our website. There are articles about various exchange options, pairs, and how to initiate an exchange in the Exchange section. Of course, we have a customer support centre on our mobile app and website if you can't find your answer on the website.
DOGE to USDT Converter
Users can easily convert DOGE to USDT via Atomic Wallet. Atomic allows you to convert Dogecoin to Tether (USDT) directly from the wallet through a few steps. This process is simple, fast, and accessible. You can convert Doge to USDT by doing the following:
Buy Doge directly using the Buy option in Atomic wallet. Also, you can transfer Dogecoin to your wallet from external sources.

Go to the exchange section of your wallet and select DOGE. Enter the amount you want to convert or send all if you wish to swap everything you hold.

Then, choose USDT as the coin you want to receive. Ensure you take note of the network fee to know how much you are paying for the transaction. Currently, the network fee to convert DOGE to USDT is 1 Dogecoin. Also, users can only swap a minimum of 30.4 Dogecoin to USDT.

Click on Exchange to go ahead with the conversion and wait for the network confirmation.

To view details of exchange transactions or contact customer support, click on History.
If you hold DOGE in your Atomic Wallet and wish to convert it to Tether, you can follow the same process to convert DOGE to USDT directly via Atomic Wallet.
DOGE to USDT Exchange
Users can exchange DOGE to USDT via the instant exchange in Atomic Wallet. This feature is a simple swapping procedure, and transactions are as fast as possible. You can follow these steps to exchange DOGE to USDT on Atomic Wallet:
Go to the Exchange section on your wallet and choose to send Dogecoin. Enter the amount of DOGE you want to convert or click on send all if you wish to exchange all Dogecoin you hold.

Then, choose USDT as the coin you will receive. Please note the network fee so you know how much DOGE you are paying for the transaction. As of this writing, users can only exchange a minimum of 30.4 DOGE to USDT.

Click the Exchange option to go ahead with the conversion and wait for the network confirmation.

Tap on the History button to view details of network confirmation or report an issue to the support team.
Converting Dogecoin to Tether occurs at the standard exchange rate in the cryptocurrency market. Also, exchanging DOGE to USDT on Atomic Wallet is secure and easy.
Moreover, Atomic is decentralized. So, nobody monitors your activities, and your user identity remains anonymous.
How to Exchange Dogecoin to USDT
The Exchange feature is available on both the desktop version and mobile application of Atomic wallet. First, you need to have some Dogecoin in your wallet. Then, open your wallet and tap on the Exchange button to perform the transaction.
Enter the amount of DOGE you want to convert and click to receive Tether (USDT). Swapping Dogecoin to USDT happens at the current market price. For example, if a user converts 5000 DOGE to USDT, you will receive USDT depending on the market price of the two cryptocurrencies at the time of your transaction. To view details of this transaction and others, click on the History button. Also, you have to pay network fees to exchange Dogecoin to USDT on Atomic wallet. Currently, you are allowed to exchange a minimum of 30.4 Dogecoin.
Above all, swapping Doge to USDT is fast, easy, and cheaper via Atomic Wallet. Also, we do not require KYC document verification from our users..
You can download the Atomic Wallet app to your mobile device or the desktop version if you don't use it.
Download Atomic Wallet
Windows
MacOS
Ubuntu
Debian
Fedora
Even more cool features are coming