Buy and Swap Straight From Your Tezos Wallet
You can purchase your XTZ and exchange it for other coins straight from your Tezos wallet on Atomic, which ensures your crypto is securely encrypted and controlled by only you. We work with a licensed EU payment provider to handle the processing.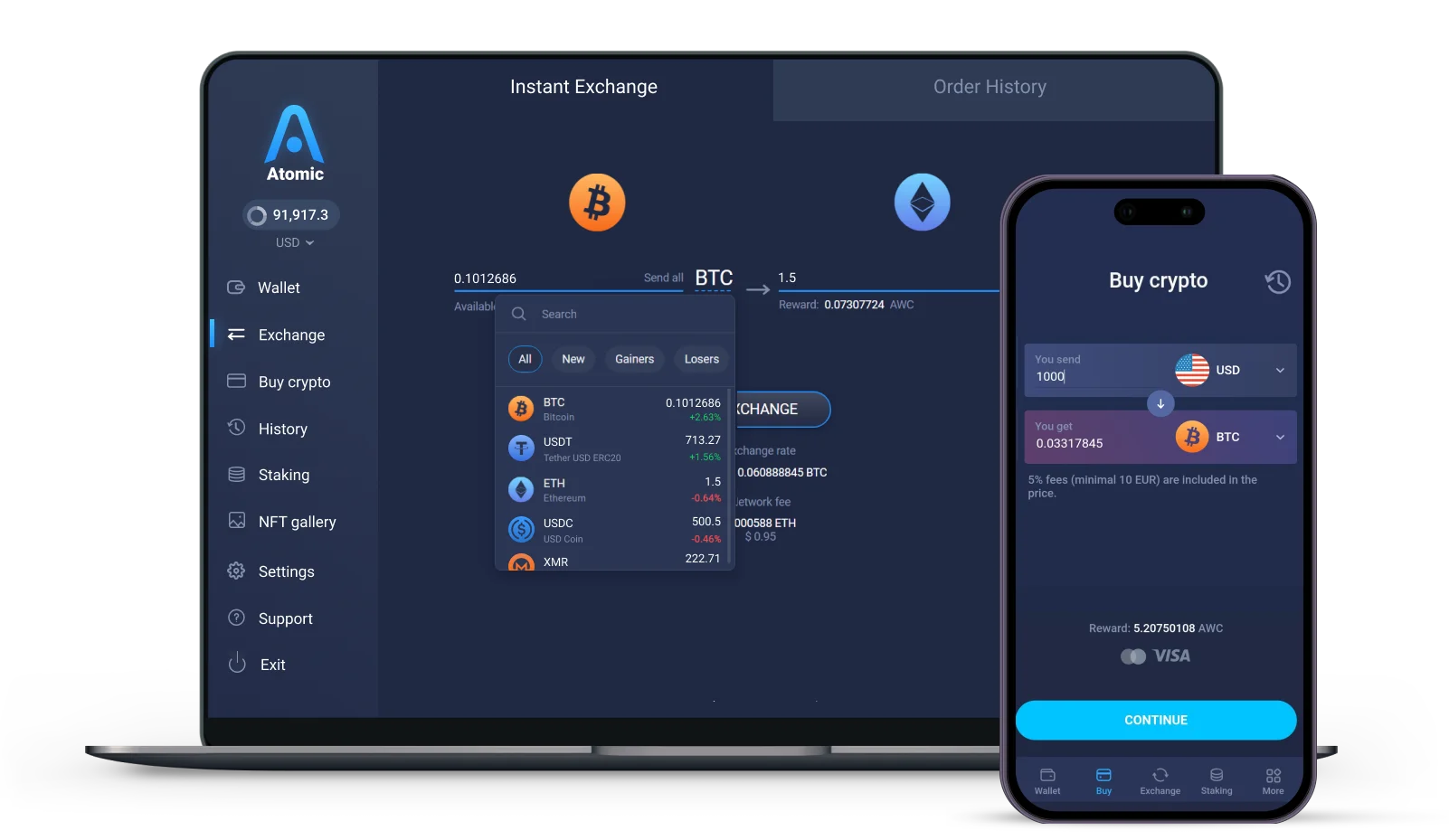 Benefits of an Atomic Tezos Wallet
Only you control your private keys
You can manage 1000+ coins and tokens
Exchange 100+ cryptocurrencies and get 1% cash back
Buy BTC, SOL, SHIB, and 30+ assets with your bank card
Stake 20+ coins with up to 20% yearly yield
How to Set Up Your Tezos Wallet
Install the app on your phone or PC
Create a new wallet (or import an existing wallet)
Buy crypto or make a deposit
Manage Your Portfolio
Sort your crypto assets by their amount and value to take control of your portfolio.
Explore more cryptocurrencies supported on Atomic Wallet
What Our Customers Say

Jesse Brewington
As always, Atomic Wallet has been super fast and convenient with all my transactions.

Brian Weaver
Best wallet out there!! Exchange feature is great and cheap which is a major plus!

Anne Mwai
I love that I can almost do anything in AW I can purchase and exchange Crypto very easily, very user friendly.

Claudio
Sending coins from AW is super easy, safe and with no extra fees or limitations.

Conor
Great platform, really easy to use, nothing complicated, everything a beginner or pro trading crypto would want.
Why Choose Tezos wallet
Private
No registration and KYC required to use the app. We don't track your data
Secured
Your private keys are encrypted and never leave your device. Only you have control over your funds
24/7 Online Support
Fast support for your needs. Live chat and email support for customers from all over the globe.
Tezos Wallet
Tezos (XTZ) wallet, like any other crypto wallet, is an app or a device that stores users' XTZ private keys. These keys are needed to sign a transaction (send your crypto assets from one wallet to another wallet or a platform). There are many different types of Tezos wallets, and each of them has its pros and cons. Before getting into more details about the wallets, let us first take a closer look at the Tezos ecosystem itself and see what it's all about.
Tezos blockchain
Tezos (XTZ) is a decentralized blockchain platform that was launched in 2018. It is designed to be a self-amending blockchain that can evolve over time without the need for hard forks. Tezos protocol uses a proof-of-stake consensus (or PoS) algorithm, which means that members of the Tezos community can stake their XTZ tokens to participate in the network and earn rewards for validating transactions.
On-chain governance
One of the key features of Tezos is its on-chain governance system. This allows token holders to propose and vote on changes to the protocol, such as upgrades or bug fixes. The governance system is designed to be transparent and democratic, with all stakeholders having an equal say in the decision-making process.
Smart contracts
Another important aspect of Tezos is its smart contracts and smart contract safety. This allows developers to build decentralized applications (dApps) on top of the Tezos blockchain. Smart contracts are self-executing programs that can automate complex processes, such as financial transactions or supply chain management.
Tezos has gained popularity among developers and investors due to its focus on security and scalability. The platform uses formal verification, a mathematical method for ensuring the correctness of code, to minimize the risk of bugs or vulnerabilities in smart contracts. Additionally, Tezos Foundation has implemented several scaling solutions, such as sharding and sidechains, to improve transaction throughput and reduce fees.
Tezos (XTZ)
The native cryptocurrency of the Tezos network is XTZ. It is used for staking, participating in governance decisions, and paying transaction fees on the network. XTZ has seen significant price growth since its launch, with its market capitalization reaching over $3 billion at its peak in 2021.
Overall, Tezos offers a unique combination of self-governance, security, scalability, and smart contract functionality that has attracted a growing community of developers and investors. As blockchain technology continues to evolve and mature, it will be interesting to see how Tezos adapts and innovates in this rapidly changing landscape.
Types of Tezos wallets
Finding the best Tezos wallet for you should be easy enough. There is a great variety of crypto wallets catering to different groups of users, some focusing on security, some - on convenience, and some - on both.
Hardware Tezos wallet
A hardware wallet is a physical device that stores Tezos private keys offline, providing an extra layer of security for your crypto assets. One of the main advantages of hardware wallets is their resistance to hacking attempts, as they are not connected to the Internet and therefore cannot be accessed remotely. Additionally, hardware wallets often come with backup options such as seed phrases, which can be used to recover lost digital assets. This makes them a popular choice for long-term storage of large amounts of cryptocurrency.
However, there are also some drawbacks to using a hardware Tezos wallet. Firstly, it can be expensive compared to other types of wallets, which may deter some users from investing in them. Additionally, hardware wallets can be more difficult to use than software wallets, particularly for beginners who may struggle with the setup process and navigating the device's interface. Finally, if a hardware wallet is lost or damaged and the user does not have access to their seed phrase or backup options, their funds may be irretrievable. Overall, while a security-focused hardware wallet is a good solution for cryptocurrency storage, users should carefully consider their individual needs and preferences before deciding whether or not to invest in one.
Web Tezos wallet
Web wallets for cryptocurrency are digital wallets that allow users to store, manage and transfer their cryptocurrencies online. They offer several advantages such as convenience, accessibility, and ease of use. With a web wallet, a user can access their XTZ assets from anywhere in the world as long as they have an online connection. They are also easy to set up and use, making them a popular choice for beginners. Additionally, web wallets often have user-friendly interfaces that make it easy to manage multiple cryptocurrencies in one place.
However, there are also some disadvantages to using web wallets for cryptocurrency. One major concern is security. Web wallets are vulnerable to hacking attacks and other security breaches that can result in the loss of digital assets. Users must be careful when choosing a web wallet provider and ensure that they have strong security measures in place such as two-factor authentication and encryption. Another disadvantage is that web wallets are custodial. It means they rely on third-party providers to store the user's private keys. Thus, users do not have complete control over their assets and must trust the provider to keep them safe. Overall, while web wallets offer convenience and ease of use, users must be aware of the potential risks involved and take steps to protect their XTZ tokens.
Desktop Tezos wallets
A desktop XTZ wallet may be a popular choice for cryptocurrency users who want to store their digital assets on their personal computers. One of the main advantages of a desktop wallet is that it offers a high level of security, as users have complete control over their private keys and can store them offline. This means that desktop wallets are less vulnerable to hacking attacks and other security threats than online wallets. Additionally, desktop wallets are often free to use and offer a wide range of features, such as the ability to manage multiple cryptocurrencies.
However, there are also some drawbacks to using desktop wallets. For one, they require users to download and install software on their computers, which can be time-consuming and may require technical expertise. Additionally, if a user's computer is lost or stolen, they may lose access to their cryptocurrency unless they have backed up their wallet files. Finally, a desktop Tezos wallet can be vulnerable to malware and viruses if users do not take proper precautions, such as using antivirus software and keeping their operating system up-to-date.
Mobile wallets
A mobile Tezos wallet is a good choice thanks to its convenience and accessibility. One of the main advantages of using a mobile wallet is that it allows users to easily store, send, and receive cryptocurrencies on the go. This means that users can make transactions from anywhere in the world, without having to rely on a traditional banking system. Additionally, mobile wallets often offer enhanced security features such as two-factor authentication and biometric verification, which can help protect users' funds from theft or fraud.
However, there are also some potential drawbacks to using a mobile wallet for cryptocurrency. One major concern is the risk of hacking or malware attacks, which could compromise the security of a user's private keys. Additionally, some mobile wallets may not support all types of cryptocurrencies or may have limited functionality compared to desktop or hardware wallets. Finally, there is also the risk of losing access to a mobile wallet if a user loses their phone or forgets their password, which could result in permanent loss of funds. Overall, while mobile wallets offer many benefits for cryptocurrency users, it is important to carefully consider the potential risks and limitations before choosing a specific wallet provider.
Atomic Tezos Wallet
Now that you know what a Tezos wallet is, why not look at a specific example of a user-friendly multifunctional wallet and choose the best wallet among the safest XTZ wallets?
There are plenty of solutions that allow you to keep and manage XTZ. You will find that there are solutions designed specifically as a Tezos (XTZ) wallet, as well as multi-asset ones. There are also custodial and non-custodial wallets. The wider the choice, the harder it gets to find the best XTZ wallet for you. Atomic Wallet is here to spare you the need to wander around hundreds of websites in search of the best solution!
A wallet for all your digital assets
Atomic wallet is a decentralized multi-currency Tezos wallet. It's a software wallet that supports more than 300 cryptocurrencies, and has a built-in Cryptocurrency Exchange, allowing you to exchange XTZ, having hundreds of available trading pairs. You can also stake XTZ to get rewards and purchase XTZ, as well as have access to 24/7 live customer support. It has become truly famous for its convenience, user-friendly interface, lack of operational costs, and security.
Your private keys - your crypto
Safety and reliability are ensured by the fact that it's a cold wallet, so your crypto is entirely under your control, as your private key is stored only on your computer or a phone. This ensures that only you have full control over your assets. We provide you with the options to manage, exchange and buy Tezos with a bank card.
The primary purpose of Atomic Wallet is not just to store cryptocurrency but to create a healthy multifunctional ecosystem that, in many ways, resembles a decentralized exchange. Atomic Wallet has an internal token - AWC (short for Atomic Wallet Coin), which has many use cases in the ecosystem, such as dividends for holders and the cashback program. Furthermore, it also serves as a marketing tool for bounty and airdrop campaigns.
A significant advantage of a decentralized wallet, in general, is the ability to manage cryptocurrency from any device. Still, you need to pay attention to how you store the backup phrase. In HD Wallets (Atomic being one of them), the keys are generated from one master seed phrase, so that phrase is the primary access to your funds. With Atomic, your Tezos (XTZ) wallet is protected as long as you keep your seed, or private key, in a safe and secure place. This data is kept in your local storage and protected using advanced encryption.
Setting up Atomic TRX Wallet
Download and install
To enjoy the functionality of the Atomic Wallet, one first needs to go through a simple process of creating a wallet. Download the installation file for your operating system from the official website and install the app. If you're setting up a mobile wallet, the process is even simpler, since you'll be installing via a marketplace automatically (Google Play for Android and AppStore for iOS).
If you need more specific instructions regarding a certain platform, check out our guide!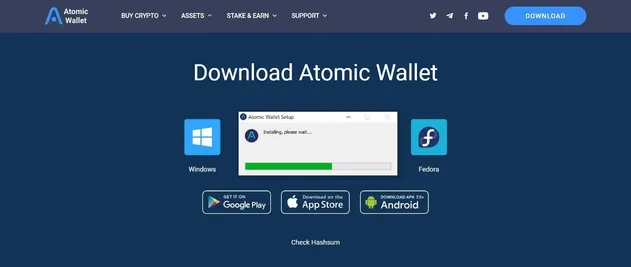 After that's done, run Atomic Wallet, click 'Create Wallet,' set up a strong password, and click Set Password. Make sure it is a unique and secure password that you don't use for anything else.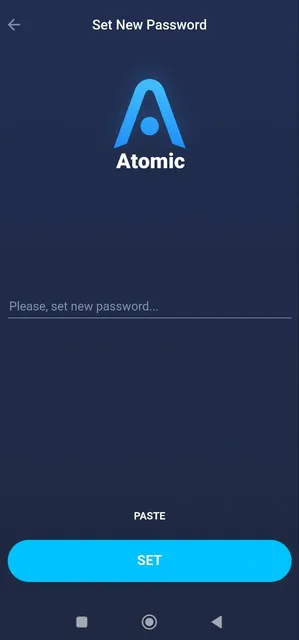 You will now see a 12-word seed phrase that can be used to restore access to the wallet. Be sure to keep it in a safe and secret place! Then click 'Open Wallet.'
That's it! You can now use the Atomic TRX wallet. Find your XTZ address and you can deposit the XTZ right away.
You can find a step-by-step guide on creating a wallet in Atomic here and if you encounter any difficulties with any of the steps, feel free to contact our customer support by filling out this form.
Getting XTZ into your wallet
There are several ways of getting funds into your Atomic Tezos wallet.
Deposit Tezos (XTZ)
The first method is to simply deposit funds into the Atomic Wallet from an external wallet. The process is fairly simple even for a first-timer. All you need to do is to find your XTZ address in Atomic, copy it, and paste it into the sending window of the app that you're trying to send your funds from.
Exchange Tezos (XTZ)
The exchange allows you to buy XTZ by paying for it with another asset. Let's say you have some DOGE (or other coins) in your wallet, but you decide to try out XTZ. The exchange feature has got you covered. With more than 500 coins to choose from, you can freely swap tokens without having to verify your identity or follow time-consuming 'Know Your Customer (KYC) protocols. The exchange also provides real-time prices for assets and cryptocurrency pairs, so you can ensure that you time the transaction to achieve the best possible value. A step-by-step guide on exchanging assets is available here.
But can you buy Tezos (XTZ) with only fiat in your bank account, though? Of course! Thanks to our 'Buy Crypto' feature you can buy XTZ in directly in the wallet.
Get a Tezos wallet today
In conclusion, there are a variety of Tezos (XTZ) wallets available for XTZ token holders to choose from, each with its own unique features and benefits. Whether you prefer a mobile wallet for on-the-go transactions or a desktop wallet for added security, there is an option that will suit your needs. With the growing popularity of Tezos and its increasing blockchain adoption by businesses and individuals alike, having a reliable and user-friendly wallet is essential. So go ahead and explore the different options available, and start enjoying the benefits of this exciting new blockchain technology today!
Choosing the Atomic Wallet to hold your XTZ coins in, allows you to easily create a new wallet, buy crypto (for Tezos and other networks), stake XTZ and in an app with a user-friendly interface. You can also exchange Tezos on another platform by using Wallet Connect (available only on mobile) or in the wallet directly if you prefer.
Get the app on Google Play or Appstore, or download it from our website and join millions of Tezos users right away!