Buy and Swap Straight From Your Avalanche Wallet
You can purchase your Avalanche and exchange it for other coins straight from your Avalanche wallet on Atomic, which ensures your crypto is securely encrypted and controlled by only you. We work with a licensed EU payment provider to handle the processing.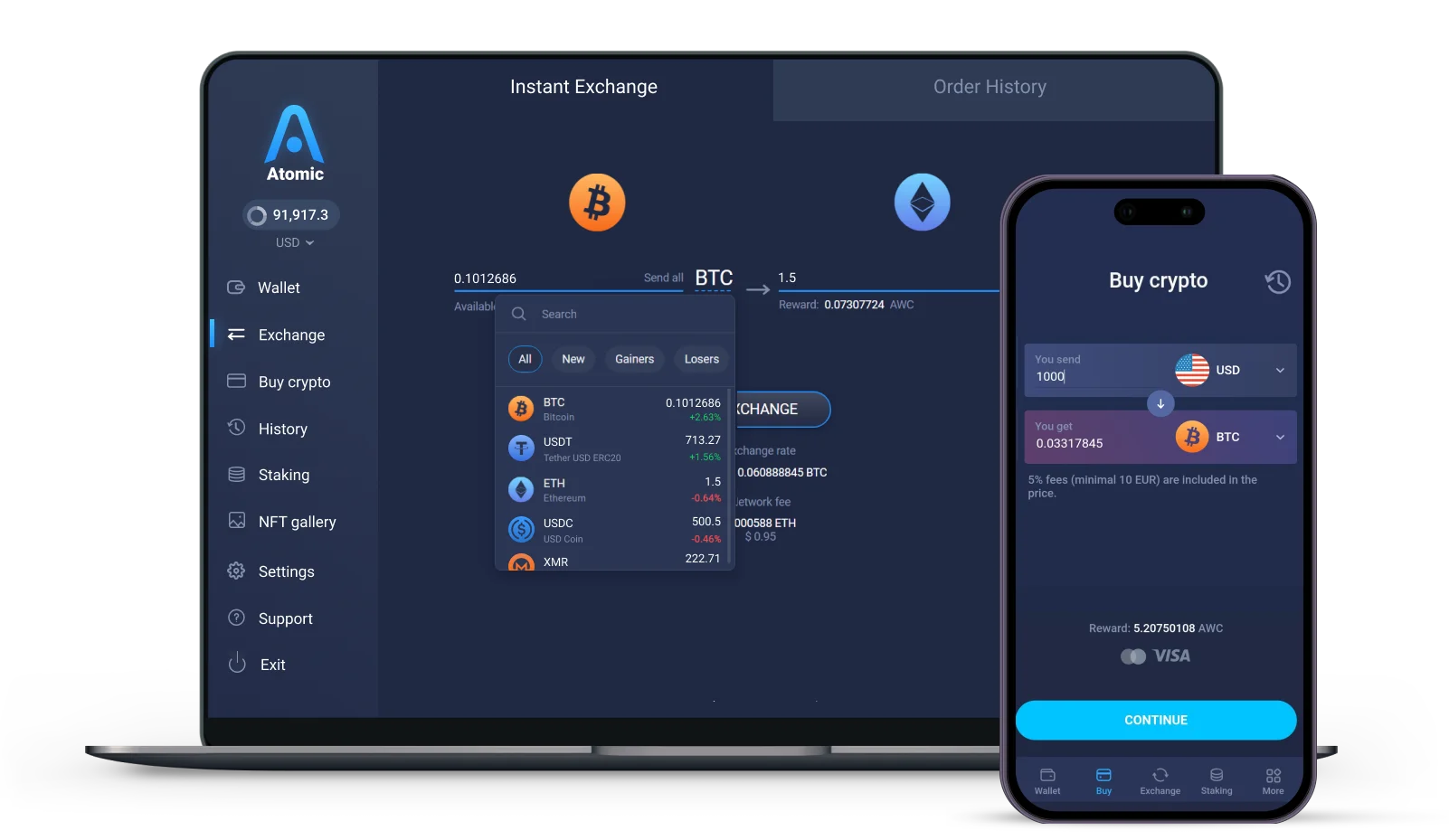 Benefits of an Atomic Avalanche Wallet
Only you control your private keys
You can manage 1000+ coins and tokens
Exchange 100+ cryptocurrencies and get 1% cash back
Buy BTC, SOL, SHIB, and 30+ assets with your bank card
Stake 20+ coins with up to 20% yearly yield
How to Set Up Your Avalanche Wallet
Install the app on your phone or PC
Create a new wallet (or import an existing wallet)
Buy crypto or make a deposit
Manage Your Portfolio
Sort your crypto assets by their amount and value to take control of your portfolio.
Explore more cryptocurrencies supported on Atomic Wallet
What Our Customers Say

Jesse Brewington
As always, Atomic Wallet has been super fast and convenient with all my transactions.

Brian Weaver
Best wallet out there!! Exchange feature is great and cheap which is a major plus!

Anne Mwai
I love that I can almost do anything in AW I can purchase and exchange Crypto very easily, very user friendly.

Claudio
Sending coins from AW is super easy, safe and with no extra fees or limitations.

Conor
Great platform, really easy to use, nothing complicated, everything a beginner or pro trading crypto would want.
Why Choose Avalanche wallet
Private
No registration and KYC required to use the app. We don't track your data
Secured
Your private keys are encrypted and never leave your device. Only you have control over your funds
24/7 Online Support
Fast support for your needs. Live chat and email support for customers from all over the globe.
Avalanche (AVAX) wallet
Avalanche (AVAX) wallet is an app or a device, which purpose is to safely store users' AVAX private keys. These keys are needed to sign a transaction (sending your crypto assets from one wallet to another wallet or a platform). There are many types of Avalanche wallets, and each of them has its pros and cons. Before we take a closer look at the best Avalanche wallets, let us first figure out what Avalanche network is.
Avalanche network
Avalanche is an L1 (layer one) blockchain, meaning, it can process and finalize transactions on its chain. Its native coin is Avalanche (AVAX). AVAX is used to pay the transaction fees and secure the Avalanche network. Using the Proof-of-Stake consensus mechanism, Avalanche network implements the Ethereum Virtual Machine and supports smart contracts as well as many other Ethereum features.
As with many other networks, in addition to having its native asset (AVAX), the Avalanche network has a wide array of tokens that users can exchange and manage using one of the Avalanche wallets.
Multiple chains
The way Avalanche solves the scalability issue is another peculiar feature of this chain. Avalanche has a primary network. This primary network consists of three chains or subnets that manage it. There is X-Chain, C-Chain, and P-Chain.
X-Chain or the Exchange chain. X-Chain is the primary chain for asset issuance and trading. It supports the creation and exchange of assets such as tokens, stablecoins, and other digital assets.
C-Chain or the Contract Chain. C-Chain is the contract chain that supports smart contracts and decentralized applications (dApps). Developers can use C-Chain to build dApps using popular programming languages such as Solidity and Java.
P-Chain, aka the Platform Chain. P-Chain manages network validators and provides governance functionality.
AVAX consensus mechanism
As mentioned above, the AVAX network utilizes the Proof-of-Stake consensus mechanism which means users can get rewards for staking their AVAX.
Avalanche validators are responsible for keeping the network going and keeping it secure by verifying transactions and adding new blocks to the blockchain. Users can pool their AVAX together and delegate them to a validator that runs an Avalanche node. Validators also validate the subnets, which keeps the chain growing.
To operate an Avalanche node, a validator must have at least 2,000 AVAX as a bond.
Through the governance process, users can make decisions regarding the chain's future. While it's common for many networks to utilize the governance mechanism, the Avalanche chain goes even further, allowing users to decide on the number of transaction fees and the speed with which new AVAX coins are minted.
Choosing an Avalanche (AVAX) wallet
When choosing the best Avalanche wallets, it's important to point out that there are many types of wallets. It is not possible to point at one wallet and claim that that particular one is the best. There are the best wallets in each category.
Hardware wallet
Hardware wallets are physical devices that store your private keys offline, making them one of the most secure options for storing cryptocurrencies like AVAX. Examples of hardware wallets that support AVAX include Ledger Nano S and Trezor (Ledger Nano requires the latest version of Avalanche app installed).
Desktop Avalanche wallet
Desktop wallets are software applications that you can download and install on your computer. They offer a higher level of security than online wallets since they store your keys locally on your device. Examples of desktop wallets that support AVAX include Avalanche Wallet and Atomic Wallet.
Mobile Avalanche Wallet
Mobile wallets are applications that you can download on your smartphone or tablet. They offer convenience you can access them from anywhere, but they may not be as secure as hardware or desktop wallets since they store your keys on your device.
Avalanche web wallet
A web wallet (or a hot wallet) are online platforms where you can store your cryptocurrencies like AVAX. They offer convenience since you can access them from any device with an internet connection, but they may not be as secure as other wallet types since they store your private keys online.
In its essence, a hot wallet is an app that interfaces with the blockchain directly and presents the information in a user-friendly way. You don't need to be a software engineer to access all options of the Avalanche coin on your mobile device or a stationary PC.
Atomic Avalanche Wallet
Now that we know more about AVAX and different AVAX wallets, we'd like to present to you a secure Avalanche wallet, with a user-friendly interface and a variety of features, including security features that you typically can't find in a software wallet.
Atomic Avalanche Wallet is a decentralized multi-currency AVAX wallet. It supports multiple cryptocurrencies, like BTC, SOL, ADA, and other coins. Overall, Atomic offers support for more than 300 cryptocurrencies.
A secure AVAX wallet
A significant advantage of a decentralized (also known as non-custodial) wallet, in general, is security. No one but you has access to your data. In addition to security, it also gives you the ability to manage cryptocurrency from any device. Still, you need to pay attention to how you store the backup phrase. In HD Wallets (Atomic being one of them), the keys are generated from one master seed phrase, so that phrase is the primary access to your funds.
Your funds are protected by a password by default, but you can enable fingerprint scanning and/or FaceID.
With Atomic, your Avalanche wallet is protected as long as you keep your seed, or private key, in a safe and secure place. This data is kept in your local storage and protected using advanced encryption. It reduces the risk of unauthorized access. Wallet acts like a hardware wallet in this case, so your crypto is entirely under your control.
The downside of having complete control over your private keys is that if you lose your seed phrase, you will lose access to your crypto assets.
Anonymous Avalanche wallet
Atomic Wallet is also anonymous. We do not collect any of your data, not your mobile phone number, not email, nothing, not even your IP address.
Exchange Avalanche
Atomic is a software wallet that has an integrated Cryptocurrency Exchange. This feature allows you to exchange Avalanche (AVAX) and trade your crypto assets without needing to go to an exchange platform. If you you can always exchange Avalanche for Bitcoin or any other coins, we have hundreds of available trading pairs.
Buy AVAX in the wallet
Thanks to our Buy Crypto feature, you can buy AVAX directly in the wallet, without the need to use 3rd party platforms.
Other features
You also get access to 24/7 live customer support, lack of operational costs, and security.
The primary purpose of Atomic Wallet is not just to keep cryptocurrency but to create a healthy multifunctional ecosystem that, in many ways, resembles a decentralized exchange. Atomic Wallet has an internal token - AWC (short for Atomic Wallet Coin), which has many use cases in the ecosystem, such as dividends for holders and the cashback program. Furthermore, it also serves as a marketing tool for bounty and airdrop campaigns.
Setting up Atomic AVAX Wallet
Download and install
First, you need to go through a simple process of creating a wallet. Download the installation file for your operating system from the official website and install the app. If it's a desktop wallet you're after, download the installer. If you're setting up a mobile wallet, the process is even simpler, since you'll be installing the mobile application via a marketplace automatically (the app is available on both Android and iOS devices). Atomic is available for Windows, Mac, Linux, Android, iOS, and other operating systems.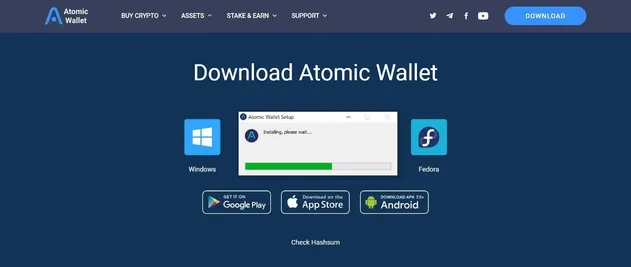 If you need more specific instructions regarding a certain OS, check out our guide!
After that's done, run Atomic Wallet, click 'Create Wallet,' set up a strong password, and click Set Password. Make sure it is a unique and secure password that you don't use for anything else.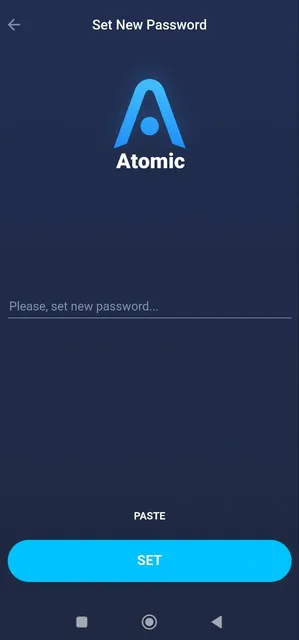 You will now see a 12-word seed phrase that can be used to restore access to the wallet. Be sure to keep it in a safe and secret place! Then click 'Open Wallet.'
You can find a step-by-step guide on creating a wallet in Atomic here and if you encounter any difficulties with any of the steps, feel free to contact our customer support by filling out this form.
Getting AVAX into your wallet
There are several ways of getting funds into your Atomic Wallet.
Deposit AVAX
The first method is to simply send AVAX coins to Atomic Wallet from an external wallet. The process is fairly simple even for a first-timer. All you need to do is to find your AVAX wallet address in Atomic, copy it, and paste it into the sending window of the app that you're trying to send your funds from.
Exchange AVAX
The exchange allows you to buy Avalanche (AVAX) by paying for it with another asset. Let's say you have some XMR (or any other digital currency) in your wallet, but you decide to try out AVAX. The exchange feature has got you covered. With more than 500 coins to choose from, you can freely swap tokens without having to verify your identity or follow time-consuming 'Know Your Customer (KYC) protocols.
The exchange also provides real-time prices for assets and cryptocurrency pairs, so you can capitalize on any AVAX price swing in the future. A step-by-step guide on exchanging assets is available here.
Buy AVAX
In our wallet you can buy crypto directly with a bank card, using your fiat money. All you need to do is to provide some information, like your name, billing information, etc., and undergo a verification process.
You can find a detailed, step-by-step guide on purchasing crypto in Atomic Wallet here.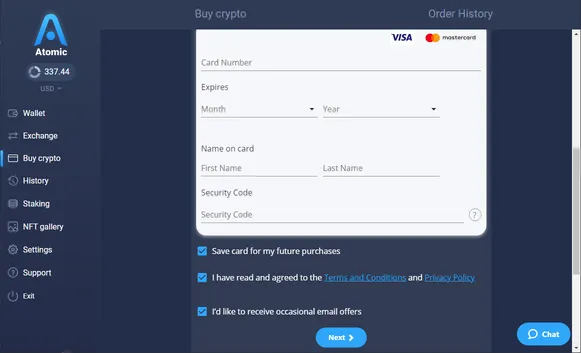 Get your AVAX wallet today
In conclusion, there are a variety of Avalanche (AVAX) wallets available for users to choose from, each with application specific features. Whether you prefer a mobile wallet for on-the-go transactions or a hardware wallet for added security, there is an option that will suit your needs. With the growing popularity of AVAX and its increasing adoption by businesses and individuals alike, having a reliable and user-friendly wallet is essential. So go ahead and explore the different options available, and start enjoying the benefits of this exciting new blockchain technology today!