Download Tron Wallet
It only takes a few minutes to set up Atomic Wallet on your PC or phone, giving you the perfect place to securely store your Tron (alongside other top coins and tokens).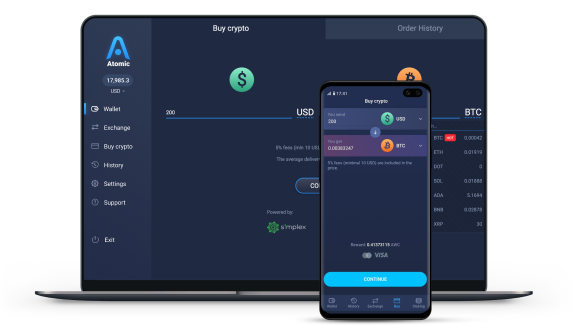 Buy and Swap Straight From Your Tron Wallet
You can purchase your TRX and exchange it for other coins straight from your Tron wallet on Atomic, which ensures your crypto is securely encrypted and controlled by only you. We work with a licensed EU payment provider to handle the processing.
Benefits of an Atomic Tron Wallet
Only you control your private keys
You can manage 300+ coins and tokens
Exchange 100+ cryptocurrencies and get 1% cash back
Buy BTC, SOL, SHIB, and 30+ assets with your bank card
Stake 10+ coins with up to 20% yearly yield
How to Set Up Your Tron Wallet
Install the app on your phone or PC
Create a new wallet (or import an existing wallet)
Buy crypto or make a deposit
Manage Your Portfolio
Sort your crypto assets by their amount and value to take control of your portfolio.
What Our Customers Say

Jesse Brewington
As always, Atomic Wallet has been super fast and convenient with all my transactions.

Brian Weaver
Best wallet out there!! Exchange feature is great and cheap which is a major plus!

Anne Mwai
I love that I can almost do anything in AW I can purchase and exchange Crypto very easily, very user friendly.

Claudio
Sending coins from AW is super easy, safe and with no extra fees or limitations.

Conor
Great platform, really easy to use, nothing complicated, everything a beginner or pro trading crypto would want.
Download Atomic Wallet
Windows
MacOS
Ubuntu
Debian
Fedora
Why Choose Tron wallet
Private
No registration and KYC required to use the app. We don't track your data
Secure
Your private keys are encrypted and never leave your device. Only you have control over your funds
24/7 Online Support
Fast support for your needs. Live chat and email support for customers from all over the globe.
TRON is one of the largest and fastest blockchain-operating systems in the world. TRX consistently handles 2000 transactions per second (for comparison, BTC handles 3-6 transactions per second).
Atomic Wallet team is delighted to provide you with a smooth and secure interface to manage, exchange, and buy TRX with your bank card.
What is a TRON Wallet
If you decide to convert your savings into cryptocurrency (to be exchanged for electronic money) or to start earning cryptocurrency, you need to choose a reliable wallet for it. TRON wallet is an application that allows you to manage your TRON Private key and send or receive TRX. Such wallets exist in web/desktop, mobile, hardware, and paper versions. The most secure ones are hardware wallets; however, they may get fairly expensive and are not as convenient for everyday use (you have to carry the wallet with you to perform a transaction).
Basically, a wallet is the main user interface through which a person interacts with the cryptocurrency system. TRON wallets allow both storage and management of one's assets: with this software, one can buy, send, receive, and exchange TRX. The TRON wallet contains private keys and public addresses and gives you full access to your funds. If you want to learn more about cryptocurrency wallets, check this detailed guide. Atomic is a desktop and mobile wallet, available for all major OS: Windows, macOS, Linux, Android, and iOS.
TRON Wallet Features
Now that you know what the main purpose of a TRON wallet is, why not look at a specific example of a user-friendly multifunctional wallet!
There are plenty of wallets that allow you to keep and manage TRON. You may find wallets designed specifically for TRX, as well as custodial and non-custodial wallets. The wider the choice, the harder it gets to find the wallet that would meet your needs. Atomic Wallet is here to spare you the need to wander around hundreds of websites in search of the best solution!
Atomic is a decentralized multi-currency wallet. It supports more than 300 cryptocurrencies, has a built-in Cryptocurrency Exchange, Staking, and Buy Crypto features, as well as 24/7 live support. It has become truly famous for its convenience, user-friendly interface, lack of operational costs, and security. The latter is ensured by the fact that your crypto is entirely under your control, as your private key is stored only on your device (and not on some online server); this offers full control over your assets. We provide you with the options to manage, exchange, and buy TRX with a bank card.
The primary purpose of Atomic Wallet is not just to store cryptocurrency but to create a healthy multifunctional ecosystem that, in many ways, resembles a decentralized exchange. Atomic Wallet has an internal token - AWC (short for Atomic Wallet Token), which has many use cases in the ecosystem, such as dividends for holders and the cash back program. Furthermore, it also serves as a marketing tool for bounty and airdrop campaigns.
A significant advantage of decentralized wallets, in general, is the opportunity to manage cryptocurrency from any device. Still, you need to pay attention to how you store the backup phrase since that is the primary access to your funds. With Atomic, your Litecoin wallet is protected as long as you keep your seed, or private key, in a safe and secure place.
TRON transaction fees
It is important to understand that Atomic Wallet doesn't incur any fees for sending/receiving TRX; the only fee you're paying is the internal network fee set within the blockchain itself. This is to ensure that your transaction is added to the blockchain in a fast and secure way.
TRON's consensus protocol, and thus the way that network fee operates, is drastically different from that of Bitcoin. The protocol used by TRON is called Delegated Proof of Stake (DPos). A limited number of privileged users (called Super Representatives, or SRs for short, and elected by the community in a worldwide voting process) create the blocks one at a time. This design renders Tron one of the world's fastest, safest, cheapest, and most reliable blockchains.
Two ingredients are involved in the formulation of Tron's network fees: Bandwidth and Energy.
Bandwidth is the volume of the network needed to execute and save the transaction. The price is fixed and almost negligible for simple financial transactions, but it may vary for dApps and smart contracts. Either way, unlike Ethereum, it can be easily calculated in advance if you just know the size of your transaction in bytes. Tron's network provides some free bandwidth for everybody, roughly equivalent to 15 simple financial transactions.
Energy is the power that the network needs to compute and execute a transaction. For simple transactions, the amount of Energy needed is often zero. However, smart contracts and dApps do need a bit of energy, similar to Gas in Ethereum. The Energy requirement is not as straightforward as the Bandwidth one because the energy price is only known after the transaction is completed.
That said, Freezing may be considered an extra ingredient. When you freeze some of your Tronix coins, you can get some free Bandwidth and Energy, as well as the ability to vote for SRs (who are often willing to reward their voters with free tokens). Thus, the more coins you freeze, the more free transactions you get. The point is that freezings make TRX scarcer, which helps to drive its price up.
Overall, Tron may seem a bit more complicated than the classic blockchains; but at the same time it's faster, cheaper, and ensures a number of free transactions for all users.
How to Use a TRON Wallet?
In order to enjoy the functionality of Atomic Wallet, one first needs to go through a simple process of creating a wallet. Download the installation file for your operating system from the official website and install the app. Run Atomic, click 'CREATE WALLET,' enter a secure password, and click SET PASSWORD. You will now see a 12-word seed phrase that can be used to restore access to the wallet. Be sure to keep in a safe and secret place! Then click 'START USING ATOMIC.'
You will then be taken to the wallet interface. In the first tab 'WALLET,' you will see the balance of all available coins and generated wallet addresses of different currencies. If you wish, you can sort the assets by volume, or hide negative balances. A remarkable feature of Atomic is the possibility to add any custom ERC20 (Ethereum-based) tokens to the wallet.
The 'EXCHANGE' tab provides an opportunity to exchange tokens through partner exchanges - ChangeNOW, Changelly, and ShapeShift.
The 'SETTINGS' tab allows you to change your password, get private keys that are securely stored in the encrypted form, as well as import an external wallet into Atomic Swaps Wallet (for this, you must enter a private key).
TRON (TRX) History
The project was founded by Justin Sun, the creator of the Peiwo app - a Chinese alternative of Snapchat that already has more than 10 million users. Justin works with Feng Li (advisor of Ripple) and is listed in the Forbes Asia Top-30 list.
Overall, the technological background of TRON is provided by experienced blockchain enthusiasts who were previously involved in Alibaba, Tencent, and Baidu and claim to be dedicated to the establishment of a truly decentralized infrastructure.
TRX already has several big partnerships with Bitmain - a leading producer and designer of ASIC chips used for Bitcoin mining.
What are the aims of TRON?
The main concept behind TRON is to create a decentralized data distribution platform for digital entertainment. Tron is considered a fast, secure, and censorship-free alternative to current digital content platforms such as Youtube or iTunes, which may have too much control over the content creators and developers who work for it.
How does it work?
The Tronix token (TRX) is used to power the network and encourage content creators within the network. The concept behind Tron is to provide the participants with a fair and reasonable distribution of income, which is generated by the content of the platform itself. Notably, TRX is capable of handling 2000 transactions per second (just compare it to Bitcoin's 7 or Ethereum's 15). The unique concept behind TRON makes it a powerful competitor of Ethereum, EOS, and NEO.
What are the features of TRON?
TRON combines features of a peer-to-peer network and a blockchain in an attempt to bridge the gap between content creators and consumers, thus eliminating the need for any intermediaries. Therefore, a win-win situation is created via the reduction of costs for the consumer and direct receipt of funds by the creator.
As a data distribution platform, TRON enables free release and distribution of digital content (e.g. text, images, audio, and video). While replicating a well-established business model (think of Netflix, for example), TRON runs on a public blockchain. As a distributed and decentralized storage platform, TRON makes the process more cost-efficient, reliable and liberal. The ultimate goal of TRON is to disrupt the dominance of a few powerful corporations that control the media environment on the Internet.
Takeaways
TRON (TRX) is supported by multiple wallet providers, including Atomic Wallet. In Atomic, you can manage and exchange TRX, buy TRX with your bank card, and swap TRX with Atomic Swaps - everything you need in one wallet application. Atomic Wallet empowers you with full control over your funds since your Private Keys are protected with a mnemonic seed and never leave your device. Atomic Wallet provides you with one of the best options to store, send, exchange, and buy TRX. Install the app now and manage your TRX right in the Atomic Interface.
Read the full complete guide here.