Atomic Wallet Token
ROI ~20%
4 steps to get your ZIL rewards
Get wallet
Install the app on your system
Deposit crypto
Deposit ZIL to your account
Stake crypto
Choose a validator and stake ZIL
Claim Rewards
After two days period, you will be able to claim your rewards every 24 hours.
Download Wallet
Download Wallet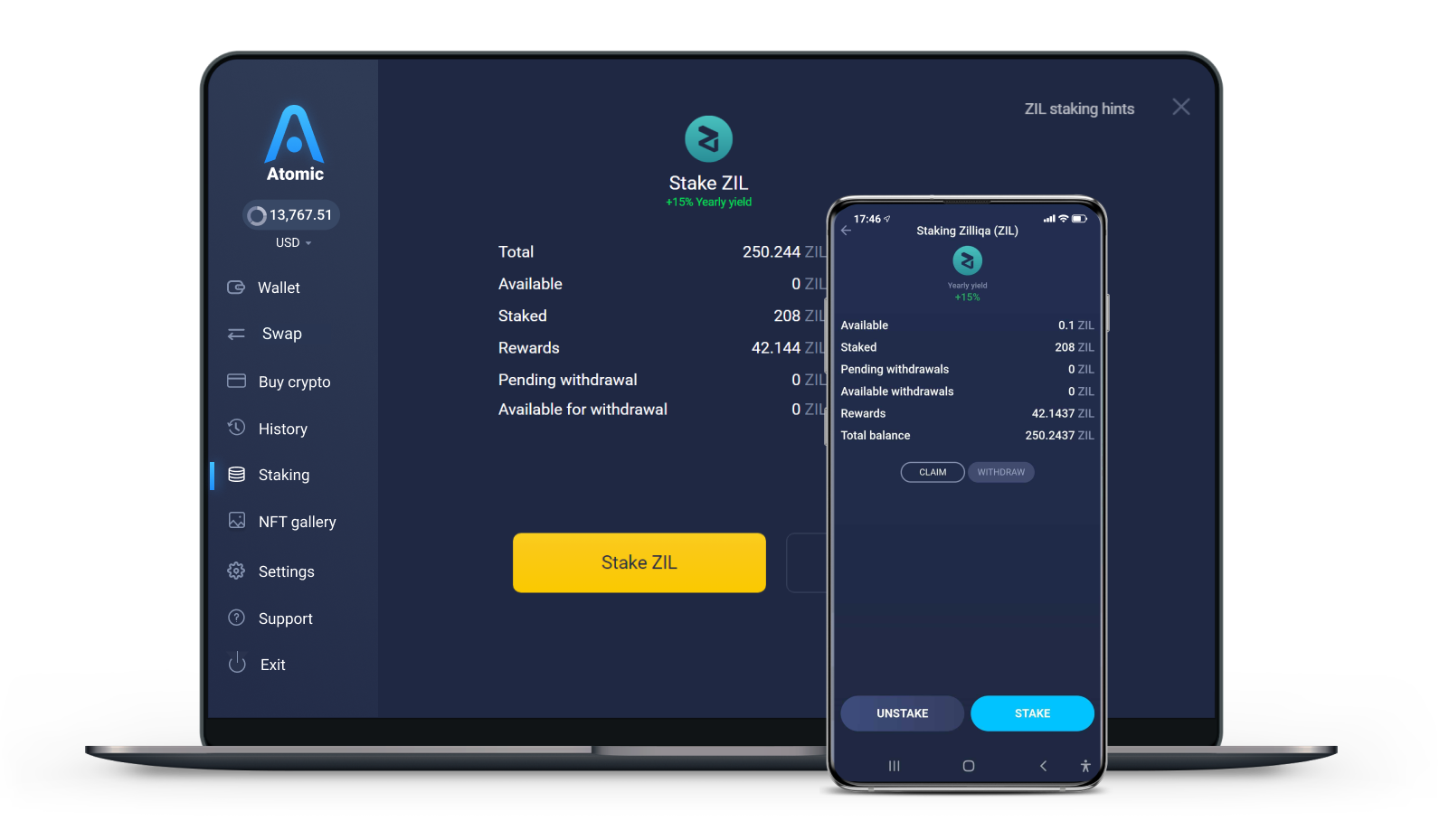 How to Stake ZIL in Atomic Wallet
The minimum amount for staking is 10 ZIL. The reward can be claimed with every block but separately from each validator. The process of ZIL staking with the Atomic Wallet is very simple. Check our step-by-step guide on how to stake ZIL.
First, you need to download and install the app. Then, follow these steps:
Step 1. Open Atomic Wallet.
Step 2. Get ZIL. You can buy ZIL on any swap and send it to Atomic wallet or swap from another cryptocurrency within the wallet.
Step 3. Then click on ZIL from the coin list.
Step 4. Click Stake.
Step 5. You will see the staking interface: your available balance for staking, your staked and unbonding ZIL, and rewards. Click Stake to proceed.
Step 6. Here you can choose the validator by clicking on the name and see your yearly earnings. Check the info and click Stake.
Step 7. That's it! Your ZIL is now staked. You just need to wait — the reward is generated with every block. Click Claim to withdraw it to your address from time to time.
How to Unstake ZIL
FIrst of all, you can't unstake ZIL immediately after you staked it. From the moment you delegate your funds to a validator they are getting locked for 8,000 blocks (approx. 1 day). After that you can unstake ZIL leaving 10 ZIL (unspendable balance) to a validator by doing this:
1) Transaction to unbond the funds and waiting for its confirmation, which takes 30,800 blocks (approx. 24 days).
2) One more transaction to claim the balance.
About Zilliqa
Unraveling Zilliqa
Zilliqa is focused on presenting a secure and scalable platform for all developers and businesses that wish to build decentralized applications.
Zilliqa Origin
This idea was the brainchild of a group of engineers, Academics, and entrepreneurs at the National University of Singapore. The technology behind this platform is backed by peer-reviewed research.
Launch of Mainnet in Early 2019
Zilliqa emerged as the first public blockchain platform to use sharding as a scaling solution with success. The firm launched mainnet in early 2019.
Utilizing Sharding
Zilliqa's unique application of sharding enables its platform to scale linearly. The platform can meet the capacity of a growing ecosystem of applications and miners.
Powered by Scilla
The platform is powered by Scilla language. It is the first of its kind that is peer-reviewed as well as safe-by-design smart contract language. It uses functional programming design principles that enable it to be friendly towards formal verification and static checks.
Reduced Carbon Footprint Dual Mining
Zilliqa's consensus mechanism has enabled it to reduce its ecological footprint significantly in mining. A paltry one minute needed every two to three hours to mine ZIL. It is now possible, because of this, to dual-mine other chains.
A Growing Ecosystem
There are more than 60 teams in more than 20 countries working on the Zilliqa platform. These teams include developing Dapps, wallets, explorers, developer toolkits, smart contract testing frameworks, and other products.
Zilliqa Utilities
You can convert your Euro, GBP, and INR to ZIL at the Atomic Wallet. The facility is supported by several browsers, including Safari, Google Chrome, and Firefox
Zilliqa Merchandise
This is an online store that offers Zilliqa wares, including hoodies, t-shirts, mugs, and more stuff.
ZIL Available on Atomic Wallet
You will now be in a position to buy ZIL on the Atomic Wallet using a credit card.
ZIL Storage
Like every other token or cryptocurrency, you can store $ZIL in the Atomic Wallet. The wallet enables you to trade and purchase ZIL securely without ever leaving the security of your wallet.
Learn, Build and Develop
ZIL Hive presents the platform's ecosystem initiatives. There are grants, accelerators, and educational programs that will give adequate opportunities to talented individuals. Developers will also get useful resources, and new entrants get support to drive enterprise and blockchain adoption.