Buy and Swap Straight From Your Matic Network Wallet
You can purchase your MATIC and exchange it for other coins straight from your Matic Network wallet on Atomic, which ensures your crypto is securely encrypted and controlled by only you. We work with a licensed EU payment provider to handle the processing.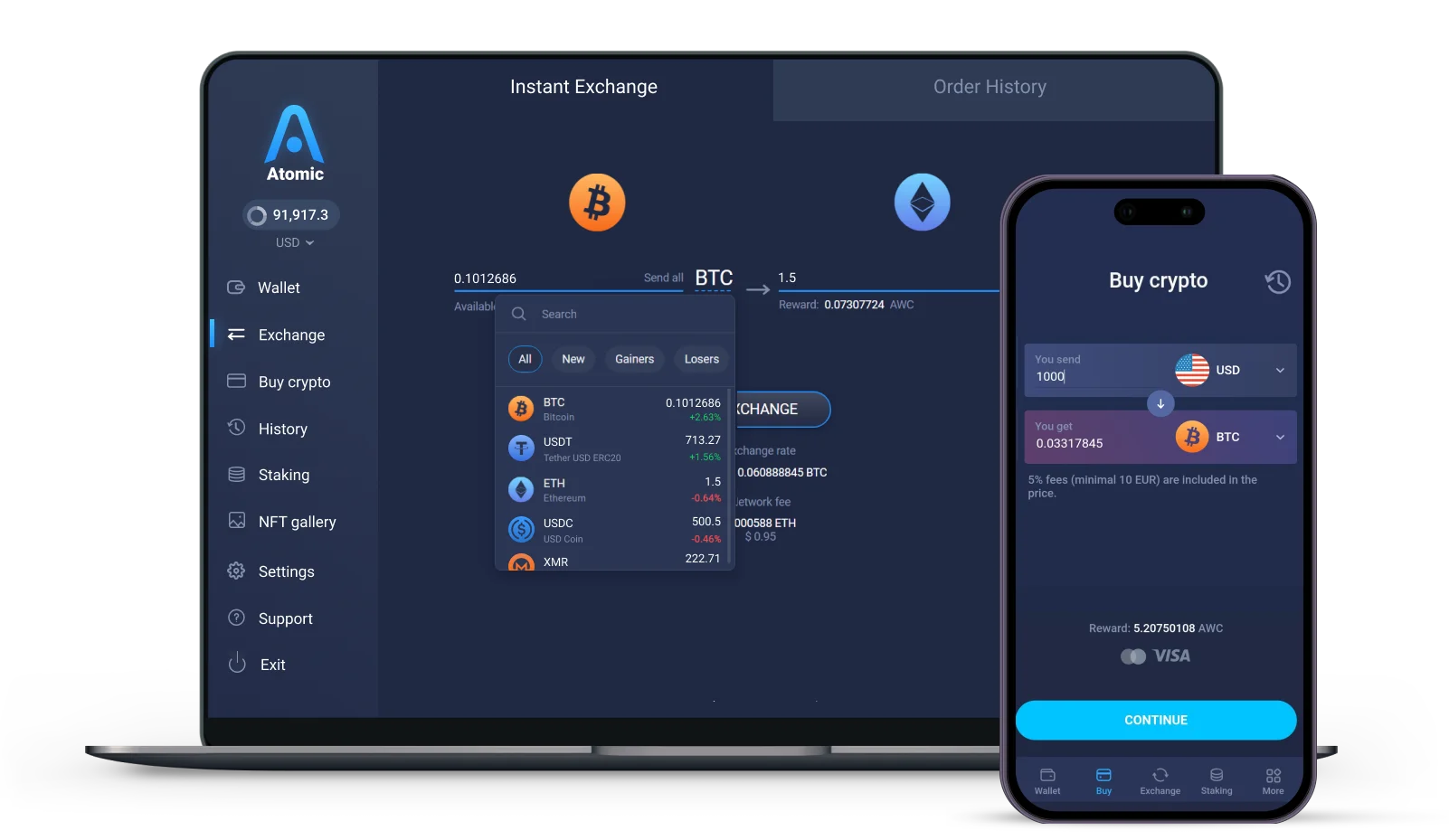 Benefits of an Atomic Matic Network Wallet
Only you control your private keys
You can manage 1000+ coins and tokens
Exchange MATIC to ETH and 100+ other cryptocurrencies and get 1% cash back
Buy MATIC, SOL, SHIB, and 30+ assets with your bank card
Stake 20+ coins with up to 20% yearly yield
How to Set Up Your Polygon Wallet
Install the app on your phone or PC
Create a new wallet (or import an existing wallet)
Buy crypto or make a deposit
Manage Your Portfolio
Sort your crypto assets by their amount and value to take control of your portfolio.
Explore more cryptocurrencies supported on Atomic Wallet
What Our Customers Say

Jesse Brewington
As always, Atomic Wallet has been super fast and convenient with all my transactions.

Brian Weaver
Best wallet out there!! Exchange feature is great and cheap which is a major plus!

Anne Mwai
I love that I can almost do anything in AW I can purchase and exchange Crypto very easily, very user friendly.

Claudio
Sending coins from AW is super easy, safe and with no extra fees or limitations.

Conor
Great platform, really easy to use, nothing complicated, everything a beginner or pro trading crypto would want.
Why Choose Polygon wallet
Private
No registration and KYC required to use the app. We don't track your data
Secured
Your private keys are encrypted and never leave your device. Only you have control over your funds
24/7 Online Support
Fast support for your needs. Live chat and email support for customers from all over the globe.
Polygon wallet
Polygon is an abstracted transaction layer that sits on top of the Ethereum ecosystem. Polygon sets out to tackle Ethereum's shortcomings like improving transaction processing speed and in turn reducing fees. All in all, this frees up connections and makes the whole ecosystem run faster!
Polygon's History: From Necessity Comes Invention
Ethereum is one of the largest crypto assets in the crypto space, so it makes sense to try and improve the existing platform rather than compete with it. That's Polygon's target, but how does it achieve it?
How Polygon Works: The Fundamentals
Imagine Ethereum as the main highway in a densely populated area. Everyone wants to use it to get from point A to point B. Even if the highway is well-designed and ultra-wide, traffic would be slow if it has an on-ramp every hundred feet.
The same thing happens with Ethereum. Since everyone can build their own on and off-ramps on the network, it leads to congestion: nobody can ever pick up speed.
Polygon takes away the need for many ramps and streamlines the transaction process. It provides a small number of strategically placed on- and off-ramps from surrounding highways to Ethereum. It also expedites the transaction process through packeting transactions, which moderates the traffic. Polygon's value add is that it handles requests directly on non-Ethereum-specific queries, which helps reduce network usage.
Polygon doesn't limit how many blockchains could be connected to Ethereum. That's why Polygon describes itself as the internet of blockchains.
How Does Polygon Integrate Projects?
Polygon is specifically designed to accommodate as many projects as needed. Generally speaking, Polygon supports 2 main types of Ethereum-compatible blockchain networks:
Secured chains, or networks that use the security as a service model mentioned above

Stand-alone networks
Secured chains rely on existing security solutions: they don't provide their own security. These solutions could come directly from Ethereum or from a pool of professional validators. This option offers high security, and it's quickly scalable. That makes it favorable for startups and security-focused projects. Its downside is that it heavily relies on the security provider.
Stand-alone chains provide their own security solution, like a Proof-of-Stake consensus model. This gives a high degree of independence, but it requires a high number of reliable validators. This model is suitable for established projects with solid communities or enterprise blockchains.
Why Should Developers Use Polygon network?
Easy, fast, cheap, and flexible Polygon certainly appeals to the developer community. The Dapp's recent rapid growth in Polygon's ecosystem speaks volumes. For developers, using Polygon is almost a no-brainer for 3 main reasons:
1. Ethereum Compatibility
Since Polygon uses an Ethereum Virtual Machine (EVM), it's fully Ethereum compatible. That means developers don't have to make more effort compared to simply deploying on Ethereum.
2. Improved Transaction Times
Polygon can drastically reduce wait times and high fees for the use of any dApp, making it more attractive to users. That facilitates mass adoption.
3. Unrivaled Flexibility
Polygon offers unrivaled flexibility among all Ethereum scaling solutions. That's because it has four layers, only two of which are mandatory, and it can connect to virtually any blockchain out there. Developers enjoy a degree of flexibility they don't have when using Ethereum alone.
Now you know that Polygon network technology offers genuine benefits to users and developers alike, let's take a look at its tokenomics and investability.
Polygon's Current State
Polygon is growing rapidly in terms of users, partnerships, investors, and technology. They're announcing new memberships almost every month! Polygon is deploying its technology in every area possible, from partnering with DraftKings' NFT marketplace to creating new NFT games with GameOn. As of early 2022, over 3,000 dApps were live on Polygon PoS, making it one of the most outstanding players in the smart contract space.
Its success has also attracted some big names in the investment world. Mark Cuban is a prominent investor in Polygon, and prestigious investment firms like Sequoia Capital India and Steadview Capital are apparently ready to write checks.
Polygon is rapidly growing its utility, through integrating Optimistic Rollups and Validum Chains. Acquisitions like the Ethereum scaling startup Mir for $400,000,000 are starting to pay off, with Polygon announcing the world's "fastest zero-knowledge layer 2" thanks to its new Plonky2 technology.
Polygon Network Future
MATIC had a roadmap, but it ended in Q1 2020. Since then, the project doesn't have an official roadmap, especially after its name change in 2021. That isn't unusual for crypto projects. That said, it's not like the team is leaving users in the dark, though. They run a very active Twitter account, and they have an official Telegram account just for announcements. The detailed page about their technology is regularly updated with "coming soon" or "in development" projects. Given their track record and their war chest's size, it's likely Polygon won't fall short on new developments.
Novel next-generation chains are popping up everywhere, with projects like Polkadot, Cosmos, and Avalanche making disruptive waves. While they don't have exactly the same use cases, their purpose is the same. They want to provide developers and end-users with fast, cheap, and scalable blockchains that they can use as an underlying structure for dApps of any kind.
It's also worth noting that Ethereum itself went from a Proof-of-Work consensus to a Proof-of-Stake consensus with the London Hard Fork EIP-1559 improvement protocol upgrade. While that's certainly not perfect, it's a significant change and a big step toward eliminating Ethereum's glaring issues. It also acts as a stepping stone toward Ethereum 2.0 (ETH2.0). Once ETH2.0 finally rolls out sometime this year, we'll have to see if Polygon will still be attractive as a layer 2 solution.
At the time of writing, Polygon is the #13 cryptocurrency in market cap. The team behind it wants to push it to #3, right behind Bitcoin and Ethereum, ambitions as high as anyone could have at this stage.
Polygon Matic wallets
There are plenty of different Polygon wallets, from the hardware wallet (ledger nano) to light wallets (such as Atomic Polygon Wallet for Matic coins), or even integrated dapps browser wallet (browser extension). Many of them allow users to receive Matic coins, buy Matic tokens, swap Matic tokens, etc. Using of Matic network allow you to receive Matic tokens from any sender, pay for the goods with QR code.
Do I need a Hardware wallet for Polygon coins
To say briefly, you can use as many wallets as you want to, because trying is a great way to dive deeper into the crypto market. Ledger wallets for crypto funds (such as Ledger Nano or Trezor) are just another solution from many, that help you to keep your private keys safe. Hardware wallet works as an additional level of security for your crypto portfolio. Hardware wallet also costs money.
To choose the best Polygon wallet to store your Matic coins, just decide what kind of features you need. Non custodial Polygon (Matic) wallets like Atomic Polygon Wallet app, Trust wallet app, Exodus app, and other trusted services had good reputations and can be convenient solutions to hold your crypto coins. If you want to buy crypto with fiat currencies, take a look at the secure Atomic Polygon Wallet, because it can be installed almost on any personal computer or mobile devices, like Android, iOS, Linux, macOS, and Windows.
What Are the MATIC Token's Use-Cases?
Polygon's token has 3 main use cases:
Participating in the Proof-of-Stake consensus: Much of Polygon's security mechanism works on a PoS layer. That's why network participants can stake MATIC tokens, acting as validators.

Receiving staking rewards: Any token holder participating in staking will be paid staking rewards in relation to the number of tokens staked. These rewards are paid in MATIC tokens.

Payment for network transaction fees: Even though they're much less than Ethereum's, you still have to pay fees on Polygon. Those fees are paid in MATIC tokens.
How To Buy MATIC on Atomic desktop and mobile Wallet
Atomic Matic Wallet makes buying MATIC super simple! Simply follow these 5 steps:
1. Create an account on an exchange that offers the MATIC token, like Binance or Coinbase. Atomic Matic Wallet integrates the exchange with the Wallet, meaning you only need one account!
2. Buy MATIC using fiat currency, like dollars or euros.
3. Send your MATIC to a crypto wallet that supports the token, like Atomic Matic Wallet.
4. If you haven't already, most exchanges and wallets will ask you to verify your account with a photo ID.
5. Send the MATIC you purchased to your Atomic Polygon Wallet address.
Atomic Matic Wallet allow you to fully control and manage your private keys and balance on any device, such as iOS phone, Android phones, and personal computer. Keeping you mnemonic passphrase in a secure place, you can backup your data anytime you want without an intermediary.
Final Thoughts
Polygon is called the internet of blockchains because it's a scaling solution that allows any blockchain to connect to Ethereum. That way, Polygon leverages Ethereum's excellent security features and global adoption without contributing to its overwhelming traffic and exorbitant fees.
Polygon is fully compatible with Ethereum, making it easier to adopt for developers familiar with the Ethereum environment. Polygon continuously develops more performant ways of layer 2 scalings, so it may just be one of the best options to avoid Ethereum's scalability issues. That is unless Ethereum's move to a Proof-of-Stake consensus solves those problems. In that case, Polygon may be living on borrowed time.
Yet, Ethereum has been promising this upgrade for many years now and has failed to achieve this. As of now, we don't know if they'll ever upgrade their ecosystem successfully. That may be why they've put off upgrading an old code that was never designed for its current purpose. No matter what, nothing is certain in the cryptosphere!
FAQ
What is Polygon?
Polygon is what's called a layer 2 scaling solution for Ethereum. It works with Ethereum, attempting to overcome its shortcomings like slow speeds and high transaction gas fees. It also enables unified access to other chains, allowing traffic to be offloaded from Ethereum efficiently. That makes high gas fees cheaper. In theory, any blockchain can use Polygon to connect to Ethereum, which is why the project is dubbed the internet of blockchains.
Is MATIC the same as Polygon?
MATIC was the Polygon project's original name. The name changed to Polygon in 2021, but the token is still called MATIC due to this being its ticker symbol.
Is Polygon trying to replace Ethereum?
No, Polygon's goal is to offload traffic to help overcome Ethereum's shortcomings. It's a supplement to Ethereum, not a standalone replacement.
How is Polygon different from Polkadot and Cosmos?
Polygon is a layer 2 scaling solution for Ethereum only. Cosmos is a heterogeneous network of many independent parallel blockchains. Polkadot is also a heterogeneous blockchain protocol that connects multiple specialized blockchains into one unified network, but it's a layer-zero solution working as a substrate for blockchain ecosystems like Ethereum, Cardano, and Solana.
Where can I buy MATIC?
The simplest way to buy MATIC is using Atomic Polygon Wallet. You can download a mobile wallet or desktop wallet from the website. You also can trade any other supported cryptocurrency into MATIC. Most major cryptocurrency exchanges offer MATIC, but Atomic Wallet integrates a wallet with an exchange–making the process far easier for new users.
Resources
Atomic Wallet's Website
Check the latest wallets and cryptocurrencies on Atomic Wallet on their website.
Atomic Wallet Academy
Learn about cryptocurrencies like Polygon with the Atomic Wallet Academy.
Atomic Wallet Blog
Keep up-to-date with the latest crypto news with Atomic Wallet's blog.
Polygon's Official Website
Visit the Polygon Official Website for the ultimate source of information.
Polygon on Twitter
Stay up to date by following the Polygon Twitter Account.
Polygon on Reddit
Explore answers in the Polygon Subreddit.