Gridcoin (GRC) wallet
Manage your Gridcoin, Ethereum, XRP, Litecoin, XLM and over 300 other coins and tokens.
Gridcoin (GRC) coin is currently not supported
But Atomic Wallet can offer
Support for over 30 coins and over 500 tokens
Anonymous exchange with cashback
Staking and buying cryptocurrencies
Download
Download
Excellent
10 000+ Reviews on
Buy and Swap Straight From Your Gridcoin Wallet
You can purchase your GRC and exchange it for other coins straight from your Gridcoin wallet on Atomic, which ensures your crypto is securely encrypted and controlled by only you. We work with a licensed EU payment provider to handle the processing.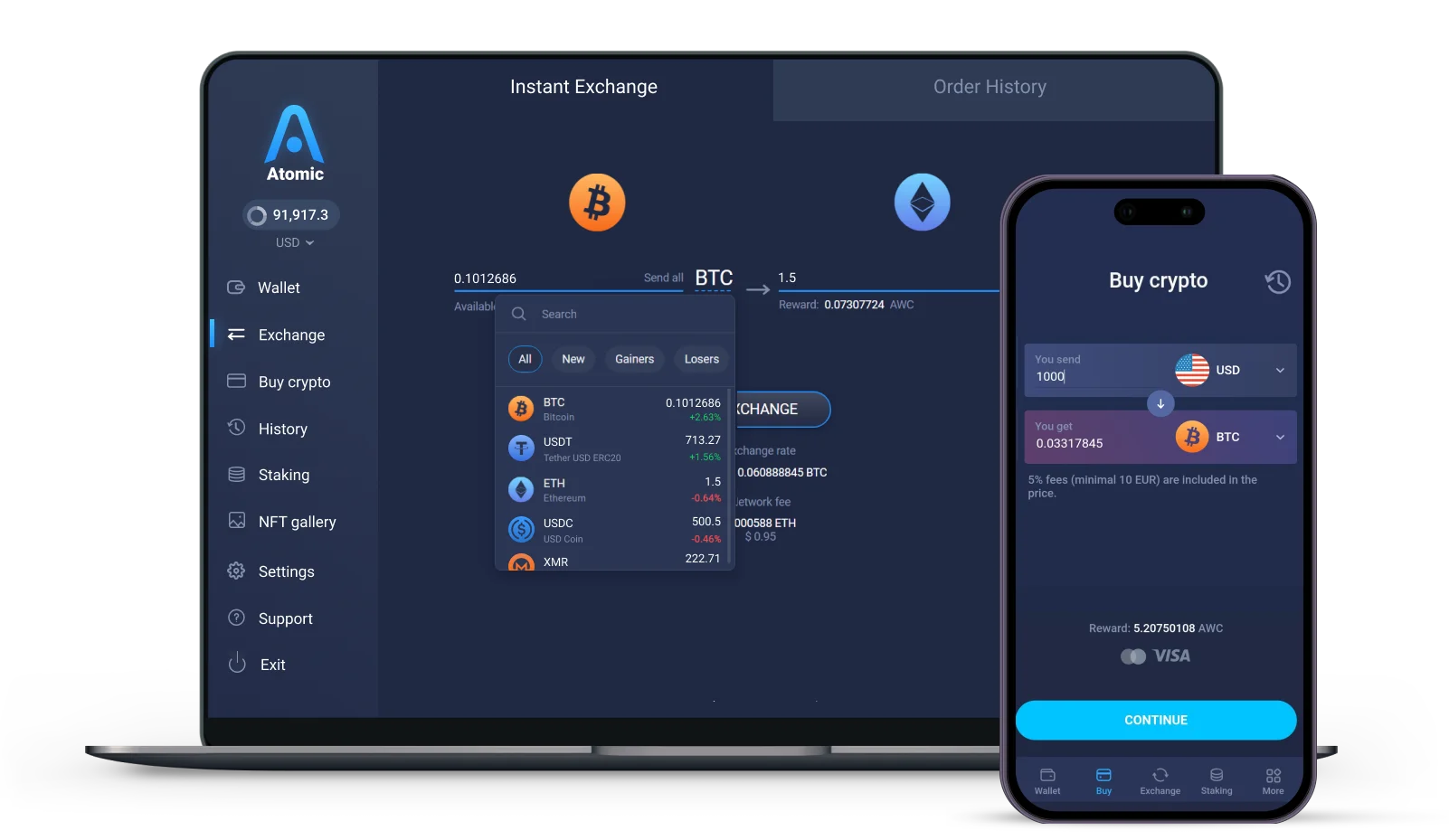 Benefits of an Atomic Gridcoin Wallet
Only you control your private keys
You can manage 300+ coins and tokens
Exchange 100+ cryptocurrencies and get 1% cash back
Buy BTC, SOL, SHIB, and 30+ assets with your bank card
Stake 10+ coins with up to 20% yearly yield
How to Set Up Your Gridcoin Wallet
Install the app on your phone or PC
Create a new wallet (or import an existing wallet)
Buy crypto or make a deposit
Manage Your Portfolio
Sort your crypto assets by their amount and value to take control of your portfolio.
Explore more cryptocurrencies supported on Atomic Wallet
What Our Customers Say

Jesse Brewington
As always, Atomic Wallet has been super fast and convenient with all my transactions.

Brian Weaver
Best wallet out there!! Exchange feature is great and cheap which is a major plus!

Anne Mwai
I love that I can almost do anything in AW I can purchase and exchange Crypto very easily, very user friendly.

Claudio
Sending coins from AW is super easy, safe and with no extra fees or limitations.

Conor
Great platform, really easy to use, nothing complicated, everything a beginner or pro trading crypto would want.
Why Choose Gridcoin wallet
Private
No registration and KYC required to use the app. We don't track your data
Secured
Your private keys are encrypted and never leave your device. Only you have control over your funds
24/7 Online Support
Fast support for your needs. Live chat and email support for customers from all over the globe.
What is Gridcoin?
GridCoin is a new Internet cryptocurrency based on peer-to-peer technologies, to bring humanity some real benefits by compensating coin miners for participation in BOINC projects with GRID tokens. This can lead to progress in medicine, biology, mathematics, science, climate technology and astrophysics, all done by focusing a large percentage of computing power on BOINC research – rather than generating an unnecessary amount of computational energy for mining.
Gridcoin is built on the Bitcoin protocol but is distinct from Bitcoin because it can be easily mined with consumer-grade hardware, so special ASIC mining chips are not likely to be changed in the future. Gridcoin offers quicker (2.5 minutes on average) transaction confirmations and uses extensive scrypt-based proof of work memory to validate transactions.
What is the main point of using GridCoin?
It has been calculated that bitcoin uses electricity for block solving algorithm for an average 23,312 megawatt hours per day. The Gridcoin project aims mainly to transfer computer power to Boinc ventures, while mining operations are a second priority–so that Boinc use is tandemed to scale up the network.
When Boinc shares are not mined but if the coin miners are not given a greater subsidy, the coin miners will receive a small token allocation. This digital cryptocurrency enables immediate peer transactions, international payments and very low treatment rates. The source code is open source, allowing everyone to share in the currency's development.
What is BOINC, you ask?
BOINC is a platform for decentralized high-throughput computing, i.e. a large number of autonomous computer-intensive jobs, where the output goal is a high rate of work fulfillment rather than a small turnaround time from individual jobs or crypto mining. It also provides low-level data processing mechanisms. The server distributes jobs while the system is operates worker nodes.
BOINC can be also used within a business (e.g. company) for in-house computing. In this case, the operating nodes are cluster nodes or other corporate computers and connected to the network of the organisation.
Why Atomic is the best choice for your Gridcoin assets?
In Atomic, only you have full access to your funds. Atomic Wallet uses on-device intelligence and stores all private keys on your computer or/and smartphone. Your privacy is well-protected with the password you set and a 12-word mnemonic seed phrase.Atomic is a decentralized wallet for crypto management, all your keys never leave your device. Funds are secured and encrypted. Your private keys never leave your device. Built-in exchange and multi-blockchain support.
Advantages of GridCoin:
Gridcoin will place itself quite well relatively to other cryptocurrencies. , the actual mining system and the BOINC project are clearly structured by the best students of the Berkley University. But the most fascinating thing ever is, of course, the social factor of it. As the network is being developed, the opportunity to join the project is still there to take.
Investments in the currency can also be made on various start-up sites. Although it is not currently possible to use the coin as a means of payment, it may also be worth holding it as an asset. Paying for goods and services should also be possible in the future.
As said, keeping this coin as your main asset is a good idea, as it bears at least 1.5% rate increase for each year!