MonaCoin (MONA) wallet
Manage your Bitcoin, Ethereum, XRP, MonaCoin, XLM and over 1000 other coins and tokens.
MonaCoin (MONA) coin is currently not supported
But Atomic Wallet can offer
Support for over 30 coins and over 500 tokens
Anonymous swap cashback
Staking and buying cryptocurrencies
Download MonaCoin Wallet
Trusted by 5,000,000 users worldwide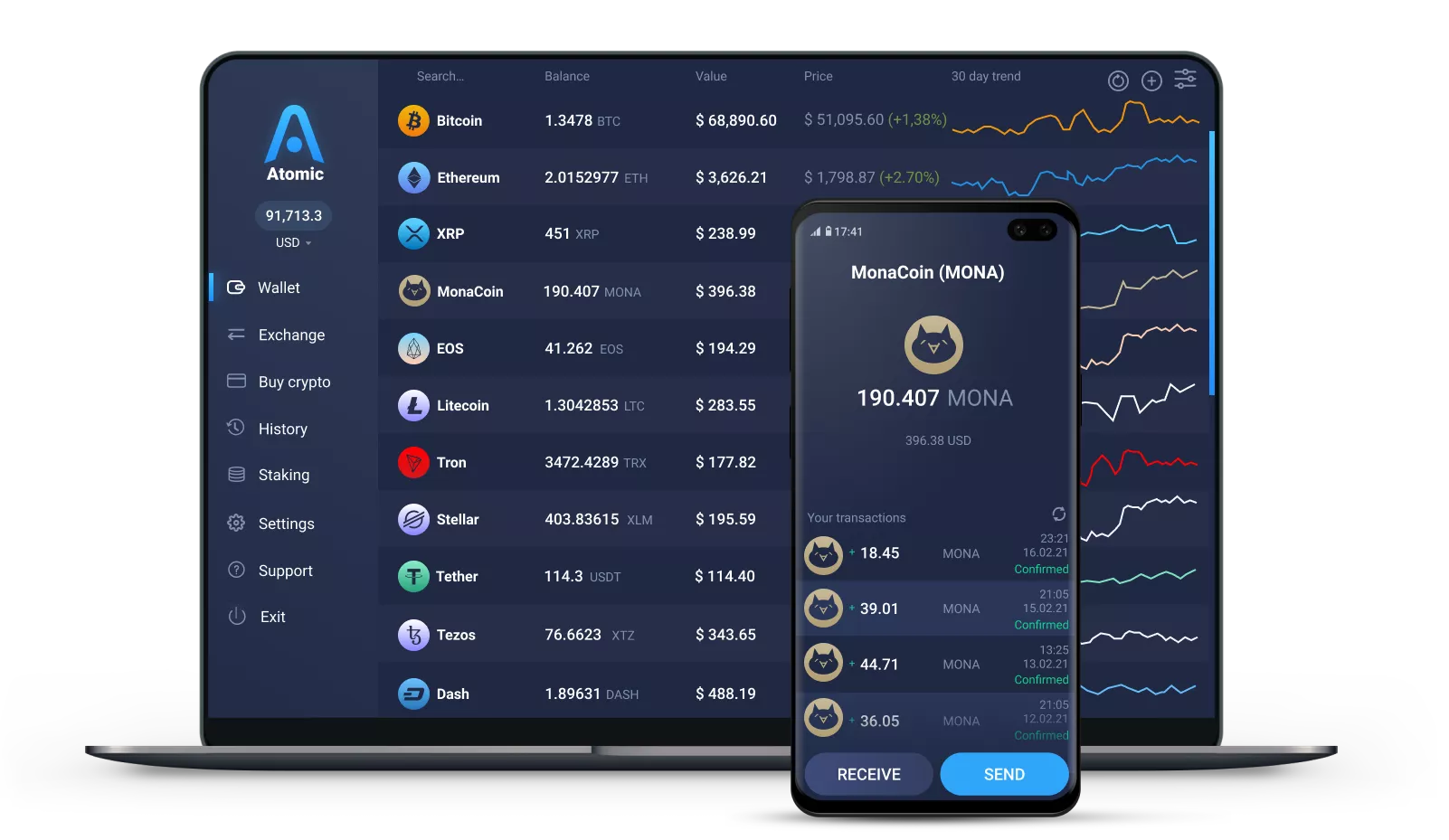 Why Choose Atomic MonaCoin wallet
Private
No registration and KYC required to use the app. We don't track your data
Secured
Your private keys are encrypted and never leave your device. Only you have control over your funds
24/7 Online Support
Fast support for your needs. Live chat and email support for customers from all over the globe.
What is

MonaCoin?

MonaCoin is one of the older types of cryptocurrencies which particularly in Japan draws enthusiasts, where many favor MonaCoin to Bitcoin and Ethereum. The cryptocurrency continues to be at the forefront of technology irrespective of its market capitalization levels, which is why Ethereum's rival is also supposed to be.

MonaCoin is an open-source and peer-to-peer transaction network that is distributed around the japanese crypto-enthusiasts. The MonaCoin represents the cryptocurrency with a total supply of 105 million coins.

The ICO began trading on March 20, 2014. In the Japanese internet forum, MonaCoin was first published and got approved from 2Channels network.

MonaCoin uses a consensus mechanism for proof-of-work and is powered by the algorithm Lyra2RE(v2). It aims to decentralize the sale of MONA coins.
The capitalization of MonaCoin project:
The market capitalization as of June 2018 stood at $131.7 million. The total supply of the MonaCoin cryptocurrency (MONA) is about 117.29 million MCN, MonaCoin becomes a compelling alternative to asset starved cryptocurrencies like Bitcoin, which are losing out due to their higher processing times and costly prices.
Priced at about $0.76 in July 2017, it rose rapidly to reach more than $10.18 in January 2018 — giving its investors an impressive 1200 percent return in just 6 months.
What features does

MonaCoin

have?

Activation of SegWit on the MonaCoin network started signaling approval for its own ecosystem. It made it easy to move coins from LiteCoin to MonaCoin wallets after their fork. The block size of the blockchain of MonaCoin is small, which helps with the transaction rate to scale and grow in a drastic manner.

MonaCoin utilizes a proof-of-work consensus algorithm that is immune to ASIC, allowing its users control over the execution and delivery of any network improvements. Users can check transactions as well.

Litecoin's Scrypt algorithm becomes easier to execute by using relatively inexpensive PC hardware to mine MonaCoin. It also provides the MonaCoin blockchain with greater security.

The transfer is facilitated using the Lightning Network which forms the second protocol layer. Each time a block is generated, it adjusts the level of difficulty to reduce the node load.
Advantages to have

MonaCoin

assets in Atomic?

Decentralization: the proof-of-work method helps all users to mine the MONA tokens. It stops major producers from being concentrated and decreases price volatility. ASIC resistance equally distributes coins and on the basis of higher processing capacity does not require users to mine coins.

Secure: As the Scrypt algorithm can be used on any personal computer with a graphics processing system, all MonaCoin users can make secure transactions.

Faster: Compared to 10 minutes in Bitcoin, MonaCoin has a block period of just 1.5 minutes. Because of the introduction of Lightning Network, the money can be sent nearly immediately, and it costs far less than in other cryptos.
How does

Atomic

work?

Atomic Swaps is where the Wallet gets its name from. As the Atomic swap ecosystem evolves it will be a major crypto game changer. The swaps are decentralized and do not require a third-party to make the transaction.

Atomic swaps work cross-chain and, which secures you and your partner from any possible threats. Fees are also decreased, so there is no need to buy/sell tokens for the first time on a swap, that will take a large cut of your profits.
To open your Atomic Wallet, follow these 4 steps:
Step 1: Download the Atomic wallet app on your device.
Step 2: Upon successful installation, click the 'Create' button and choose a solid password that will be the first layer of protection for your account
Step 3: Once you have set your password, the wallet will automatically generate a 12-word backup phrase (mnemonic phrase) and prompt you to make a copy.
Step 4: After copying the keyphrase, you have the Atomic Wallet account ready to use. Please note that for your crypto assets, each atomic wallet address will be automatically generated from the mnemonic seed sequence. If you lose the seed, you won't be able to recreate or recover the wallet in case of PC loss or failure.