Musicoin (MUSIC) wallet
Manage your Bitcoin, Ethereum, XRP, Musicoin, XLM and over 1000 other coins and tokens.
Musicoin (MUSIC) coin is currently not supported
But Atomic Wallet can offer
Support for over 30 coins and over 500 tokens
Anonymous swap cashback
Staking and buying cryptocurrencies
Download Musicoin Wallet
Trusted by 5,000,000 users worldwide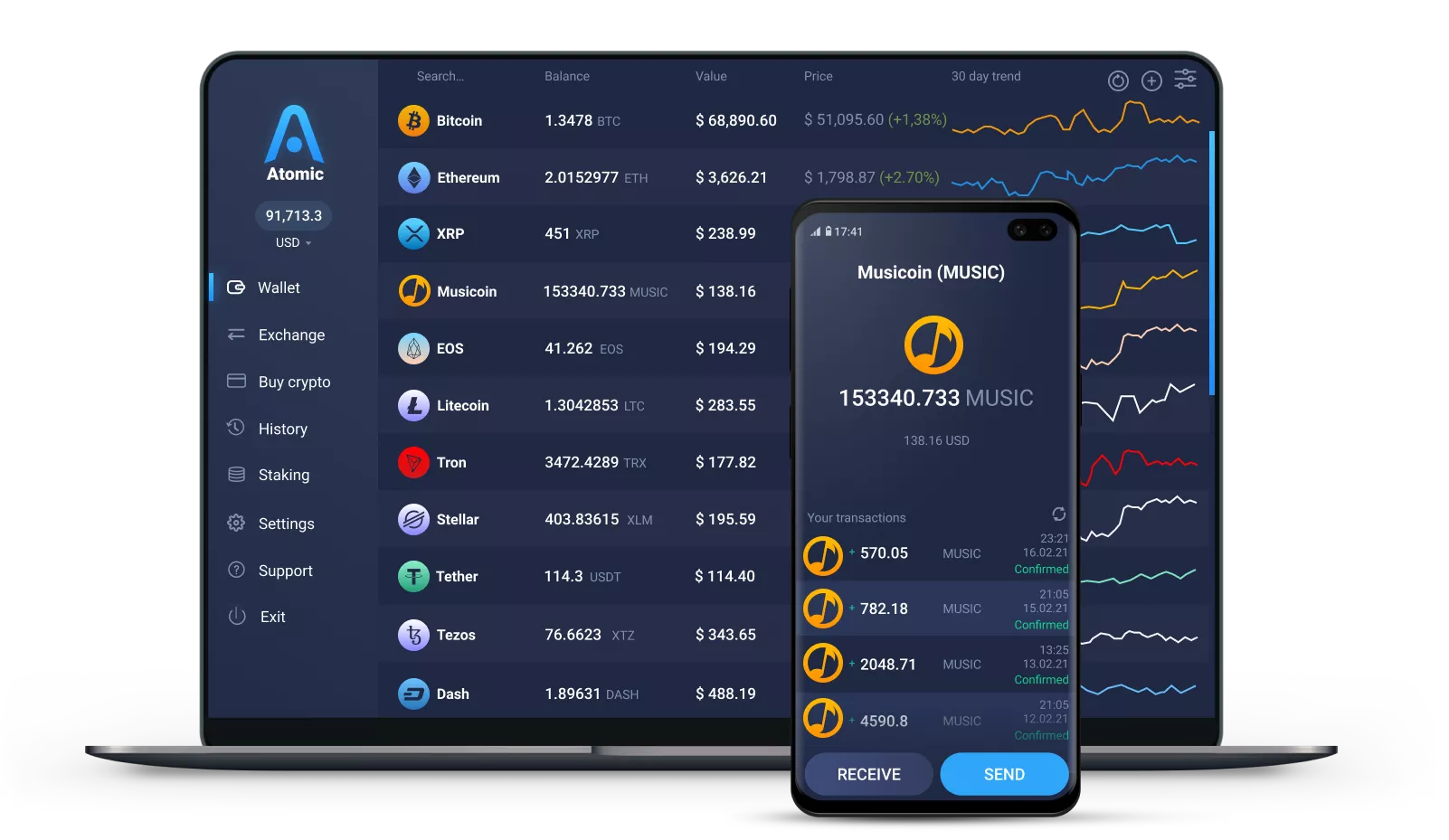 Why Choose Atomic Musicoin wallet
Private
No registration and KYC required to use the app. We don't track your data
Secured
Your private keys are encrypted and never leave your device. Only you have control over your funds
24/7 Online Support
Fast support for your needs. Live chat and email support for customers from all over the globe.
What is Musicoin?
Musicoin is a music streaming service that uses its basic token MUSIC to fund a Universal Basic Income (UBI) model for the musicians, without the need for the end-user to pay for anything. UBI helps musicians to receive MUSIC incentives that are directly linked to their network contributions, meaning the more popular and the more songs are being listened, the more profit will musicians get.
Listeners have an ad-free streaming platform and can even recommend their playlists or tracks to others. MUSIC is also mined by cryptominers in the network using PoW to secure the network. Tokens of the ecosystem are automatically dispersed to musicians based on a pay-per-click model.
The vast majority of people are bond to an expensive streaming service, which sometimes may not even contain the favorite music of the client. With the power of $MUSIC blockchain, independent music can now free of charge be downloaded from an ever-growing label or an artist catalog. There are no ads and the content is easy to share, while the artists are paid immediately.
Advantages and features of Musicoin?
Users can broadcast ad-free music for free, but also directly support the musicians or purchase other types of content such as paid downloads. Musicians earn 100% of the income from P2P sources as there are no blockchain intermediaries that cut their profits. In fact, there is no advertising-based monetization system without third parties which makes the experience much simpler for hearers.
The Musicoin miners take a share of the revenue that developers and musicians receive when blocks are mined. When blocks are minted and later distributed to participating entities with musicians receiving 15.9%, and minors receiving 79.6% of the UBI, a special part of the MUSIC tokens is assigned to the UBI pool.
Musicoins's guiding principle is called sharism, and is based on the idea that information sharing can have an advantageous social impact in a group. This emerging paradigm leads the group of musicians, traders and its MUSIC tokens, where utility is the result of a shared relationship between users, miners, and musicians.
Why Atomic is the best choice for your Musicoin assets?
In Atomic, only you have control over your funds. Your privacy is well-protected with the password you set and a 12-word mnemonic seed phrase. Funds are secured and encrypted. Built-in swap multi-blockchain support.
Moreover, Musicoin revolutionizes the production and distribution of profits for musical activities with a stable currency, fair compensation, straightforward contracts and no intermediary. The Musicoin Blockchain guarantees, that every musician receives, instantly and automatically, the most competitive industry compensation for each musical stream.
How does Atomic work?
Atomic Swaps is where the Wallet gets its name from. As the Atomic swap ecosystem evolves it will be a major crypto game changer. The swaps are decentralized and do not require a third-party to make the transaction.
Atomic swaps work cross-chain and, which secures you and your partner from any possible threats. Fees are also decreased, so there is no need to buy/sell tokens for the first time on a swap, that will take a large cut of your profits.
The Atomic Wallet currently supports BTC, LTC, and QTUM only atomic swaps but the team works on adding additional coins for atomic swaps.
Security of the Atomic Wallet:
Private keys are stored in your System: Atomic gives full ownership of private keys to the clients, as we never keep them on their servers. Alternatively, the keys can be kept on the Computer of the user. Therefore, each user gets a special mnemonic keyphrase, that governs access to the account. This is a second protective layer that helps consumers to have full control of the wallet.
Registration Free Application: Atomic wallet, being a serverless application, does not allow its users to login. As such, it does not retain private personal data and does not rely on third parties to initiate payments on its behalf. It increases the safety of the site.
Enhanced Encryption: All links and processes by default run in encrypted mode, and all the data it sends is encrypted as well.
To open your Atomic Wallet, follow these 4 steps:
Step 1: Download the Atomic wallet app on your device.
Step 2: Upon successful installation, click the 'Create' button and choose a solid password that will be the first layer of protection for your account
Step 3: Once you have set your password, the wallet will automatically generate a 12-word seed phrase and prompt you to make a copy.
Step 4: After copying the keyphrase, you have the Atomic Wallet account ready to use. Please note that for your crypto assets, each atomic wallet address will be automatically generated from the mnemonic seed sequence. If you lose the seed, you won't be able to recreate or recover the wallet in case of PC loss or failure.