Atomic Wallet Token
ROI ~20%
4 steps to get your FLR rewards
Get wallet
Install the app on your system
Deposit crypto
Deposit FLR to your account
Stake crypto
Choose a validator and stake FLR
Claim Rewards
You will get rewards automatically to your staking address.
Download Wallet
Download Wallet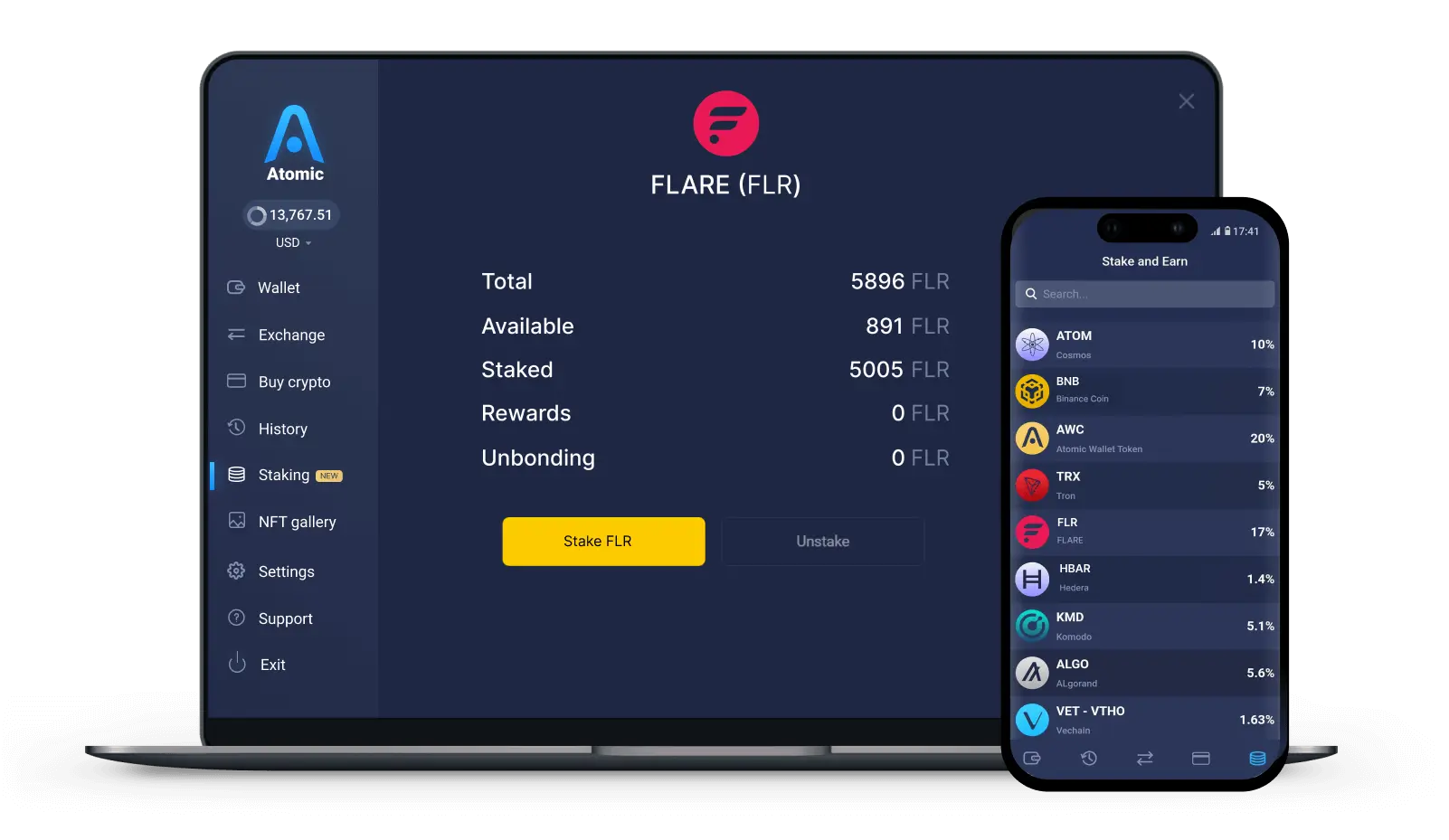 The Flare Network is a layer 1, Proof-of-Stake (PoS) blockchain that uses the Ethereum Virtual Machine (EVM) to support smart contracts and host decentralized applications (DApps). The platform uses two protocols to achieve its goal of blockchain interoperability: the State Connector and the Flare Time Series Oracle.
Native staking decentralizes and secures the ecosystem and allows its users to benefit from participation.
Why is staking important for the network? How can you participate and contribute? We'll answer these and many other questions in this article, so let's dive right in!
What is Flare Network?
Flare network is an EVM-based Layer 1 blockchain. Its main goal is to develop a chain with greater interoperability between the Flare network, DApps, and other blockchains. Flare offers F-Assets and the LayerCake protocol to get other chains to enjoy the benefits of smart contracts and bridge assets across smart contract-powered networks.
State connector
The State Connector allows for easy and secure transfer of data between the Flare network and other chains.
FLR tokens
Flare's native token is Spark (FLR). It is used as collateral within applications, to provide data, and to vote on changes to the network. FLR token holders can also earn passive income if they stake their assets. Some portion of the supply will be airdropped to XRP holders if they held XRP in a wallet or a centralized platform that supported the airdrop.
Flare airdrop
The rules of the airdrop are very simple. FLR tokens will be airdropped to everyone who held XRP on their address as of December 12th, 2020. The more XRP you held, the more FLR you will have received. To get that data, the development team used a snapshot.
The day when the Flare network starts airdropping the tokens to eligible users is known as the token distribution event (TDE). The TDE date is the 9th of January, 2023.
FLR staking in Atomic Wallet
Staking the FLR token works slightly differently from most other assets and is closer to the way Ethereum staking works. Instead of locking your deposit, your staked FLR turns into WFLR. These WFLR tokens are then delegated to a validator. It makes managing your WFLR easy since you can send them away or swap them at any time.
You stake all of your WFLR and any additional WFLR token deposits are staked automatically. If you delegate WFLR to a validator and get additional WFLR to your wallet, it will be automatically delegated to the same validator.
How do I stake FLR in Atomic Wallet?
Staking in Atomic Wallet is pretty simple. First, of course, you need to have some FLR in your wallet. There are several ways of putting tokens into your wallet.
Deposit some FLR tokens
The first thing you can do is to buy FLR on an swap platform or other service and then simply send it to Atomic Wallet. Here's a guide on that in case you encounter any issues.
Alternatively, you can buy FLR tokens directly in the wallet with your debit or credit card. You'll need to go through a simple verification process and provide some info (name, billing info, etc). If you have any questions about purchasing FLR, our guide should help you out!
If you want to get into FLR staking but only have, let's say, ETH, our swap feature is there for you. Atomic Wallet features a built-in swap that supports more than 500 crypto assets, where you can freely swap tokens without having to verify your identity or follow time-consuming 'Know Your Customer (KYC) protocols. Feel free to check out this guide if you want to know more.
Stake your FLR
When you stake, your FLR tokens are being delegated to the Flare Time Series Oracle and earning delegation rewards for supporting the provision of decentralized data to the network. First, go to the staking tab. Click 'Staking' on the left sidebar of your desktop wallet interface. If you're on mobile, the button is located on the bottom panel. It's a list of all the assets available for staking in the Atomic Wallet, along with their APYs.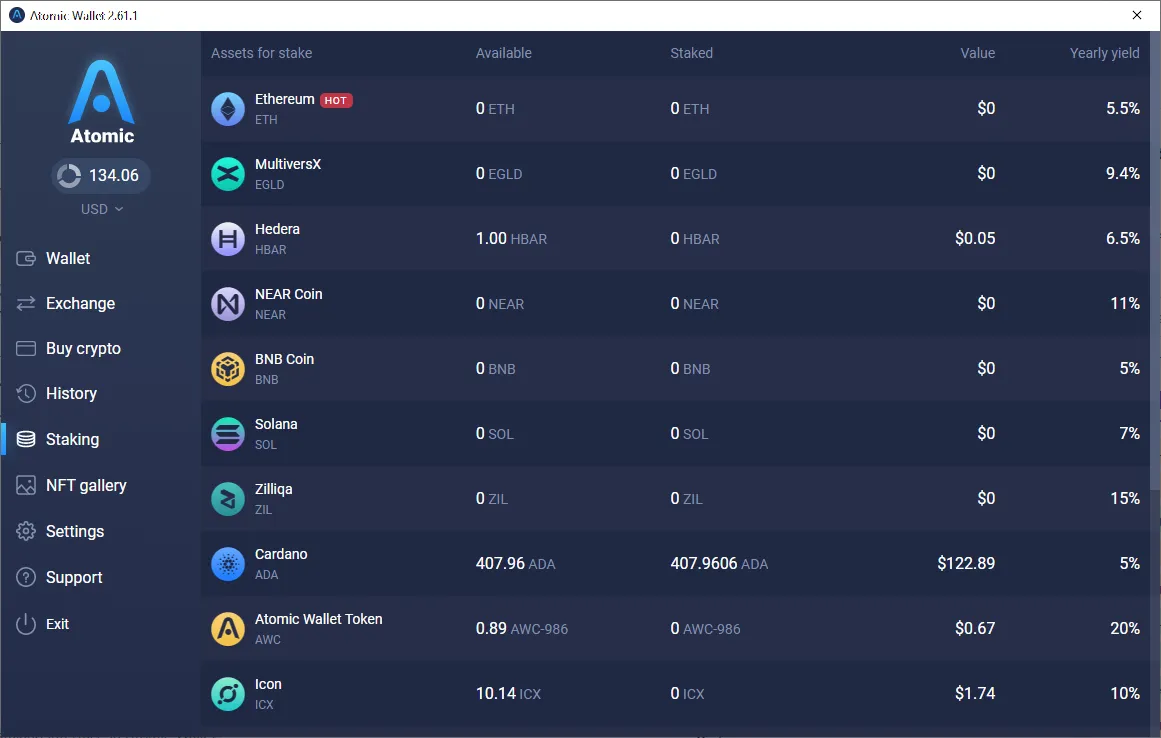 Select Flare from the list.
Total is the total amount of FLR and WFLR along with unclaimed rewards you have.

Available is the total amount of FLR you can stake at the moment.

Staked is your staked balance. I.e., the number of WFLR tokens you currently hold.

Rewards are the amount of rewards you can claim at the moment.

Available votes is the amount of WFLR you currently hold that are not delegated.
Press the 'Stake' button at the bottom of the screen and choose the amount of FLR you want to stake. You'll also see how much you'll have to pay in transaction fees. Keep in mind, that Atomic Wallet does not charge any additional transaction fees from their users.
Confirm the transaction by entering your password. That's it! You have now officially started staking your Flare and received your equivalent amount of WFLR tokens.
When will I get my staking rewards?
You'll be receiving your staking rewards twice a week - every Monday at 7:00 UTC and Thursday at 19:00 UTC.
You need to claim them at least once every 90 days. Otherwise, you'll miss out! All rewards that were left unclaimed for more than 90 days expire.
How do I unstake my FLR?
Go back into the FLR staking interface and click 'Unstake' to convert your WFLR back to FLR. Once your WFLR has been converted back to FLR, staking is over. You can now manage your Spark just as you did before staking your funds.
Get into staking today!
Staking is a simple and profitable way to get more value out of your Flare investment. Put your FLR tokens to work and make the chain more secure while earning additional Spark tokens while you're at it.