Atomic Wallet Token
ROI ~20%
4 steps to get your HBAR rewards
Get wallet
Install the app on your system
Deposit crypto
Deposit HBAR to your account
Stake crypto
Choose a validator and stake HBAR
Claim Rewards
You will receive rewards with each block created on a blockchain.
Download Wallet
Download Wallet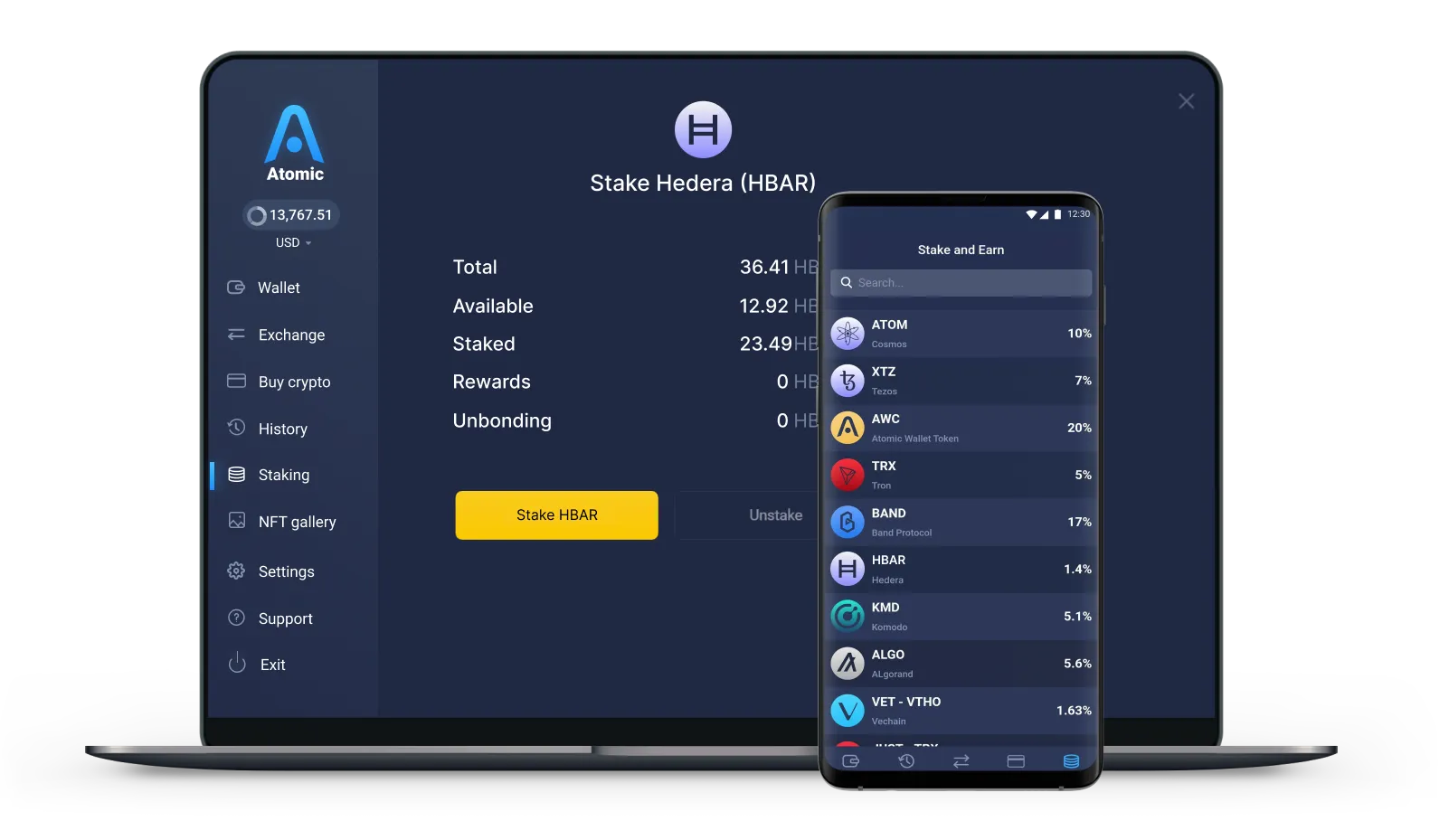 Hedera HBAR staking
Native staking is finally live for all users of the Hedera network as of October 21st, 2022. Switching to the Proof-of-stake network model aims to achieve lower transaction fees, higher transaction speed, and better scalability. Besides, native staking further decentralizes and secures the ecosystem and represents a momentous milestone on the road toward a decentralized economy.
Why is staking important? How can you participate and contribute? We'll answer these and many other questions in this article, so let's dive right in!
Enterprise-grade public network
Hedera is now a proof-of-stake network, which means that unlike the Proof-of-Work networks (such as Bitcoin or Litecoin) it doesn't require the nodes to solve complex mathematical puzzles problems to validate transactions and add new blocks to the blockchain. This transition makes mining no longer necessary to achieve consensus in a decentralized network and payout rewards to the network participants. Instead, they will receive rewards for staking. You can learn more about these two consensus mechanisms here.
Now, the Hashgraph algorithm is taking into account the amount of HBAR staked to nodes to achieve consensus and, as a result, protect the network from cyberattacks and malicious behavior, such as submitting wrong data to the network. HBAR is a native asset of the blockchain. Native staking is an essential step for the Hedera network on its way to a sustainable decentralized economy.
4 phases of native staking
Initially, the network nodes were operated by members of the Hedera Governing Council. Each of those nodes had an equal stake. The goal of staking is further decentralization of the network and thus, it is crucial to allow the network participants to choose which node they want to stake their HBAR with and allow members of the community (not members of the Hedera governing council) to set up and run their nodes. The consensus is achieved when more than two-thirds of the network's
Ecosystem development
This phase, the second one, enables staking for users. Supported wallets and exchange services can implement the staking functionality. Along with them, WEB applications for staking are also developed. During this phase, staking starts to affect the voting power of the mainnet nodes.
Staking rewards program launch
During phase 3 the Hedera Governing Council determines if the Hedera ecosystem is ready to enable staking rewards. Once that's done, the staking reward account (0.0.800) will distribute rewards to eligible accounts.

The Council has decided to implement a maximum cap of 6.5% annual reward rate. The actual reward rate will fluctuate, depending on the total amount of HBAR staked for rewards, but it will not go higher than the maximum cap.
Complete implementation
This phase sees the implementation of 24-hour updates for the visibility of stake per node and the node uptime feature. Once this phase is complete, staked accounts that have staked their funds with a node that was unable to participate in consensus will not be eligible to get rewards.
Hedera staking features
No lock-up periods
Lock-up period - a period when you cannot unstake or send your coins away is present in many blockchains, that support staking, like Ethereum. Hedera is one of those projects that chose not to implement this feature.
No slashing
Slashing means punishing malicious behavior by taking away staked funds or rewards from nodes, that submit wrong data. Solana, for example, employs it as a protection against attacks on the ecosystem. There is no need for slashing with Hedera because to attack the ecosystem, a bad actor would need to control two-thirds of all staked HBAR.
HBAR staking in Atomic wallet
Staking in Atomic Wallet is a simple process. First, you need to have some HBAR in your account balance.
Depositing HBAR
You can get simply send HBAR to Atomic Wallet. Get some HBAR on a platform of your choice, copy your HBAR address in Atomic Wallet and send the funds. Once they're transferred, you're good to go.

Here's a more detailed guide on depositing funds into Atomic Wallet.
Buying HBAR
An easier way to get some HBAR into your Atomic Wallet is to purchase it right in the wallet. The process of purchasing crypto in Atomic Wallet is covered here in more detail. If you, by any chance, encounter any issues with your purchase, feel free to check out this guide.
Swapping an asset for HBAR
If you wish to stake HBAR as soon as possible, but only have, let's say, ADA, you ca swap it for HBAR right in your wallet. Atomic Wallet features a built-in swap that supports more than 500 crypto assets, while you can freely swap tokens without having to verify your identity or follow time-consuming 'Know Your Customer (KYC) protocols.

The process of swapping in Atomic Wallet is available here in more details.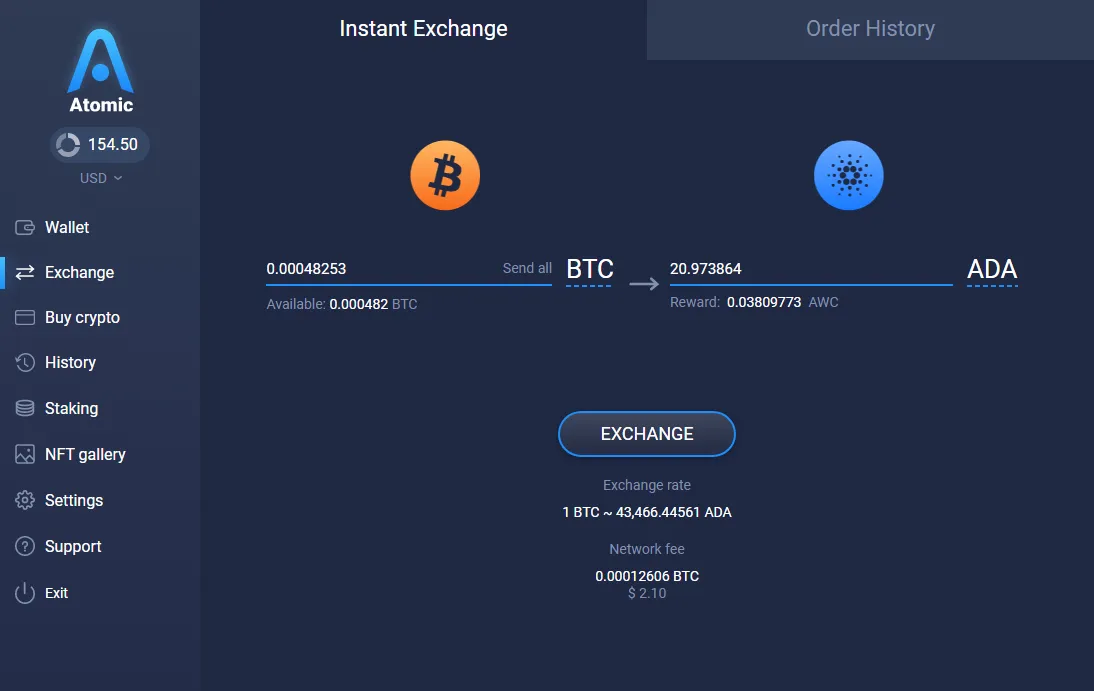 Let's stake Hedera
Go into the staking tab. Click 'Staking' on the left sidebar of your desktop wallet interface. If you're on mobile, the button is located in the bottom panel.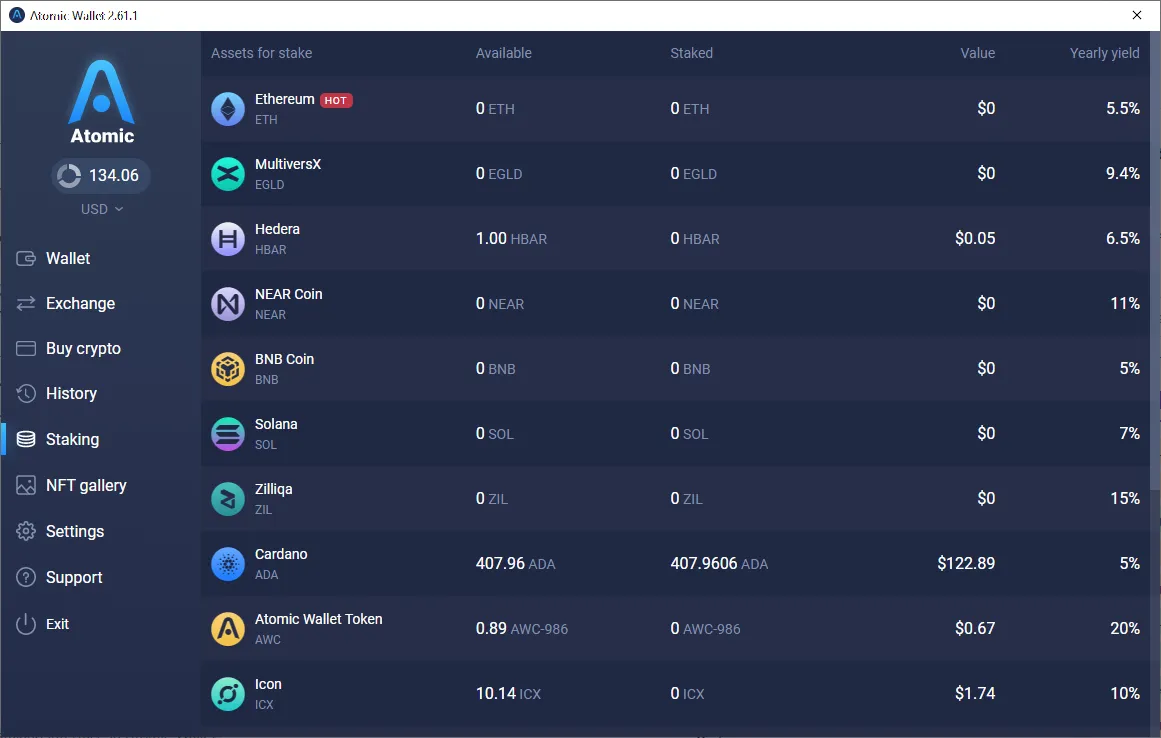 Select Hedera from the list.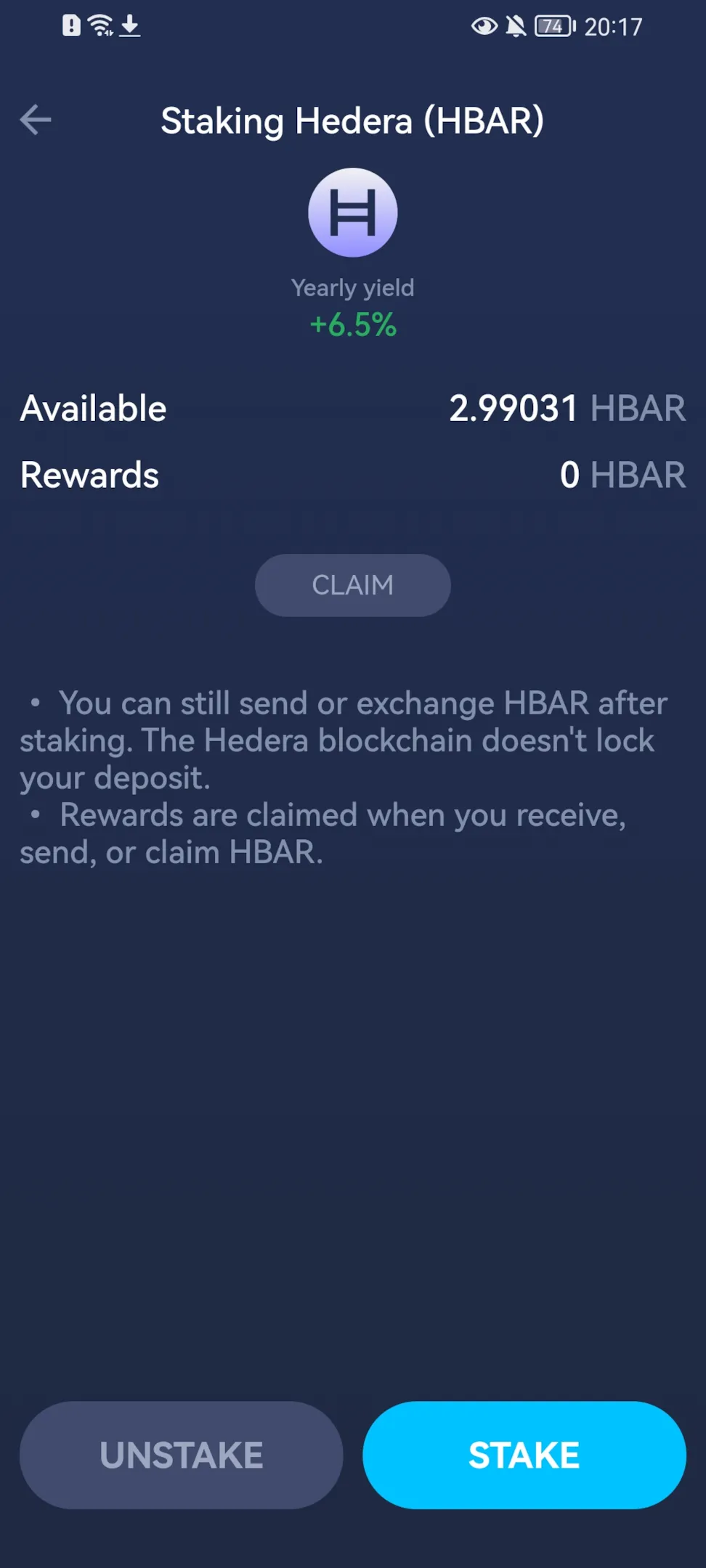 Available is the total amount of HBAR you have at the moment.

Rewards is the amount of rewards your stake has generated.
Press the 'Stake' button at the bottom of the screen and choose the amount of HBAR you want to stake. Keep in mind, that while you won't have to pay transaction fees to Atomic Wallet, regular network fees still apply.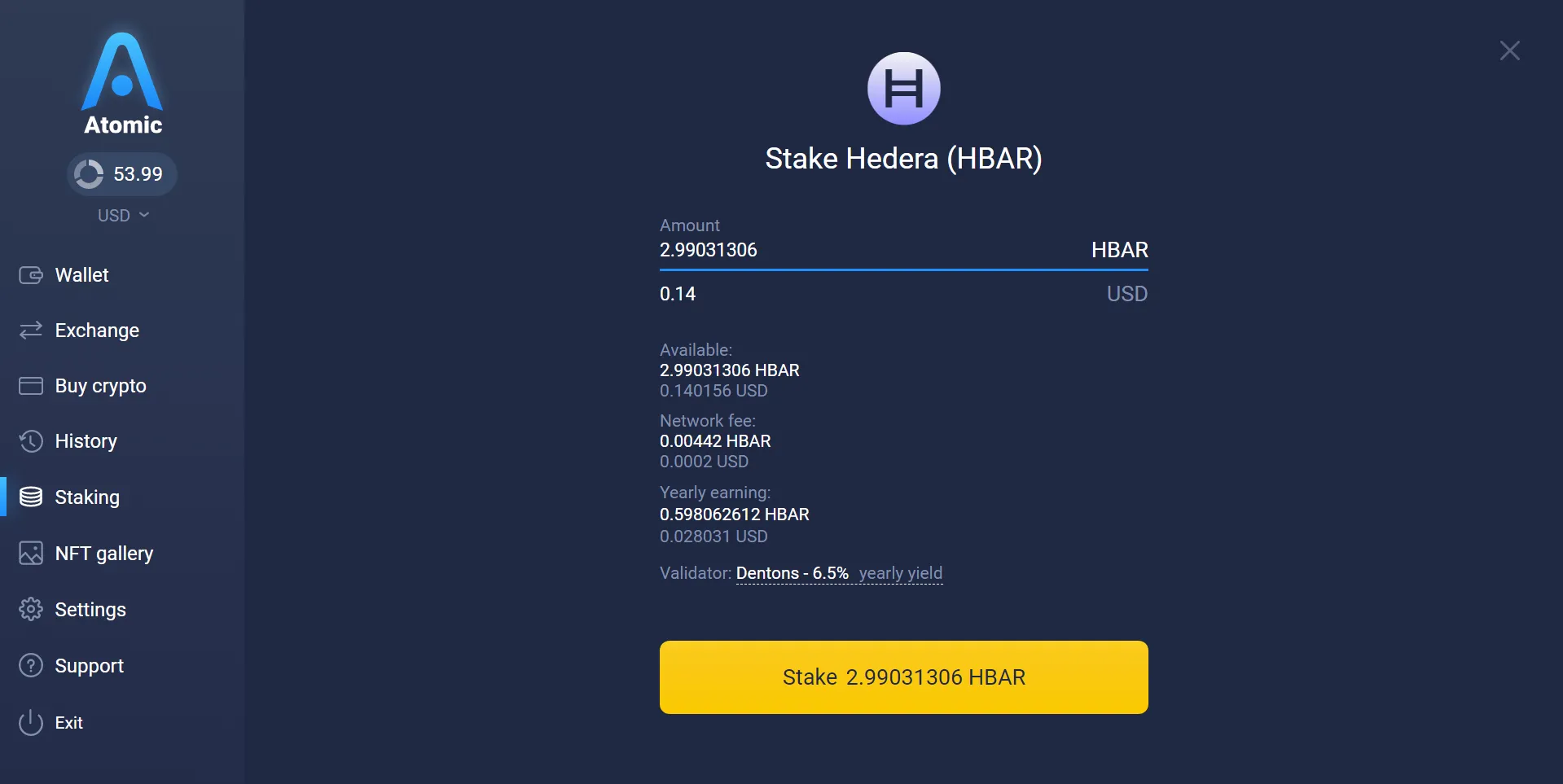 Staking rewards
Minimum staking period
The rewards are not transferred to you immediately. There is a minimum amount of time you need to stake your HBAR before you are eligible to earn rewards. The staking period begins at midnight UTC and ends at midnight UTC. This length of the staking period is determined by the Hedera Governing Council.
The 365 days rule
You need to claim rewards at least once every 365 days. If you stake your HBAR for 1000 days without ever claiming the rewards and then decide to claim, you will only get rewards for the last 365 days and miss out on the remaining 635 days. Rewards are claimed when you receive, send or claim HBAR.
When will I get my staking rewards?
As mentioned, the reward account pays out rewards to eligible staked accounts every 24 hours. Keep in mind, that the staking period ends at midnight UTC and starts at midnight UTC. I.e. if you stake your funds at 8 p.m. UTC on Monday, you will see your first rewards on Tuesday, at midnight.

Press the Claim button to claim your rewards. The button will get highlighted once rewards are available.
How do I unstake?
With Hedera, there's no need to unstake, as there are no lock-up periods. If you want to stop accumulating rewards, select the 'Unstake' option in your HBAR staking interface.
What if I have more questions?
If you need an even more detailed guide on staking HBAR, check out the article in our Knowledge Base, it covers all of it!

If you do have any issues with either staking or unstaking your funds in the future, contact Atomic Wallet's 24/7 customer support team (by reaching out directly through this online contact form).
Start staking today!
Staking is a straightforward process, that allows you to put your tokens at stake and contribute to the community. Don't miss out on great rewards, while also securing the future of the network. Stake your funds to help the blockchain and get the maximum out of that.

Meta description
Stake Hedera (HBAR) in Atomic Wallet and get up to 6.5% rewards in a fully decentralized way, without any additional fees. Check out this guide to learn more.