Lisk (LSK) wallet
Manage your Bitcoin, Ethereum, XRP, Litecoin, XLM and over 1000 other coins and tokens.
Lisk (LSK) coin is currently not supported
But Atomic Wallet can offer
Support for over 30 coins and over 500 tokens
Anonymous swap cashback
Staking and buying cryptocurrencies
Download Lisk Wallet
Trusted by 5,000,000 users worldwide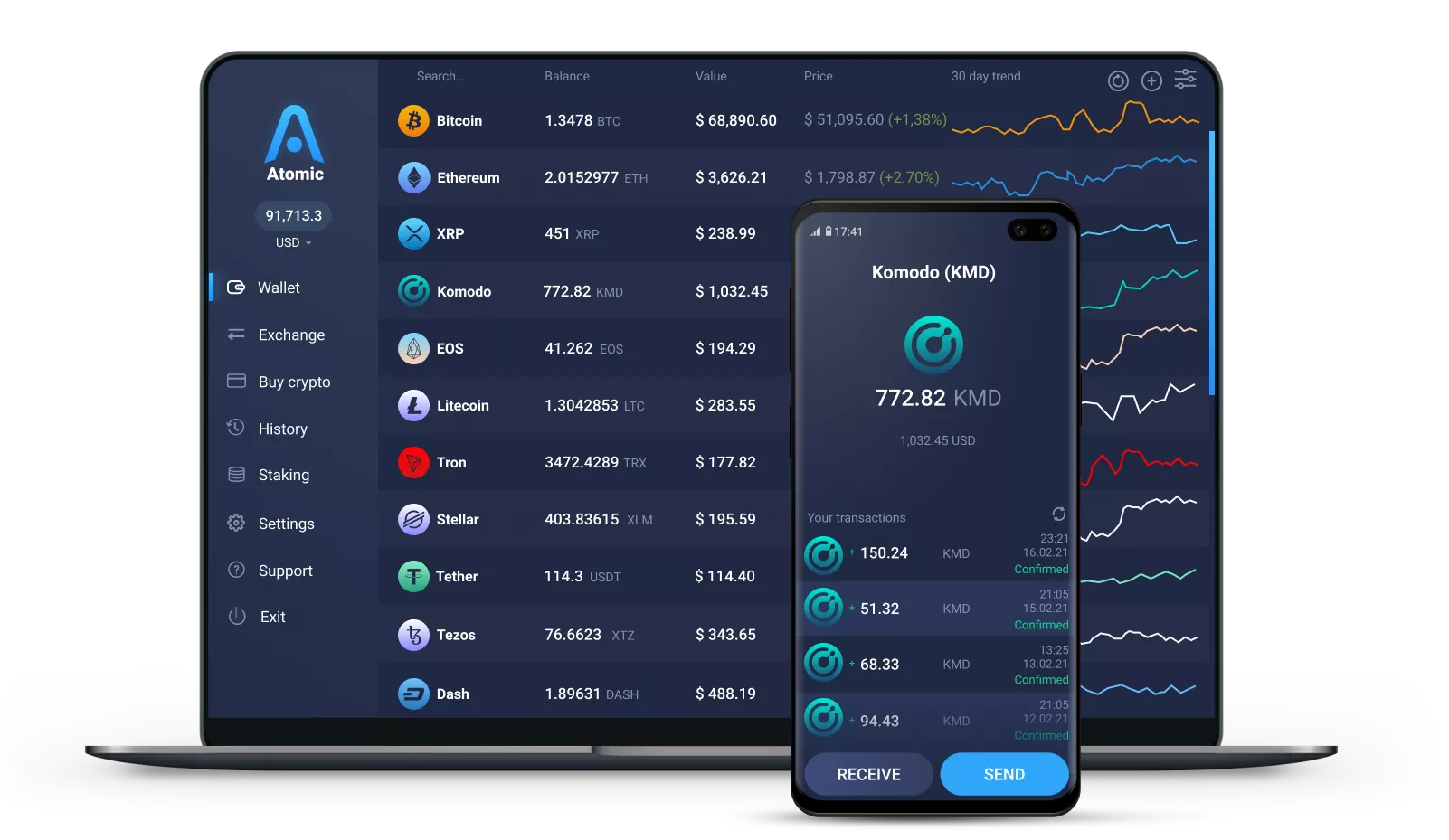 Why Choose Atomic Lisk wallet
Private
No registration and KYC required to use the app. We don't track your data
Secured
Your private keys are encrypted and never leave your device. Only you have control over your funds
24/7 Online Support
Fast support for your needs. Live chat and email support for customers from all over the globe.
Having started as a fork of Crypti in 2016, Lisk proceeded to raise 14 000 BTC in ICO, becoming the second most successful crypto-crowdfund at the time. Soon after that Lisk went live and became the second most popular asset traded against Bitcoin, surpassing a market cap of $1 billion. So what is LSK, how does it work and what are the reasons for its popularity?First of all, it is useful to know what Lisk itself is: a blockchain application platform with its own Blockchain network and token (LSK), set up by Max Kordek and Oliver Beddows in 2016. The basis of Lisk philosophy is offering developers a simple and flexible Software Development Kit (SDK) for the creation of decentralized applications (DApps), without the need to learn a new programming language from scratch. By using their own sidechain connected to the Lisk network, developers can create, manage and distribute decentralized Blockchain applications. The flexibility of sidechains enables developers to implement and fully customize their Blockchain applications.
LSK is the coin within Lisk main chain and DApps. It is worth mentioning that LSK is not used as a payable digital asset, but rather a currency for developers within Lisk network. Lisk coin can be traded for Bitcoin or Ethereum on several major exchanges such as Binance, HitBTC, Bittrex and Coinroom. The latter, together with Exrates and Bitbay, offer swap of fiat money for LSK.
Lisk (LSK) Features
Lisk provides a platform for decentralized applications, much like Ethereum (ETH). However, there is a number of unique features which make Lisk stand out:
Aims to be a modular cryptocurrency: every application on Lisk uses its own sidechain separate from the main blockchain; the sidechain is secured by exactly 101 master nodes chosen by the owner. This may help boost scalability, which is a problem for many cryptocurrencies. Another advantage of this is that the main chain is not affected by high volume transactions on the sidechains, which implies no interruptions or slowdown within the network.
NodeJS/JavaScript is used on the backend and CSS3/HTML5/JavaScript – on the frontend.
Utilizes DPoS (Delegated-Proof-of-Stake) consensus mechanism, which makes it different from PoW-based Ethereum (what's interesting, Ethereum made announcement about the plan to move to PoS eventually).
LSK is mined in a non-trivial (for cryptocurrencies) way based on proof-of-stake (PoS) algorithm – forging. It is different from mining in a way that only a selected number of 101 individuals (those with the highest votes from other LSK holders) are able to mine and secure the network. New LSK are created in the process of forging. The average block time is 10 seconds.
Lisk's own virtual machine (VM) is currently in development.
Lisk in totally open-source, the development process can be tracked on GitHub.
Upon its launch in April 2016, LSK token was worth around $2. The coin experienced an all-time high of $35 in 2018 but is currently back to its initial price with sporadic fluctuations. One thing to know is that the price of LSK is directly dependent on the popularity of the platform. Thus, even though the trading volume is comparatively weak at this point, there seems to be a growing demand for LSK among users, which predicts the increase in its value. However, with the cryptocurrency market being almost completely unpredictable, it is hard to state anything with confidence. Stay tuned and keep track of the Lisk coin dynamics to be able to make data-driven predictions.
Where to store Lisk (LSK)?
Atomic Wallet will store your LSK, as well as over 300 other digital assets, in a safe, secure and decentralized way. You can buy crypto with a credit card right in Atomic Wallet and swap all of your cryptocurrency assets with built-in swap service. Atomic is a non-custodial wallet, all private data are stored in an encrypted manner on the end-user device, so your money is totally under your control.