Lunastars (LSTR) wallet
Manage your Bitcoin, Ethereum, XRP, Terra, XLM and over 300 other coins and tokens.
Lunastars (LSTR) coin is currently not supported
But Atomic Wallet can offer
Support for over 30 coins and over 500 tokens
Anonymous exchange with cashback
Staking and buying cryptocurrencies
Download
Download
Excellent
10 000+ Reviews on
Download Lunastars Wallet
It only takes a few minutes to set up Atomic Wallet on your PC or phone, giving you the perfect place to securely store your Lunastars (alongside other top coins and tokens).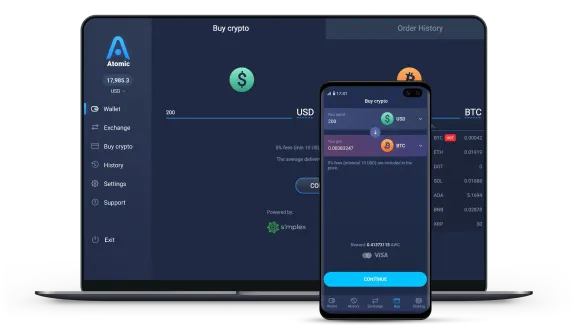 Buy and Swap Straight From Your Lunastars Wallet
You can purchase your LSTR and exchange it for other coins straight from your Lunastars wallet on Atomic, which ensures your crypto is securely encrypted and controlled by only you. We work with a licensed EU payment provider to handle the processing.
Benefits of an Atomic Lunastars Wallet
Only you control your private keys
You can manage 300+ coins and tokens
Exchange 100+ cryptocurrencies and get 1% cash back
Buy BTC, SOL, SHIB, and 30+ assets with your bank card
Stake 10+ coins with up to 20% yearly yield
How to Set Up Your Lunastars Wallet
Install the app on your phone or PC
Create a new wallet (or import an existing wallet)
Buy crypto or make a deposit
Manage Your Portfolio
Sort your crypto assets by their amount and value to take control of your portfolio.
What Our Customers Say

Jesse Brewington
As always, Atomic Wallet has been super fast and convenient with all my transactions.

Brian Weaver
Best wallet out there!! Exchange feature is great and cheap which is a major plus!

Anne Mwai
I love that I can almost do anything in AW I can purchase and exchange Crypto very easily, very user friendly.

Claudio
Sending coins from AW is super easy, safe and with no extra fees or limitations.

Conor
Great platform, really easy to use, nothing complicated, everything a beginner or pro trading crypto would want.
Download Atomic Wallet
Windows
MacOS
Ubuntu
Debian
Fedora
Why Choose Lunastars wallet
Private
No registration and KYC required to use the app. We don't track your data
Secure
Your private keys are encrypted and never leave your device. Only you have control over your funds
24/7 Online Support
Fast support for your needs. Live chat and email support for customers from all over the globe.
What is Luna?
Luna is a next-generation dating app. The development of the product is based on principles of data science, psychology, and game theory. Luna's creators are a young team aiming at the creation of the new smart methods of connecting people all over the globe. The team is spread between New York and Berlin.
The project is built on QTum blockchain, so technically Luna is a decentralized app (which is also called DApp). It developed on comparatively new QTum blockchain using its own smart contracts system and proof-of-stake mining algorithm. Luna's token is called LSTR which stands for Luna Stars.
Application
As was mentioned, Luna is built as a DApp. It means that it is based on blockchain and supported by miners' calculating power. It is one of the project's main features as it is the first decentralized dating app. On top of that, Luna aims to provide a better experience of online dating: they are going to find effective ways to fight poor behavior and fake accounts. Also, users will have to pay with inner token LSTR to send messages.
QTum Platform
Luna project uses the QTum blockchain ecosystem as a basis. QTum is a platform designed for large corporations. It is implementing a PoS mining algorithm and its own smart contracts system which is called UTXO. The main idea behind the platform is combining Ethereum's contract functionality with Bitcoin's security. As a result, QTum was never hacked.
Smart Contracts
Luna is using smart contracts technology as one of the basic working algorithms. The project is aiming to create a high-tech environment for users looking for matches. Using self-executing contracts is also a feature that Luna takes as an advantage. It supports the overall app's security as it protects data and funds from changing or stealing.
Data Science and Psychology
Luna's team is extremely keen on the creation of the all-new product. Their goal is to develop smart mechanics for match searching. They use real science in development and claim to implement principles of big data along with on-the-edge psychology and statistics researches. The philosophy behind this is that every person in the world has the perfect partner and Luna wants to help with this using information technologies.
Luna Stars Token (LSTR)
Luna's token is officially called Luna Stars (LSTR) or simply LUNA. Firstly LSTR was issued basing on QTum, but in November 2018 it moved to the Ethereum platform.
It started public sales on February 1st, 2018. Shortly before that, there was the pre-sale campaign. The public sale had significant success and the soldout came in the first block which was mined several minutes after the start. LSTR conducted 200,000 QTUM and 3750 ETH for a total of 15,200,000,000 LSTR (which is 40% of total supply) during both private and public sales.
As of this writing, the current Luna's price is $0,000059 USD or 0,00000002 BTC. The highest price was $0,001554 USD. The current ROI after ICO is −90%. The current circulating supply is 13 billion LSTR. The current maximum supply is 38 billion LSTR. Overall capitalization is currently $806,012.
Where to Store LSTR
If you want to store LSTR, you need a cryptocurrency wallet service. Luna doesn't have its own official wallet. No hardware wallets support this token either. The only option is to use side software for this issue.
Luna Wallet Security
As Luna doesn't have an official wallet and using side services is necessary, it is important to take care of security. Place your funds only in verified and well-known wallets. Search for information about the service you are going to use online on reputation websites like Trustpilot or Sitejabber.
In order to keep your money safe, pay attention to the right password keeping. Don't tell your password to anyone and don't place it in unreliable places. It's also vital to keep the restore code phrase. We recommend writing it down and keeping in a safe place.
Atomic Luna Wallet
The most comprehensive and reliable option is the Atomic wallet. It is a blockchain-based cryptocurrency wallet supporting hundreds of assets. Among the features of the wallet, there is a major emphasis on security and privacy. Your private keys never leave your device. Funds are encrypted and secure. On top of that, Atomic is a fully non-custodial service.
Another Atomic's advancement is a user-friendly interface. It's simple and clear at first sight. The wallet also has built-in exchange and crypto-for-fiat service. Atomic is a trusted wallet among thousands of users.
This wallet is presented as a desktop app for Windows, macOS, Ubuntu, Debian and Fedora along with Android and apps. Just pick the option that will suit your device and download the program. There are no fees for storing assets.
The installation is quite easy and takes literally less than a minute. If it's the first time you deal with Atomic, create a new account. Choose a reliable password and get the backup phrase — you will need it to restore after a lost password or just on a new device. Keep this information in a safe place.
The interface is friendly enough so you will get used to it soon. In case if you meet any difficulties, reach the help section inside the app or contact us via the help widget on our website.