Download Uniswap Wallet
It only takes a few minutes to set up Atomic Wallet on your PC or phone, giving you the perfect place to securely store your Uniswap (alongisde other top coins and tokens).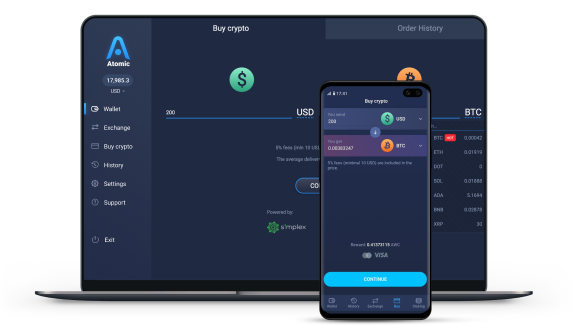 Buy and Sell Straight From Your Uniswap Wallet
You can trade your UNI for other coins straight from your Uniswap wallet on Atomic, which ensures your crypto is securely encrypted and controlled by only you. We work with a licensed EU payment provider to handle the processing.
Benefits of an Atomic Uniswap Wallet
Own your private keys
Manage 300+ coins and tokens
Exchange your UNI with ETH and 100+ other cryptocurrencies
Buy UNI, SHIB, and 30+ more
Stake top coins, including SOL and ZIL
How to Set Up Your Uniswap Wallet
Install the app on your phone or PC
Create a new wallet (or import an existing wallet)
Buy crypto or make a deposit
Manage Your Portfolio
Sort your crypto assets by their amount and value to take control of your portfolio.
What Our Customers Say

Jesse Brewington
As always, Atomic Wallet has been super fast and convenient with all my transactions.

Brian Weaver
Best wallet out there!! Exchange feature is great and cheap which is a major plus!

Anne Mwai
I love that I can almost do anything in AW I can purchase and exchange Crypto very easily, very user friendly.

Claudio
Sending coins from AW is super easy, safe and with no extra fees or limitations.

Conor
Great platform, really easy to use, nothing complicated, everything a beginner or pro trading crypto would want.
Read more
Download Atomic Wallet
Windows
MacOS
Ubuntu
Debian
Fedora
Why Choose Our Bitcoin Wallet?
Private
No registration and KYC required to use the app. We don't track your data
Secure
Your private keys are encrypted and never leave your device. Only you have control over your funds
24/7 Online Support
Fast support for your needs. Live chat and email support for customers from all over the globe.
What is Uniswap (UNI)?
One of the most interesting things about blockchain technology and cryptocurrencies is that they are constantly growing and evolving. Innovation is limitless and happens at a rapid pace. With that said, Unswap is one of the most recent booms that created a revolutionary product that will change the direction of decentralization of digital assets in the future. So what is Uniswap and why is it important? Due to the nature of cryptocurrencies and the idea of creating financial freedom for many individuals, Uniswap will certainly play a huge role that the entire ecosystem will benefit from going forward.
Uniswap is a decentralized exchange service that allows anyone to interact with the Ethereum network so that they can buy and sell digital assets without any form of centralized authority. In the past, if someone wanted to trade cryptocurrencies, they would have to rely on centralized exchanges by signing up and providing their information to use those services. The most popular centralized exchanges are Coinbase and Binance,at the time of writing. However, Uniswap began to create issues for them since its inception in 2018. Uniswap was built on top of the Ethereum blockchain which makes it robust and secure.
Centralized exchanges work in a way where an order book is kept so that a buying and selling of a particular currency can happen. For example, if someone wanted to trade 1 Bitcoin (BTC) at $30,000, they would need to put in a sell order and someone else would need to put in a buy order for that same price. From a technical standpoint, this system can create problems with liquidity as it relates to the depth of the market. What this means is that if there is little trading or demand for the currency there would be a narrow market.
Uniswap on the other hand is a completely different type of system that is not owneed or operated by any central authority. This means that anyone can trade (buy/sell) without intermediaries or liquidity issues. This is possible because of the new trading model that the team created known as an automated liquidity protocol that allows users to be incentivized by providing liquidity on its platform. So users who wish to provide liquidity by locking their funds in a pool and secure the network will earn UNI tokens as a reward. Unisswap runs as a smart contract platform or exchange that allows users to swap between currencies within minutes through the power of the Ethereum network. Additionally, anyone can list their token on Uniswap which is not the case with centralized exchanges like Binance.
What is a Uniswap (UNI) Wallet?
A Uniswap (UNI) wallet is a secure and decentralized place to store all your UNI tokens with ease of use and peace of mind. Uniswap wallet allows you to interact with the blockchain by sending and receive UNI tokens easily. There are different types of Uniswap (UNI) wallets, including light wallets and full node wallets. With full node wallets, they tend to follow all the rules of the blockchain and usually require great computing hardware such as RAM and processing speeds. This is because full node wallets can stress a computer when it is downloading transaction history and other data from the blockchain network.
With Uniswap (UNI) light wallets there is a bit of difference since they do not download every transaction or huge amounts of data from the blockchain. These wallets only download or fetch specifically needed information at the time of interacting with the network. So when a user sends or receives a transaction using a light wallet, the wallet only focuses on getting information related to that transaction and updates balances without the user's light wallet accordingly. These types of wallets are best suited for people who tend to have limited computing resources since they use less RAM and processing power.
Subsequently, with this information, you might be wondering why a full node wallet is important if you can use a light note wallet. A key thing to note here is that full node wallets are just as important as light node wallets because light wallets cannot function without connecting to the blockchain through a full node wallet. This means that both wallets interact with each other even though a user might only use a light wallet to do their transaction. Additionally, it is important to note that Uniswap's UNI is a cryptocurrency on the Ethereum network, therefore, every transaction has to go through the network and is dependent on Ethereum's speed and fees. As such, since Ethereum is known for high fees at the time of writing due to a lack of scaling ability, no set fee can be provided for UNI transactions. They tend to vary from anywhere between $6-20 and can be higher depending on the Ethereum network.
Uniswap Wallet Features:
There are many different features that the Uniswap wallet has to ensure that users' funds are always secure and they can transact with no issues. It is very important to ensure that you have your UNI tokens on a reliable and secure full node or light wallet to prevent any form of compromisation. Because the Uniswap wallet is non-custodial, this means that your private keys will never leave your wallet. Your Uniswap light wallet is only used to connect to the blockchain to sync your balances and transactions. Essentially, on the same note, you should NEVER share your private keys with anyone since it is the method that is used to restore a wallet from anywhere in the world.
Uniswap wallets have tons of benefits that are not possible with centralized exchange wallets. Light or full node wallet allows you to have full control of your funds at all times. Furthermore, all your data and information are stored locally and will never be uploaded to any server or centralized authority. The same cannot be said about centralized exchange wallets since they require your personal information and identification. Once you hand over this information to exchanges like Coinbase and Binance, you have no clue as to what they are using your information to do.
Your Uniswap wallet will be updated after each transaction to show correct balances that can be further confirmed on the blockchain. Moreover, there are a host of other features that are included with having a Uniswap light or full node wallet. Not only can you purchase UNI tokens among others such as Bitcoin; but you can also exchange other currencies for UNI and vice versa just to name a few of the features. Here is a complete list of features that the Uniswap wallet provides to users:
Built-in exchange with over 300 different cryptocurrencies

Purchase UNI with a credit card

Password, PIN, and Fingerprint security (mobile wallet)

Mobile and Desktop platform availability

QR code scanning to easily send and receive UNI

Display your UNI balance in your local supported currency

Password/fingerprint required on each transaction
How to store UNI Safely?
Storing your UNI safely is not too difficult with the correct robust light or full node wallet. You have to ensure that you take all the necessary measures to prevent unauthorized access to your wallet. Following simple steps such as storing your passwords and sensitive information offline in a book or safe are good places to start. When you create a Uniswap wallet for the first time, you will be asked to write down a 12-word mnemonic seed phrase that will be used to restore your wallet if you are ever locked out or simply want to access your wallet from another location.
It is critical to ensure that your seed phrase is never exposed or present to anyone. Once you have written down your seed phrase, you will be required to create a new password before you can access your Uniswap wallet. Your password is just as important as your seed phrase but they work differently. A forgotten password can be bypassed with your seed phrase, however, if you lose your seed phrase you will no longer be able to access your wallet since you are the only person who has that information. Therefore you will be unable to access your funds.
As it relates to your private keys, you should never share them publicly. This is because the same rules apply that anyone with your private keys or seed phrase will have access to your wallet. On the other hand, your public keys are completely safe to share and are used to receive funds in your wallet. To keep your UNI token as safe as possible you should always store your passwords, private keys, and seed phrases offline in a physical notepad or safe that only you have access to. You should not store this information digitally since they are more prone to attacks and data breaches.
If you want to receive funds without opening your wallet, you should write down your public keys and travel with them to be safe when transacting UNI tokens. It is completely safe to store your public keys digitally since they can only be used to check your balance or send funds to your wallet. Nonetheless, if you are concerned about privacy you should treat your public keys like your private keys because anyone who has access to them can see how much funds your wallet holds. These are among some of the best steps to follow if you want to keep your UNI safe in your wallet and prevent the possibility of a hack or data compromisation.
Top 5 things to know about Uniswap:
Uniswap started the Defi boom in Summer 2020-

History was created in the year 2020 when everything was going topsy turvy, millions were made on the Ethereum network through Uniswap's protocol. Users were able to trade hundreds of tokens that appreciated overnight. Billions of dollars were made during the short period that the Decentralized Finance (DeFi) craze lasted.
Uniswap is fully automated and does not require human intervention- Since Uniswap is a decentralized protocol is does not require humans to control what happens on the platform. It is fully open-source and decentralized. This also means that it can be used by any user, anywhere in the world
Uniswap native token is called UNI- The UNI token is the native token of the Uniswap Decentralized Exchange (DEX) and was created during and airdropped to users who used the platform to trade.
The Automated Liquidity Protocol and other aspects of Uniswap's code are fully open-source- Uniswap created this protocol to tackle the issues with centralized exchanges and made their code open source for anyone to use.
The exchange airdropped free tokens to all users who interacted with it in 2020-

Uniswap users received one of the largest airdrops in history during the end of the DeFi boom in September 2020. Billions of dollars were distributed to users who made trades or provided liquidity on the platform. Even those who had failed transactions received free UNI tokens as a reward for trying to use the platform.
Conclusion
To conclude, it is now more clear than ever that blockchain technology is very innovative and the crypto space is seriously fast-paced. Uniswap's recent innovation is like no other and has set the bar for other projects to follow as they contribute to the crypto space. Decentralized Exchanges (DEXs) are also very important since they remove the need for registration, verification, and providing personal information to centralized exchanges (CEXs). At the time of writing, the UNI token is trading at just about $24 and is positioned to do well especially in a bull market. Price predictions made by the like of CoinPedia say UNI could go as high as $100 in the future. Many other price predictions have been created by other experts in the space which goes to show that there is a lot of hype around the tech behind UNI.
If you believe in Uniswap's technology and are thinking about acquiring UNI tokens, you can easily do so by using the Atomic light wallet. It allows users to purchase UNI with a Visa credit/debit and have the tokens deposited directly in their wallets. Additionally, the wallet has features to exchange other currencies for UNI and vice versa. Most importantly, the Atomic light wallet is free for download and super easy to use even for new users in the crypto space. That's not all! The Atomic wallet is safe and secure with state-of-the-art technology such as mnemonic seed phrase, fingerprint, and password protection features. There are also over 300 other cryptocurrencies that can be purchased, sent, or received in the Atomic light wallet.
Our wallet is also available for download on all popular platforms that are in use today. The wallet can be downloaded for iOS, Android, Mac, PC, and Linux. Moreover, our wallet is frequently updated with newly added tokens, security, and performance improvements for the best user experience possible.
Subscribe and stay tuned for more posts, news, and the latest updates in the crypto space!
References
Binance Academy. (2021, February 26). What is Uniswap and How does it work? Retrieved March 01, 2021, from https://academy.binance.com/en/articles/what-is-uniswap-and-how-does-it-work
Leech, O., Shen, M., Allison, I., & Wilser, J. (2021, February 04). What is UNISWAP? A complete beginner's guide. Retrieved March 01, 2021, from https://www.coindesk.com/what-is-uniswap-complete-guide
Uniswap (UNI): A decentralized Crypto exchange. (n.d.). Retrieved March 01, 2021, from https://www.gemini.com/cryptopedia/uniswap-decentralized-exchange-crypto-defi
Uniswap. (2021, January 22). Retrieved March 01, 2021, from https://cryptocurrencyfacts.com/exchanges/uniswap/
Wiesflecker, L. (2021, February 14). Uniswap forecast 2021–2025: Will the trend continue? Retrieved March 01, 2021, from here.
What is UNISWAP? A complete beginner's guide. (n.d.). Retrieved March 01, 2021, from https://finance.yahoo.com/news/uniswap-complete-beginner-guide-100917816.html