Download Paxos Wallet
It only takes a few minutes to set up Atomic Wallet on your PC or phone, giving you the perfect place to securely store your Paxos (alongside other top coins and tokens).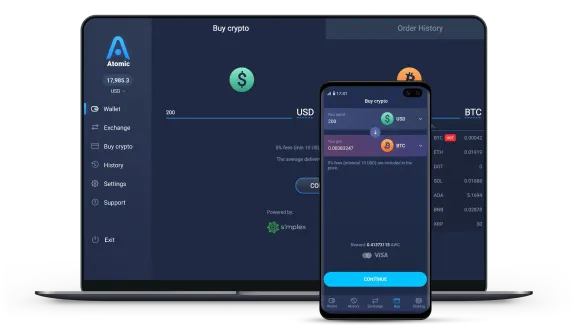 Buy and Swap Straight From Your Paxos Wallet
You can purchase your PAX and exchange it for other coins straight from your Paxos wallet on Atomic, which ensures your crypto is securely encrypted and controlled by only you. We work with a licensed EU payment provider to handle the processing.
Benefits of an Atomic Paxos Wallet
Only you control your private keys
You can manage 300+ coins and tokens
Exchange PAX to ETH and 100+ other cryptocurrencies and get 1% cash back
Buy PAX, SOL, SHIB, and 30+ assets with your bank card
Stake 10+ coins with up to 20% yearly yield
How to Set Up Your Paxos Wallet
Install the app on your phone or PC
Create a new wallet (or import an existing wallet)
Buy crypto or make a deposit
Manage Your Portfolio
Sort your crypto assets by their amount and value to take control of your portfolio.
What Our Customers Say

Jesse Brewington
As always, Atomic Wallet has been super fast and convenient with all my transactions.

Brian Weaver
Best wallet out there!! Exchange feature is great and cheap which is a major plus!

Anne Mwai
I love that I can almost do anything in AW I can purchase and exchange Crypto very easily, very user friendly.

Claudio
Sending coins from AW is super easy, safe and with no extra fees or limitations.

Conor
Great platform, really easy to use, nothing complicated, everything a beginner or pro trading crypto would want.
Why Choose Paxos wallet
Private
No registration and KYC required to use the app. We don't track your data
Secured
Your private keys are encrypted and never leave your device. Only you have control over your funds
24/7 Online Support
Fast support for your needs. Live chat and email support for customers from all over the globe.