Potcoin (POT) wallet
Manage your Bitcoin, Ethereum, XRP, Potcoin, XLM and over 300 other coins and tokens.
Potcoin (POT) coin is currently not supported
But Atomic Wallet can offer
Support for over 30 coins and over 500 tokens
Anonymous exchange with cashback
Staking and buying cryptocurrencies
Download
Download
Excellent
10 000+ Reviews on
Download Potcoin Wallet
It only takes a few minutes to set up Atomic Wallet on your PC or phone, giving you the perfect place to securely store your Potcoin (alongside other top coins and tokens).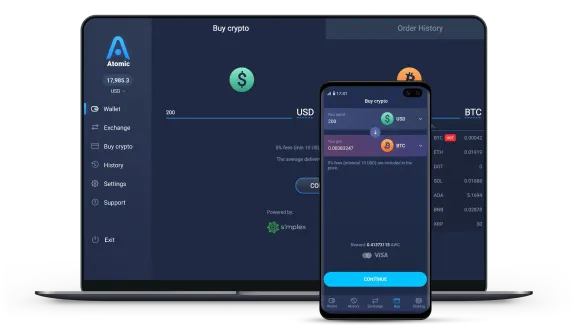 Buy and Swap Straight From Your Potcoin Wallet
You can purchase your POT and exchange it for other coins straight from your Potcoin wallet on Atomic, which ensures your crypto is securely encrypted and controlled by only you. We work with a licensed EU payment provider to handle the processing.
Benefits of an Atomic Potcoin Wallet
Only you control your private keys
You can manage 300+ coins and tokens
Exchange 100+ cryptocurrencies and get 1% cash back
Buy BTC, SOL, SHIB, and 30+ assets with your bank card
Stake 10+ coins with up to 20% yearly yield
How to Set Up Your Potcoin Wallet
Install the app on your phone or PC
Create a new wallet (or import an existing wallet)
Buy crypto or make a deposit
Manage Your Portfolio
Sort your crypto assets by their amount and value to take control of your portfolio.
What Our Customers Say

Jesse Brewington
As always, Atomic Wallet has been super fast and convenient with all my transactions.

Brian Weaver
Best wallet out there!! Exchange feature is great and cheap which is a major plus!

Anne Mwai
I love that I can almost do anything in AW I can purchase and exchange Crypto very easily, very user friendly.

Claudio
Sending coins from AW is super easy, safe and with no extra fees or limitations.

Conor
Great platform, really easy to use, nothing complicated, everything a beginner or pro trading crypto would want.
Download Atomic Wallet
Windows
MacOS
Ubuntu
Debian
Fedora
Why Choose Potcoin wallet
Private
No registration and KYC required to use the app. We don't track your data
Secure
Your private keys are encrypted and never leave your device. Only you have control over your funds
24/7 Online Support
Fast support for your needs. Live chat and email support for customers from all over the globe.
What is
Potcoin
?
On January 21, 2014, PotCoin was founded by three Quebec businessmen, via GitHub, who were aiming to create a legal cannabis business cryptocurrency around the world. This is why this cryptocurrency was propelled on the site at 4:20 exactly.
On January 30, PotCoin was linked to a newly launched shares of cryptocurrency known as Cryptorush, allowing trading between Bitcoin & PotCoin, and was given the chance to benefit from several mining pools. Due to the large community and growing development team, PotCoin won major media attention during February and March 2014.
For the $250 billion international cannabis industry, PotCoin is an ultra-secure electronic coin solution, while PotCoins themselves are the virtual coins, which you can submit digitally, enabling marijuana enthusiasts to connect, trade, chat and evolve together. PotCoin is an initiative focused on a global community.
Why choosing
Potcoin
as your main asset?
Potcoin's virtual wallet helps you store other accounts, personal keys, and cryptocurrencies, all in a single toolbar. Through the Potcoin liquidity network, you can manage your cryptocurrencies located in your wallet, enabling you to deposit, withdraw, send or exchange any of your assets with cash.
From your mobile or web browser, all Potcoin services are available. The platform highlights ease of use, including "one-time diversification," which enables you to diversify your risk and portfolio instantly with a single click.
Why
Atomic
is the best choice for your
Potcoin
assets?
In Atomic, only you have full access to your funds. Atomic Wallet uses on-device intelligence and stores all private keys on your computer or/and smartphone. Your privacy is well-protected with the password you set and a 12-word mnemonic seed phrase.Atomic is a decentralized wallet for crypto management, all your keys never leave your device. Funds are secured and encrypted. Your private keys never leave your device. Built-in exchange and multi-blockchain support.
Security of the
Atomic
Wallet:
In the process, private keys are always stored in your system: Atomic gives customers full ownership of private keys, as we never keep them on our servers. Instead, the user's machine will keep the keys. Thus, each client receives a special mnemonic key phrase, which controls access to the account. This is a second protective layer that lets customers have full wallet access and change their data if needed.
Login Free Application: Atomic wallet, an application that is serverless, does not allow users to log in. As such, it does not retain personal private data and does not rely on third parties to make payments on its behalf. It increases the site's security.
Improved Encryption: Both connections and processes operate in encrypted mode by definition, and all the information it receives is also guarded by that.
How does
Atomic
work?
Atomic Swaps is where the Wallet gets its name from. As the Atomic swap ecosystem evolves it will be a major crypto game changer. The swaps are decentralized and do not require a third-party to make the transaction.
Atomic swaps work cross-chain and, which secures you and your partner from any possible threats. Fees are also decreased, so there is no need to buy/sell tokens for the first time on an exchange, that will take a large cut of your profits.
The Atomic Wallet currently supports BTC, LTC, and QTUM only atomic swaps but the team works on adding additional coins for atomic swaps.
To open your Atomic Wallet, follow these 4 steps:
Step 1: Download the Atomic wallet app on your device.
Step 2: Upon successful installation, click the 'Create' button and choose a solid password that will be the first layer of protection for your account
Step 3: Once you have set your password, the wallet will automatically generate a 12-word backup phrase (mnemonic phrase) and prompt you to make a copy.
Step 4: After copying the keyphrase, you have the Atomic Wallet account ready to use. Please note that for your crypto assets, each atomic wallet address will be automatically generated from the mnemonic seed sequence. If you lose the seed, you won't be able to recreate or recover the wallet in case of PC loss or failure.