Download Verge Wallet
It only takes a few minutes to set up Atomic Wallet on your PC or phone, giving you the perfect place to securely store your Verge (alongside other top coins and tokens).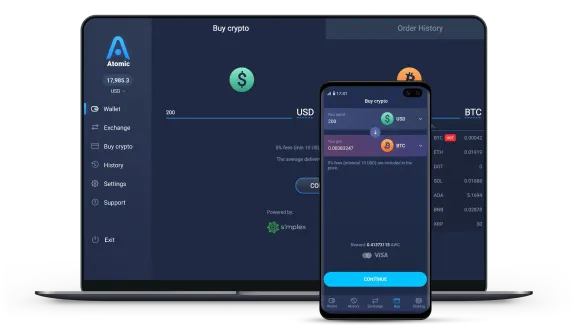 Buy and Swap Straight From Your Verge Wallet
You can purchase your XVG and exchange it for other coins straight from your Verge wallet on Atomic, which ensures your crypto is securely encrypted and controlled by only you. We work with a licensed EU payment provider to handle the processing.
Benefits of an Atomic Verge Wallet
Only you control your private keys
You can manage 300+ coins and tokens
Exchange 100+ cryptocurrencies and get 1% cash back
Buy BTC, SOL, SHIB, and 30+ assets with your bank card
Stake 10+ coins with up to 20% yearly yield
How to Set Up Your Verge Wallet
Install the app on your phone or PC
Create a new wallet (or import an existing wallet)
Buy crypto or make a deposit
Manage Your Portfolio
Sort your crypto assets by their amount and value to take control of your portfolio.
What Our Customers Say

Jesse Brewington
As always, Atomic Wallet has been super fast and convenient with all my transactions.

Brian Weaver
Best wallet out there!! Exchange feature is great and cheap which is a major plus!

Anne Mwai
I love that I can almost do anything in AW I can purchase and exchange Crypto very easily, very user friendly.

Claudio
Sending coins from AW is super easy, safe and with no extra fees or limitations.

Conor
Great platform, really easy to use, nothing complicated, everything a beginner or pro trading crypto would want.
Download Atomic Wallet
Windows
MacOS
Ubuntu
Debian
Fedora
Why Choose Verge wallet
Private
No registration and KYC required to use the app. We don't track your data
Secure
Your private keys are encrypted and never leave your device. Only you have control over your funds
24/7 Online Support
Fast support for your needs. Live chat and email support for customers from all over the globe.
Verge (XVG) cryptocurrency was created in 2014 under the original name DogeCoinDark. The developers took Bitcoin source code as a basis and improved it in terms of confidentiality by introducing the most effective elements of advanced technologies. It is impossible not to note the critical aspect that was present at the launch: the creators of Vege positioned the project as a confidential coin, combining the features of Dogecoin and DASH.
The primary purpose of the Verge blockchain is to make crypto assets between people and businesses convenient for everyday use. In this case, great emphasis is placed on the security and anonymity of transactions using XVG coins, so that transfers cannot be traced. This ensures the confidentiality of personal data. The speed of transactions also achieves ease of use Verge (XVG).
Verge Features
Verge (XVG) supports Proof of Work, and encryption algorithms: Scrypt, X17, Lyra2rev2, myr-groestl, and blake2s, which help to work with various settings for intellectual analysis.
Peculiarities:
Complete anonymity and focus on client privacy


Verge uses anonymous networks such as TOR and i2P. IP addresses of users are hidden, that is why transactions cannot be traced.

An active development team and many contributors


The development team is ready to collaborate with community members. Anyone can write and offer their ideas.

Community support


Verge is not a private company that exists for pre-mining of coins or funds raised by ICO (Initial Coin Offering). The team's pillar is its international community.

Readiness for mass implementation


Verge provides a wide selection of secure wallets for multiple operating systems (OS). Revolutionary TOR Android wallet provides complete anonymity when used on mobile devices.

Fast transaction speed


Verge transaction speed is much faster than most coins. The Simple Payments Verification (SPV) technology reduces transaction time to 5 seconds.

Decentralization and open source protocol


Verge is a decentralized currency that is built on an open source platform. This is an independent project and is not under the control of state bodies or investors.
If you follow the rate of XVG to the US dollar, it is clear that after the appearance in 2016, its value was $0.000053. Over the year, the course fell by more than 2.5 times, and by the beginning of 2017, it was $0.00002. But 2017 was very successful.
The historical maximum of the pair XVG/USD was set on December 23, 2017, when Verge reached $0.3 per coin. After that, XVG went to a lingering peak, like the entire cryptocurrency market in 2018. A convincing attempt to grow in 2018 came in April when news leaked that XVG would cooperate with PornHub, Brazzers, and Nutaku studio, which creates games for adults.
Verge Takeaways
The XVG coin was recognized when there were problems with the scalability of the Bitcoin and Ethereum blockchains. The team is preparing the system for large-scale integration, the first step to which was the entrance of the international market with huge capital and prospects thanks to the cooperation with PornHub.
Fast transactions with a minimum commission have become an excellent alternative to the most popular cryptocurrencies. Also, the Verge blockchain allows transferring money while keeping personal user data. This anonymity has a positive effect on the popularization of the asset due to the desire of some states to regulate the cryptocurrency market. But, for the successful implementation of the Verge project and its coin XVG, it is necessary to solve the existing problems with bugs and small scalability in the shortest time possible.
Verge (XVG) Wallet - Atomic Wallet
Regarding wallets supporting XVG, you can find any you like, for Windows, Mac OS and Windows as well. However, if you want not to keep the only Verge on your balance one needs to get attention to another wallet. One of such solutions is Atomic Wallet.
Atomic Wallet is a universal multi-asset wallet, secured, decentralized and completely anonymous. Using the wallet, you can manage Verge (XVG), Bitcoin (BTC), Ethereum (ETH), Ripple (XRP), Litecoin (LTC), Stellar (XLM) and more than 300 other coins and tokens.
Read the full complete guide here.