Cryptocurrency Wallet: Explained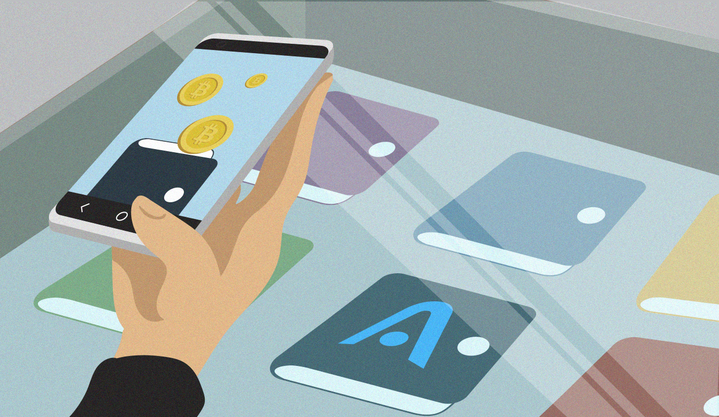 Contents:
In order to actively and successfully deal with cryptocurrency, you need to store it somewhere. For this purpose, you can use special electronic wallets, which are very different (online, cold, hardware). Each type of cryptocurrency wallet has its advantages and is intended to solve a specific problem.

Indeed, you need to choose the most optimal one for any particular case.

What is a Cryptocurrency Wallet?
Before continuing, we would like to draw your attention to what cryptocurrency wallets are, since each of them is fundamentally different from traditional counterparts (PayPal, Skrill, Payoneer, and others).
Indeed, when activating electronic payments with dollars, euros and other fiat money, you have the opportunity to receive assistance from technical support. As a result, the problem can be solved if, for example, you lost access to the electronic accounts or made an error during the money transfer.

Any cryptocurrency is nothing more than a collection of transaction entries in electronic form. Accordingly, a cryptocurrency wallet contains only two keys:

public, which is essentially the address of the wallet and can be shared to receive transfers from other users;
private, which is used as a means of access to receive cryptocurrency and must be secured.
Cryptocurrency wallet is a serious thing!
The safety of funds depends entirely on its owner (this situation is a consequence of some of the minuses of most recent digital money).

Key loss or errors during transactions leads to a complete and irrevocable deprivation of all the money in a cryptocurrency wallet. Also, don't tell strangers your private key! They may turn out to be scammers looking for the opportunity to profit at someone else's expense.

Remember that whoever owns the private key is essentially the owner of your wallet with all the ensuing consequences. Moreover, it's impossible to prove the fact of fraud because the platforms of most of the cryptocurrencies are built based on pseudonymity (wallet addresses and sums of money are in the public domain, but it's mostly impossible to associate a cryptocurrency wallet with the name of a specific person). However, such a situation may change in the future.

How Does Cryptocurrency Wallet Work?

Let's talk about this in detail:

At the first activation, the wallet program creates an account, connects to the blockchain network and generates a set of words (Private key). So, it helps to encrypt and decrypt the data. A file with a list of these words is stored on your device. If you uninstall the application or something happens with your device, you won't be able to access coins. To protect yourself, just remember the list of words (Private key) or print it on paper.
You can see your balance when the wallet is connected to block explorers. When the connection with the block explorer is established, the wallet requests all balances for all coins. It also shows any available errors. What is block explorer? It can be compared with a transaction database that contains the entire history of the blockchain.
Cryptocurrency Wallet Types

Since there are a lot of different cryptocurrency wallets, let's try to classify them and outline the main characteristics inherent in a particular type. This will help to understand their advantages and disadvantages, which will give an impetus to make the right choice.

Cold Wallet
This type of storage keeps cryptocurrencies without an internet connection. Since the private key is stored directly with the wallet owner without the involvement of third parties, this method is considered the most secure.

Cold wallets include computer programs that contain the entire history of transactions in the blockchain. But you need to be prepared that for this you will be required up to 200 GB of computer memory and such software may load for several days. However, it must be understood that with computer loss or breakdown, all your savings can go into oblivion.

Hardware
This type of cryptocurrency wallet is one of the most reliable and can help you to securely save digital coins. It resembles the usual "flash drive".

In order to use such a wallet, you must connect the device to a computer, laptop, tablet or smartphone. The advantage of hardware wallets is that they keep private keys separately from gadgets, which are usually constantly connected to the Internet. Even while working with the wallet, the data is safe, since all the tools work exclusively inside the device, which has its software. If the wallet is stolen from the owner, thieves won't be able to use it, since it's reliably protected by a PIN code.

Online Wallet
Online cryptocurrency wallets can be accessed through any device that supports the Internet. In other words, it's an online platform that provides services for cryptocurrency storage and movement. Online wallets keep all the data on the servers or in the user's browser cache. Private keys are held in a keystore that can be opened only with a password. The bad thing is if you clear the browser cache and haven't saved your backup, there is no way to recover access to funds including private keys, so it's not recommended to keep too much money on them. Recently, hacker attacks on such resources have become more frequent, some of which end with success for attackers. If you have some virtual coins, then an online wallet is an ideal option that allows you to quickly make a transaction.

Desktop Wallet
Desktop (computer) wallets also offer a high level of security for storing digital assets.

They are divided into "thick" or "heavy" and "thin". Thick ones need to be downloaded with the whole blockchain, which is constantly updated and, accordingly, takes up more and more space. Thin ones don't "ask" you to download the entire blockchain. When using a thin wallet, the security level of stored cryptocurrency is reduced, since all the missing information must be taken from third-party services that you have to trust.

Mobile Wallet
A mobile wallet is the most suitable way to pay with cryptocurrency. It's ideal for those who make frequent transactions throughout the day. Access to digital assets through the app provides comfortable and quick work with cryptocurrency. However, you should remember that mobile wallets cannot provide high security for funds storage, since the application client doesn't rely on a local (downloaded to a smartphone) blockchain, but works with remote servers.


What Wallet to Choose?
So, your choice directly depends on what specific goals you are pursuing. Following the provided above classification, the wallet's reliability is high if it keeps cryptocurrency without an Internet connection, but such a wallet has lower variability and efficiency in money operations.

Online wallets are the least protected since the private key is located on a third-party service. However, this type of cryptocurrency storage allows you to quickly and efficiently make any transactions.

Thus, if you plan to work with small funds and quite often make money transfers, then an online wallet is more suitable for you. If, on the contrary, you are going to accumulate a big capital, it's better to use a portable (with storing keys on a USB flash drive) or even a hardware version.

Hardware cryptocurrencies have the highest degree of protection since the private key is always located offline and doesn't touch the global network in any case, which guarantees its inviolability on the part of third parties. But with all this, carrying out operations with cryptocurrency takes much more time.

But these are, so to speak, extreme cases. And sometimes you need some kind of "golden mean" when you want to ensure the optimal balance between fairly fast processing of transactions and relatively high-quality protection of electronic finance.

In this case, it's advisable to choose an intermediate (cold) option, which consists of installing the client program on a computer or the corresponding application on a smartphone or tablet (desktop and mobile wallets, many of which are quite reliable). This concerns the choice of a wallet according to security criteria and the speed of transactions. In this case, we recommend you to use Atomic Wallet.

Why Atomic is a Perfect Choice to Manage Your Crypto?

Atomic is a decentralized multi-currency wallet that supports more than 500 cryptocurrencies and also has implemented Swap technology, which provides even more convenient and secure use.

Atomic is well-known for its simplicity, convenience, good interface, and security.

Security is ensured by the fact that all passwords and other data are not on any server but your device. Therefore, the risks here are minimized and the safety of your funds is completely up to you.

The main features of Atomic Wallet are, of course, transferring tokens to other wallets, exchanging one coin for another with the help of Atomic Swap function, and also the built-in exchange.
In short, Atomic Wallet has the following advantages:

Simple to use, support of many cryptocurrencies;
Atomic Swaps;
A simple interface sharpened to perform its functions most efficiently, and nothing more;
Extra services such as Changelly, ChangeNOW and Shapeshift.
Built-in purchase of cryptocurrencies.
Top safety, encrypted private key management for each coin in a couple of clicks;
Quick download and installation process. The wallet doesn't take up too much space.
Of course, these are not all the benefits of the wallet. Now you know why Atomic is so popular all over the world. And its popularity is constantly growing.

Conclusion

Thus, if you value time, security and convenience, one of the best choices is the decentralized Atomic wallet. This is a global wallet where anyone can keep their cryptocurrency without a hassle. Your funds are secured and encrypted, and private keys never leave your device. Also, the app is convenient to use. The main benefit is that it works on mobile and desktop platforms, supports 500+ coins and tokens, has built-in cryptocurrency exchange, buy crypto and cashback.
However, no matter what cryptocurrency wallet you're using or plan to use, just remember one simple security rule: don't disclose the address of your private key to anyone.