AMA Report: Coti's Community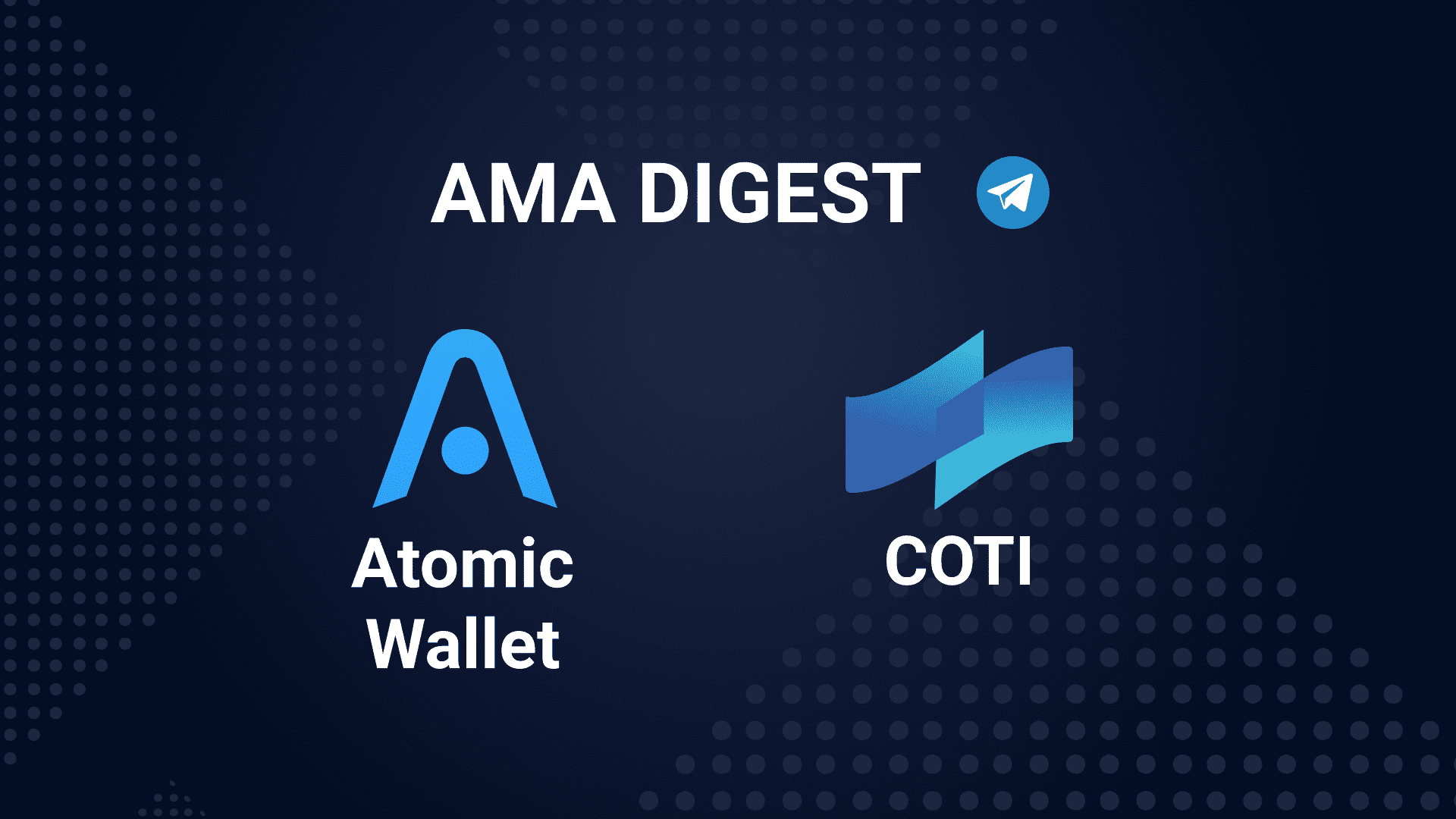 On May 20th, we had an AMA session with COTI, a fully encompassing "finance on the blockchain" ecosystem in their Telegram Chat.
COTI is the first enterprise-grade fintech platform that empowers organizations to build their own payment solution and digitize any currency to save time and money.
Our CEO Konstantin Gladych and PR Manager Christina Khachatryan were present in the discussion with the COTI community.
Here are the essential points of the AMA session:
Please welcome Konstantin (K), Christine (C), and the questions from the COTI telegram chat members (Q).


Q: What's the difference between custodial and non-custodial wallets? Why would you create the farther one?

K: Great question, thank you! Basically most of the users store crypto on exchanges to speculate quickly. However, they should trust custody services, no big difference here from regular banks. Crypto, naturally, is about censorship resistance. That's why we decided to build Atomic. Own your keys – own your funds. That's easy!


Q: How is Atomic better than its competitors?

K: Basically there are plenty of multi assets wallets on the market. However, there is still room for competitors. We tried to make Atomic as simple as we can. I hope we have the best UI/UX on the market for now. You can store crypto, exchange, buy, and stake in a just few clicks. Another strong part is security, we use common open source libraries for our wallet's core. People own their private keys – they have full control of their funds. That's the nature of crypto and a huge step for mass-market adoption! Now we have over 300K downloads for mobile and desktop apps.

Q: I would also like to know, who is your average customer?

K: Most of our users are newcomers in crypto. They bought some btc or eth maybe. Then start to play with other cryptos. However, we also have many well-experienced crypto holders. even if Atomic looks simple. it's a powerful tool even for advanced users.


Q: Can you tell us more about your staking platform?

K: Basically we offer various assets for staking. Currently majors like Tezos, Cosmos, etc. You can choose validators and stake on the blockchain. no extra fees for this. You get rewards from validators, support network decentralization, and still control your funds with private keys! That's much better than staking on exchanges. Please, check out more on staking here.


Q: When will Atomic Wallet have a Dapp browser?

K: Currently no plans for Dapps browser as it's still bad UI and too many technical limitations. However, we are planning to add more popular DeFi services in our native interface, like maker DAO/DAI, Kyber swap, etc.


Q: When will atomic wallet support decentralized applications and marketplaces where we can own, use and trade crypto assets other than tokens?

C: Unfortunately, no plans yet. But stay tuned – it's a frequent request from our people, so in some time we might consider it.


Q: Being an Indian investor, we were glad that the cryptocurrency ban is lifted already. I just downloaded Atomic wallet today and I have these questions for you related also to COTI. How does your staking model work? How do you encourage your users to do staking at Atomic Wallet? Do you have plans to open staking with COTI?

K: Well, COTI staking in Atomic is discussible. Currently, we support ERC20 tokens. Maybe we will add mainnet later if it will be in high demand from our users.


Q: What does your roadmap for 2020 look like? Name some important milestones you are hoping to achieve.

C: We're already going smoothly with our plans for this year. Check it out.


Q: What's the difference between Atomic swaps and Normal Swaps via maybe Changelly?

K: Atomic swap is a non-custodial on-chain technology, no need to trust intermediates. However, it has many technical limitations on adding new assets and liquidity issues. Honestly, most people don't care, they just need quick and cheap swaps. That's why Changelly is so popular.


Q: AWC is a very great product from Atomic wallet, why does AWC migrate to bep2 from erc20? What is the benefit?

K: We have AWC token 50/50 on both Ethereum and Binance chain blockchains and have a bridge. bep2 is cheaper and easy to send and supported by Binance dex. However, not so many other exchanges support bep2. So erc20 is still actual. You can read about AWC here.


Q: As Atomic wallet is a much adopted and user-friendly wallet. The startup wallet looks at you as a motivator. What do you think of them? Are they your competitors, friends, etc?

K: I know most of our competitors personally and they are friends mostly. Our common mission is to educate the crypto market. Our competitors are mostly banks.


Q: How can users get loyalty rewards?
K: Just hold some AWC in atomic, use various services, like exchange, buy crypto and you will get cashback or invite your friends to use atomic wallet, you will get some airdrop tokens.


Q: What are the ways for atomic wallet to generate revenue in the long run?

C: Teaming up with built-in services and providing the most attractive features on the market for the users.

Q: Can you give me the beauty of non-custodial staking over other staking systems? What preferential benefits would I derive from staking COTI using atomic wallet?

K: If you stake assets on any exchange, you trust your funds to custody and give centralized service more power. Not healthy for any blockchain. So non-custodial staking is much better, we made it as easy, as on exchanges.


Q: Why should we use atomic wallet? What is the purpose of AWC token in atomic wallet?

K: Cashback rewards, affiliate marketing, voting for new assets integration. and staking for AWC holders!


Q: What strategies will the Atomic wallet team use to educate and attract people who don't know about blockchain and crypto?

C: One of my favorite questions! As an ex-newbie, very satisfied with the knowledge I can get from our academy section on the site. Our team mostly covers the hottest and the most popular themes/problems on blockchain and explains it in an absolutely accessible manner. Check it out.


Q: If we focus on security, users are more conscious about security. Security is a very important & major issue. So, how secure is your wallet? Tell us some details about the security of atomic wallet?

K: Well, security is very important! We use common open source libraries for our wallet's core and do regular security audits.


Q: In the future, does Atomic wallet intend to acquire a certain exchange to expand its influence in crypto?

K: Nice idea! We are thinking of launching our own exchange. as we have over 100K monthly active users and most of them trade crypto from their wallet or some external services. However, it's another business story.


Q: What partnerships has atomic wallet maintained that will play an important role in the growth of the project and contribute to its strength in the world of cryptocurrencies?

C: We're pleased to partner with Simplex (fiat gateway) that elaborates more and more features and areas in the world. Plus, we value our exchange partners, validators, and of course all the blockchains we support.


Q: How safe are the funds that are going to be kept on the atomic wallet platform? What is the problem of Atomic wallet?

K: We don't keep any funds on our platform. Everything is stored on the blockchain only. Atomic wallet is mostly an interface to keep your encrypted private keys and sign transactions.


Q: Currently, I'm Using trust wallet in daily life but If any coins are not listed there, then I'll use Atomic wallet as it supports almost all major crypto but, could you explain what makes you more different than any hot wallets like trust (except listed coins)?

K: We constantly add new assets in Atomic, around 10 new integrations are planned for this year and it's easy to migrate from one wallet to another with just 12 words backup.


Q: Can it be a problem to use the private keys produced for Atomic wallet, even after many years? Is there a risk that the switches will be disabled after updates?

K: It depends on blockchain mostly. If it will still be running, then yes, no issues to use private keys after years.


Q: What infrastructure does Atomic Wallet work with when generating private keys? Is the system at risk of generating the same key for another user?

K: We use common open source libraries, like Bitcoin core, to generate private keys randomly. You can do this even in offline mode. Private keys are encrypted with your own password and stored locally on your device only.


Q: What are the strategic partnerships between COTI & Atomic Wallet? What financial opportunities will be in the future? & How will it benefit both in the long term?

K: Well, we support COTI token in Atomic. Perhaps we will extend the partnership later.

We were glad to be hosted by COTI in their telegram group. Thanks to the team and all the members of the session!

Be always aware of our next AMAs and other projects with Atomic Wallet on Twitter, Telegram, Facebook, and Reddit, and see you soon.