Atomic Wallet Roadmap: 2022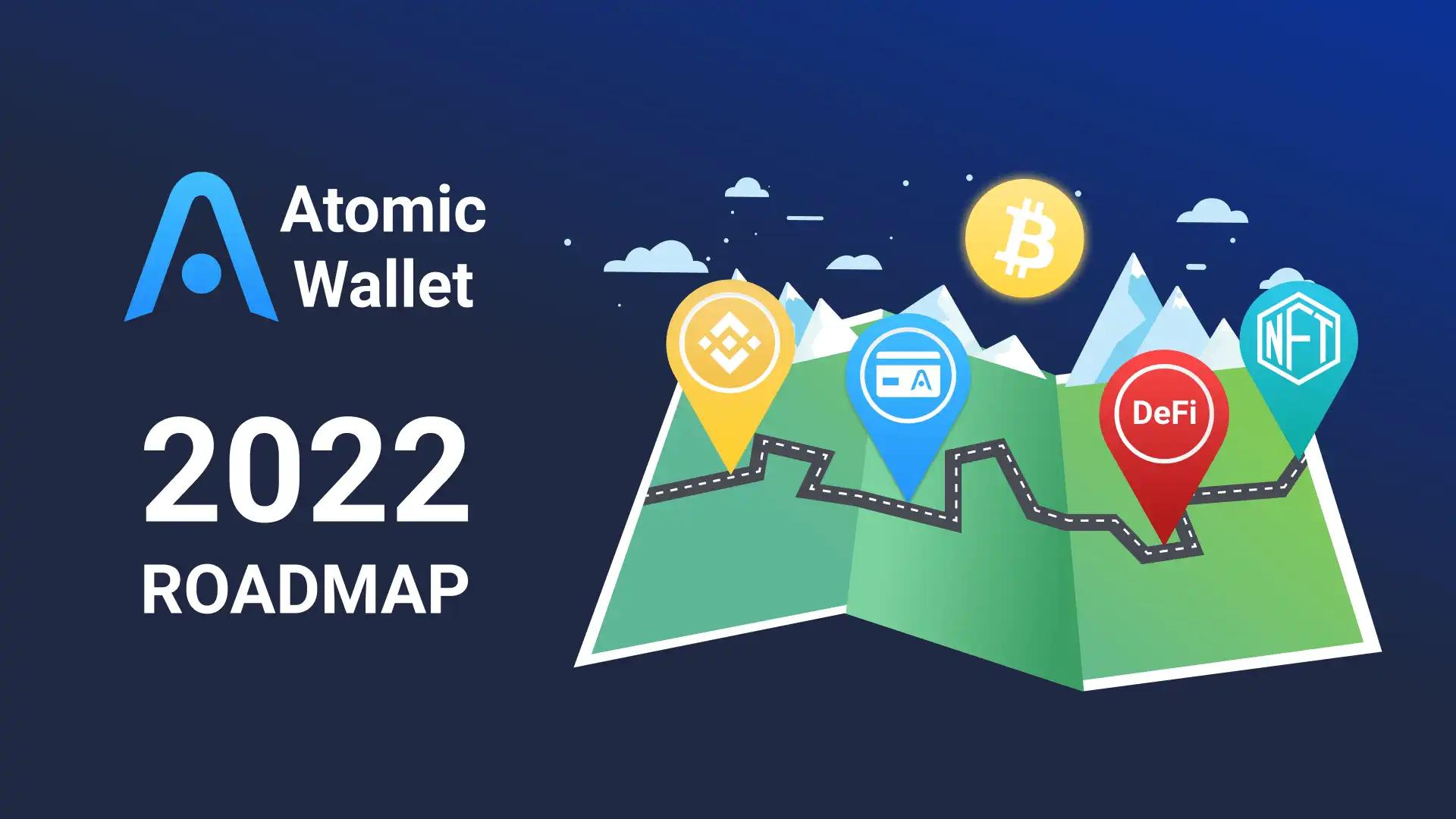 3,000,000+ Users Worldwide!
We are thankful and honored to see that in 2021 we have grown from 1 to 3+ million users. Thank you for your support! People are always the first priority for the Atomic Wallet team, and you're the greatest motivation to constantly work on the product.
By the end of 2021 our distributed team has grown from 40 to 60+ people. The support service reacted to 270,000+ issues. 150+ bugs were fixed over all the platforms. More than 1,500,000 exchanges were completed. We will be more than happy if you stick with us next year and further! Before we jump to 2022, let's see what we did in 2021.
2021 Achievements
App Performance Improvements
The focus of this year was on stabilizing the internal processes and the wallet's optimization. What we did in detail: the app's loading is faster, rates update quicker, and less traffic is consumed.
Exchange screen update
Now you can track the status of your exchange with the details like transaction's hash, cashback, estimated time and your order ID in real time. Also, the updated exchange tab now has 'hot', 'new' labels added to assets.
New stake & earn dashboard
We have a new сonvenient staking dashboard design for new users. $500,000,000 in different assets have been delegated to our nodes by almost 200,000 users so far. A few million of dollars in rewards are distributed. Learn more about staking here.
New assets for purchasing
This year we added a great bunch of assets to be available for purchasing in the wallet. SOL, SHIB, DOT, ADA, DOGE, SUSHI, MKR, LINK, COMP and others. Overall, now there are 39 assets to be bought with Visa, MasterCard or SEPA in the wallet. Users purchased crypto for over 100 million dollars.
Blockchains integrations
We have added the Solana blockchain and supported the trending ERC-20 tokens with the customized icons like Shiba Inu, and Axie Infinity's, Sandbox play-to-earn tokens. Furthermore, Zilliqa's governance token gZIL, also Tron's tokens: TUSD, USDC. Last but not least, the mainnet migration of Band Protocol, and the Cosmos Stargate update.
DeFi access via Wallet Connect
We have integrated the support for any Ethereum based DeFi services via Wallet Connect. The most popular out of them are Uniswap, 1inch, Compound, Aave, and others. Now you can trade, borrow and lend tokens on decentralized services.
Interface localization
At the end of this year we're releasing the first website's localization for German, Russian and French languages. Next thing on our agenda is to make the localization for all the top languages. This will happen next year.
Last but not least, a few updates on the AWC token. Since its launch 3 years ago, AWC has had 3x growth in the token holders, which now are 320,000, and in the staking delegates. There are over 15000 people who are staking AWC with 23% APY. Moreover, this year, we distributed $2,000,000 in AWC rewards for the members of the cashback program.
What We Will Do in 2022
New assets with the staking support – Terra, Polygon (Matic), Avalanche, Binance Smart Chain and others

Crosschain NFT gallery and marketplace on Ethereum, Solana, BSC, Flow

New referral and invite friends program

App performance improvement

Curated daily news related to each asset

Extended push notifications and price alerts

Portfolio screen and chart updates

AWC listing on major centralized exchanges

Interface localization for major languages

Crypto loans and earn interest service integration
Download Atomic here